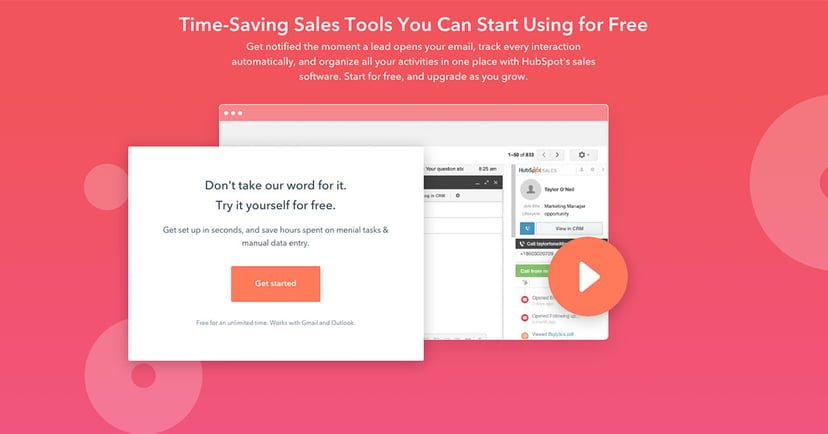 A Customer Relationship Management (CRM) system is designed to be the place to manage your relationship with your customers, leads, and prospects as well as store helpful information about them. A great CRM also provides you with the context you need to sell with a buyer-centric approach — by being helpful and relevant.
The most powerful features of a CRM, in my opinion, are those that help make the salesperson's day easier, faster, and more productive. With all of its features, it can be a sales team's best friend.
Here are 7 of the most helpful features and tips when using HubSpot Sales and CRM software. Some of these tips also include features of HubSpot's paid upgrade, Sales Pro, which cranks functionality up to a new level.
1. Log and track emails better
While typical free email tracking tells you when an email is opened, some add-ins go further. If you're using Outlook, Outlook 365, or Gmail for email, you can track and log emails once you've installed the appropriate extension or add-in for HubSpot Sales. You get a pop-up instantly when an email is opened and, if you're a HubSpot Sales Pro or Enterprise user, you'll also know when a link is clicked. A logged email appears on a recipient's HubSpot contact timeline, helping you keep a record of all email communications and where the prospect is in the sales funnel.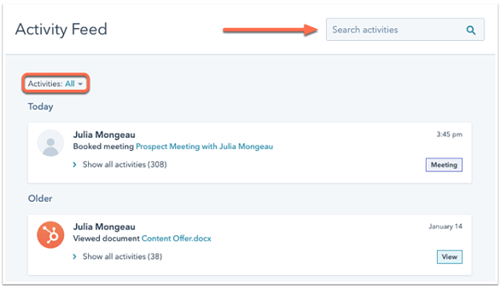 Why is this great? It's helpful to know exactly when and how a recipient interacts with your email, and it's great because the CRM is working for you to improve your efforts. You don't have to log these manually; it's automatic, saving you time and helping you be a better salesperson.
2. Use the Documents tool
You can build a library of up-to-date marketing and sales content for your entire team and easily add a link to them in your emails with this tool. Get instant alerts when contacts interact with your content and see aggregate metrics on your content performance. The file size limit for documents is 250 MB, and you'll have limited access unless you have a paid seat. Documents are publicly shared, so the tool should NOT be used to send sensitive or confidential information.
Why is this great? According to The Whole Brain Group, 65% of sales reps say they can't find content to send to prospects. You can solve this common sales team complaint by using the Documents library feature to send your content from inbound marketing efforts right from Gmail, Outlook, or Outlook 365.
3. Create email templates
Just as they sound, email templates are premade emails you can send without needing to type the same content every time. It's easy to customize them to your contacts, so you don't lose email's personalization advantage. One thing to note, templates must include text; if it's image only, it cannot attach to your email in HubSpot.
Why is this great? You can save so much time and hassle by using a template for your emails.
4. Create and share Meetings links
After you've connected your calendar and indicated preferences on your Meetings tool, you can share Meetings links with your contacts to help book time. All Meetings links sync with your calendar, so you'll always have up-to-date appointments.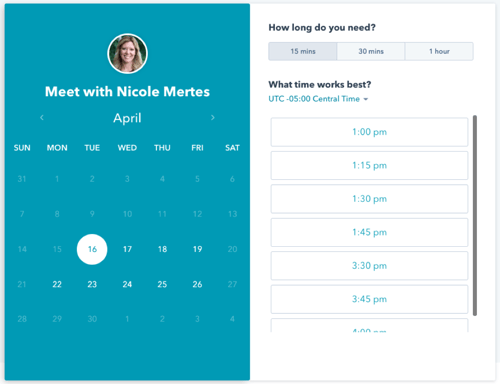 Why is this great? A professional burns up nearly 5 hours per week scheduling meetings, according to a study by Doodle. Now, you can easily skip back and forth as you schedule meetings. Customize meeting details, your meeting configuration, and your form questions, and set your availability. You can share your Meetings link with contacts right from your email or CRM, or embed it on your website.
5. Create and use snippets
If you're repeatedly typing the same answers to the same questions, or if you often type the same closing line, you can save time by creating a snippet. Snippets are short text blocks (limited to 500 characters) that you can insert into company records, emails, and chats. Leave notes about prospects in the CRM, pull in important details when writing an email, or quickly respond during a live chat conversation.
Another cool use is to set up a shortcut. So, in the example below, the shortcut is "#closing," and when that's typed in an email, the full snippet appears.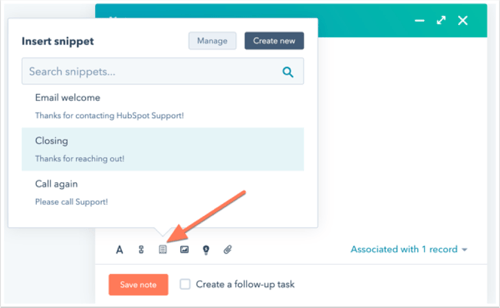 Why is this great? Not only does the snippets tool save time with reusable blocks of common texts, you can add personalization tokens based on the recipient. Add tokens that correspond to the property you want: a recipient's contact, company, deal, ticket, or sender.
6. Enroll contacts in a sequence
Nurture contacts over time using the Sequences tool. Send a series of personalized, timed email templates and, when targets reply or book a meeting, they're automatically unenrolled from the sequence. Follow-up task reminders also help automate communication with your leads, including multiple different actions and business processes for a list of contacts using contact-based workflows.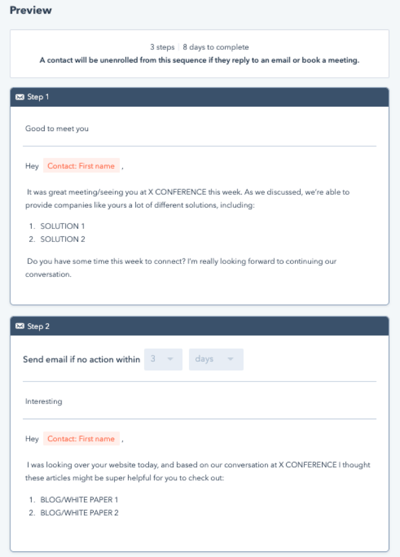 Why is this great? You can set up a sequence of emails to be sent out to your contacts to automate your follow-up. Take the example above, which is a sequence for following up after a trade show. It's simple and utilizes the power of well-timed, repeated contact.
The power of repeated contact is seen in the results of a study published on Velocify. Although this refers to phone calls, the same concept applies to emails: calling one time yields a 48% chance of making contact with a prospect; three times yields an 81% chance; and calling six times yields a 93% chance.
7. Add videos to CRM emails
Email open rates increase when you send a personalized, one-to-one video using your webcam. Using the CRM and the camera and microphone connected to your computer, it's easy to record and send videos of yourself or create a video of your computer screen. You can also upload an existing video file from your device.
Why is this great? Videos get noticed. According to Vidyard, videos increase email conversion by 500% or more. Consider a video that includes information unique to your target, woven into the video — even short videos can be powerful.
Greatness awaits. You just need to use it.
Those are HubSpot Sales' 7 best basic features; they're easy to set up, easy to use, and make your sales efforts more productive. It's worth your time to also check how a free CRM stacks up versus a paid one. Evaluate the features and limitations of the different license levels of the Sales Hub — Free, Starter, Professional, and Enterprise — to find out what is best for you.
Now that you know some great, new things about HubSpot's sales CRM software, consider a service level agreement (SLA), which aims to build trust and efficiency between marketing and sales to create greater revenue results. This eBook gives you an outstanding starting point: Marketing + Sales Service Level Agreements: A Guided Tour.