In order to best attract and nurture prospective customers, websites need regular updating. Fresh content, new blogs, page updates on product or service offerings…all of these updates help serve as marketing materials that can be leveraged for attracting, nurturing, and closing your leads into customers.
Yet, you can't deny that sometimes your entire site just needs a bit of a makeover. Since websites are an important lead nurturing tool, it's important to recognize that your site can become stale. Although there's no right or wrong answer when it comes to how often businesses should redesign their websites, most people tend to think that companies should redesign their website every 1-2 years (according to a survey by HubSpot).
Completing a website redesign is now easier with more tools and technologies available than ever before, but nothing will derail the excitement of your redesign more than rushing through (or simply failing to do) a thorough pre-launch review and missing some key elements that will affect your website's user experience.
Whenever the time is right for you to do your next redesign, make sure you keep an eye on these 10 things before you launch to ensure you have a smooth launch and, ultimately, a positive user experience:
1. Check page design standards and format.
It may sound silly, but you'll want to carefully look over the design and layout of each and every page of your website. Is all of your text formatted in the same way? Do your secondary and tertiary page headers match what's reflected on your main navigation and/or dropdown menus? These are little things that could change or evolve throughout the redesign process, and often, something as simple as changing a header requires making sure that change is reflected in multiple places, including menu navigations/dropdowns, interior pages, landing pages, and so on.
2. Make sure page data is correct and optimized.
Double check that all searchable data components, such as page titles, meta descriptions, URLs, and image alt tags are set up. Not only will this help with search engine optimization, but it also helps give your site a polished, complete look throughout. This is especially important to keep in mind if you've cloned any of your site pages, as you'll have to remember to at least give your cloned pages their own relevant URLs.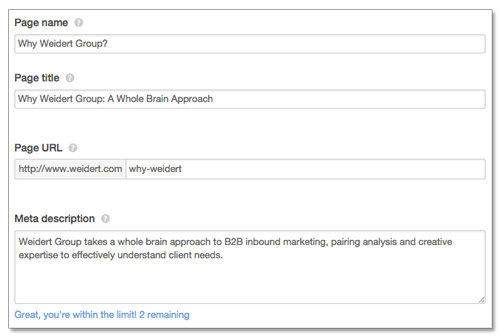 3. Set up your Favicon.

A favicon is the small icon that appears next to your page title in a browser's address bar. It's small and might be easy to overlook during your redesign, but it adds a certain element to your website that your visitors will appreciate. Plus, it helps to build brand awareness and logo recognition among visitors to your website.
4. Make sure your site pages match.
Your home page should have a different feel than your interior pages, but they should seem like they're part of a cohesive unit, too. Perhaps you started out using stock photography on your pages and changed out some of the images in favor of more customized graphics. Your website tells a story—your pages should communicate the same general feeling throughout.
5. Proof your site pages.
This should go without saying, but go through each page with a fine tooth comb to make sure there are no spelling or grammatical errors, no missing or extra words, no discrepancies in how your copy is formatted, and so on. The people who visit your website are going to do so to find out more informaton about your business; nothing will turn your prospective customers off more than a poorly proofed website that misspells its competitive advantage.
6. Test your site on various browsers.
You can use a service like BrowserStack to see what your website will look like on different browser types. Just because it looks right to you on Chrome doesn't mean it'll translate well on Internet Explorer. Pro tip: even if you've seen your website on a particular browser, you'll still want to check out what it'll look like on older (or newer) versions of that same browser.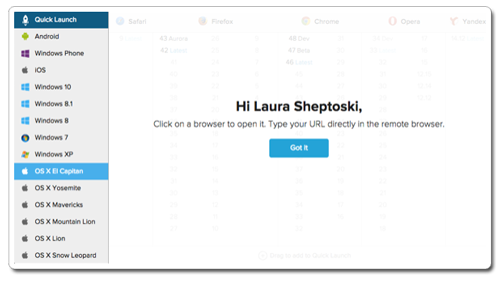 7. Make sure you have redirects set up.
Avoid broken links by making sure that you have the appropriate redirects to your new website set up. If any of your existing page URLs are changing—no matter how slight—you should have 301 redirects in place to redirect visitors to your new URL. You should probably also design a custom 404 error page to match the look and feel of the rest of your site and get your visitors to the right place.
8. Double check every link on your site.
This may seem like a simple enough task, but it's easy to overlook some links. Don't just test the links in your menu navigation and the body copy throughout your site; check every single link on your site to make sure each is working correctly. Don't forget to check any links you may have in your footer, as well as the links or calls-to-actions that were included in your old blog posts. Are they relative links, when appropriate? Do they open in a new window, if needed? Linking is the underbelly of user experience, so make sure you've done everything intentionally.
For footer or header links that appear across your site, make sure that the link isn't repeating across the site in a way that would hurt on-page SEO. Non-relative links back to your own site may be penalizing, so beware!
9. Optimize your site for mobile.
This is an especially important point, not only for a positive user experience but also for how search engines will rank your page in the search engine results pages. Optimizing your site for mobile means more than just making sure the screen will resize, however. Check all of your website's formatting to make sure that it translates well for mobile (both handheld and tablet). The way your pages resize for mobile may affect the sizes of your images on your headers or banners, so you'll want to make sure you carefully consider how your site is formatted for mobile.
10. Get your new site crawled by Google.
Have Google crawl your new site using Google's Webmaster Tools to help ensure your new URLs appear in the search engine's results. This should be done immediately upon launch, since it's inviting Google to explore and index your new website on the search engine results page in place of your old website pages.
Your website is a powerful marketing tool. You may be tempted to cut some corners in the interest of making your website redesign live more quickly, but taking the time to check each aspect of your website as listed above will help give your visitors the positive experience they're looking for when they come to your website.