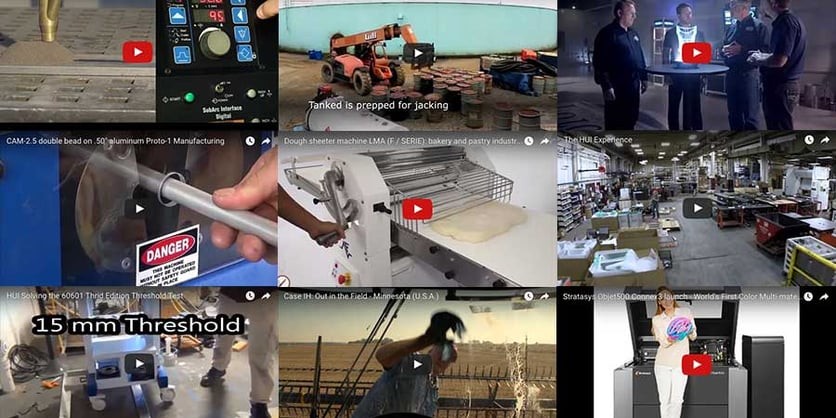 Even your Average Joe on the street will tell you that it's easier to create interesting marketing content for a company like McDonalds or Sony than it is for a manufacturer. For one, manufacturing industries can be very niche, unlike the global audience for those two brands, because everyone eats and uses electronic devices nowadays, but only a small fraction has a need for custom pipefittings, machine parts, medical carts, etc.
Then, in addition to being a niche industry, much of the written content created by manufacturers uses specific industry jargon and describes complex processes, making the material seem "boring" or not interesting to read—even for readers that understand the industry.
If there's one area where manufacturing companies excel at making interesting online content, however, it's in the realm of video.
While written manufacturing content has a tendency to be complex and dry, manufacturers can take a video of their machines, products, or processes to give their prospects a firsthand look at whatever they're talking about. Rather than making prospects visualize everything in their heads, you can show them exactly how something works—which can make a huge difference when it comes time to purchase. Your prospects want to feel comfortable with their purchase decision, considering most manufacturing purchases can cost thousands of dollars, and a video basically serves as a virtual demonstration/walkthrough prior to buying.
Check out our article "Video Marketing Tips for Specialty Manufacturing Companies – Part 1" And "Part 2"
To help get an idea of just how effective manufacturing videos can be, here are 10 great videos created by manufacturers to promote their products and services:
Aero Manufacturing Co.
Fisher Tank Company
Proto-1 Manufacturing
Case IH
HUI
Ferneto
Stratasys
Marion Body Works
Miller Welders
Stepcraft Inc.
From product demonstration videos to promotional videos about your company, there are many different ways you can create interesting video content in the manufacturing industry. Use the videos above to help spark some ideas of your own, and don't forget to check out the YouTube channels of these brands for even more videos and ideas.