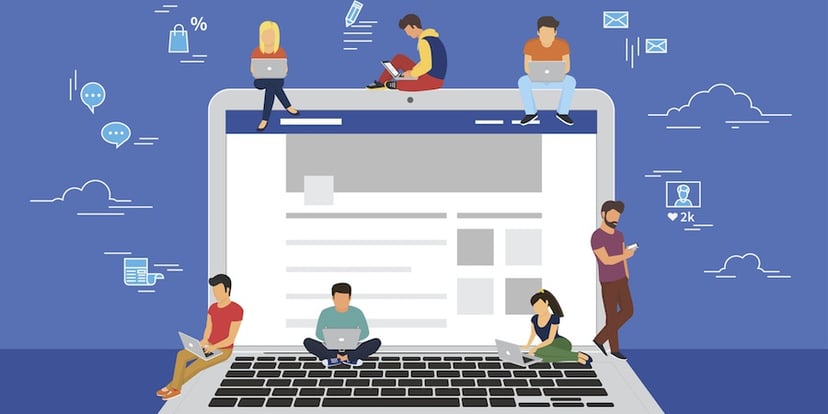 The great thing about choosing between Salesforce and HubSpot is that you don't have to. Salesforce and HubSpot have a robust integration ready to implement right out of the gate.
You may already have Salesforce set up and have your entire sales staff trained on the platform, but now you want to leverage the strengths of HubSpot for your marketing team. The integration allows you to keep using Salesforce and take your inbound marketing to the next level.
Marketing in HubSpot, Selling in Salesforce
Having to manage two separate systems is a pain. Sales professionals, especially those already familiar with Salesforce, are likely to want to stick to logging all of their contacts' information in Salesforce. In the same way, most marketers I know would prefer to have an all-in-one marketing solution such as HubSpot and not have to deal with managing more than one database.
Although HubSpot and Salesforce can work well together, there are some key nuances you should note.
All of HubSpot's contacts are just contacts, while Salesforce has leads and contacts.
When a Contact is first created in HubSpot, either by being uploaded or converting on an online form, that Contact is already in its final form. It progresses through the sales and marketing cycle based upon its Lifecycle Stage. The Lifecycle Stage can be Contact, Subscriber, Marketing Qualified Lead, Sales Qualified Lead, Opportunity, Customer, Evangelist, or other.
In Salesforce, a new contact is called a Lead. After a salesperson engages with that Lead and qualifies him or her, the Lead is converted into a Contact, usually with an associated Opportunity.
Related: 10 Benefits of HubSpot's New Marketing Contacts Feature
The Standard HubSpot - Salesforce Integration
The standard setup between HubSpot and Salesforce is to have new Contacts in HubSpot become Leads in Salesforce. When an opportunity is won in Salesforce, the Lifecycle stage in HubSpot becomes Customer.
By default only Contacts are synced, but other objects can be as well:
Accounts in Salesforce = Companies in HubSpot
Opportunities in Salesforce = Deals in HubSpot
A Standard HubSpot-to-Salesforce Workflow
Let's take a look at the life of a sale through a standard HubSpot-to-Salesforce integration along with a basic HubSpot Score and Lifecycle Stage setup.
A new visitor lands on your website's blog. They "like" the content they're reading, so they subscribe to your blog via the email signup form. This is the first conversion in HubSpot and the visitor's Lifecycle Stage is set as "Subscriber

.

" HubSpot creates a new contact record, that's then synced to Salesforce. In Salesforce, that contact is considered a Lead.
A few days later, that contact returns to your site by clicking on a blog article you emailed to him or her. The contact finds a piece of advanced content on your blog and fills out a form to access it. This is the second conversion in HubSpot, causing the Lead's HubSpot score to increase. The form information they fill out also qualifies them as a Marketing Qualified Lead (MQL) so their Lifecycle Stage is updated to "Marketing Qualified Lead" in HubSpot.
After a few more blog posts and content downloads, the visitor's HubSpot score reaches the threshold to be qualified as a "Sales Qualified Lead" (SQL) and their Lifecycle Stage changes. This causes a notification email to go out to a specific salesperson that notifies him or her to make contact.
The salesperson looks at their lead list in Salesforce (which they reach from a link in the notification email) and can review all of the HubSpot contact information and score activity right inside of Salesforce. The salesperson then reaches out to the contact based upon a connect attempt sequence of events, logging their connect attempt information in Salesforce.
The salesperson makes contact and discovers that the Lead is a qualified Contact. They convert the Lead to Contact and create a related Opportunity in Salesforce. In HubSpot the Lifecycle stage is updated to "Opportunity

.

"
After some exploration, a proposal, and negotiations, a sale is made. The salesperson changes the status of the Opportunity in Salesforce to "Closed / Won

.

" The Lifecycle stage in HubSpot for the contact changes to "Customer."
Your HubSpot Information in the Salesforce App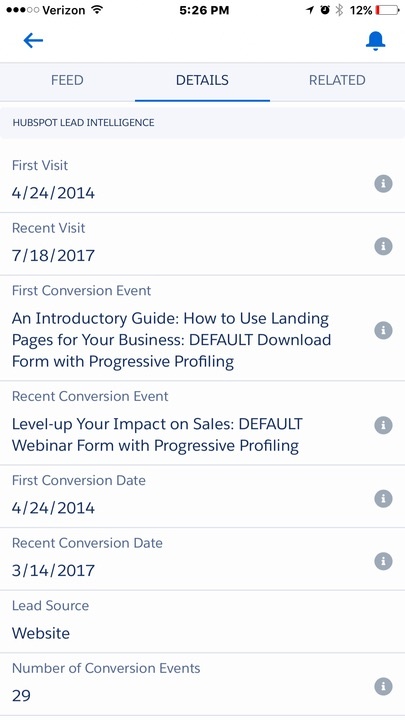 Not only can you see your HubSpot information directly inside your Salesforce portal on your desktop, you can also see your HubSpot information directly inside the Salesforce app, great for sales people on the go.
When to Get Help with Your HubSpot Salesforce Integration
The standard setup for HubSpot and Salesforce is straightforward. Unfortunately, life is not always this straightforward, and there are going to be exceptions that break this workflow.
Custom Mapping
What if you have a highly developed selling process and lots of extra fields and information that you want both your marketing and sales team to see?
Beyond the basic integration there is the ability to create custom mapping between any field in HubSpot and in Salesforce, even if the fields themselves are custom.
Say, for instance, that you've created a Salesforce requirement that all Leads must have a source or they cannot be created. The standard integration out-of-the-box would fail this requirement. Your HubSpot contacts would not get synced because Salesforce would reject them, since they don't have the required information. A custom mapping would allow you to map this filed so that they could be created without a hitch.
Inclusion Lists
Marketing databases can become huge, especially for highly selective B2B companies. For every 100 contacts in HubSpot, you might only have a few Sales Qualified Leads, and many companies would prefer to not have all those contacts in Salesforce.
HubSpot allows you to select only your most qualified contacts to send to Salesforce by using an inclusion smart list. You can set up this smart list the same as any smart list in HubSpot, populating it from a set of criteria such as Lifecycle status. Contacts on this list are then synced to Salesforce.
A word of caution: if there's a reason a contact falls off the inclusion list, their information will no longer be synced between HubSpot and Salesforce.
Make Sure You Monitor Your Integration
Another important part the HubSpot/Salesforce integration is monitoring Contacts across the platforms, especially during the first few months of the integration. Sometimes, especially in more customized integrations, contacts that should be syncing won't be, and others that shouldn't be synced with Salesforce end up being synced. Experts can set up automated reporting tools in both HubSpot and Salesforce to monitor the Contacts that are being created and make sure they're following the criteria you've set for syncing and updates.
Now that you are familiar with how HubSpot and Salesforce can work together does that make you want to learn more about Inbound Marketing? If so, check out our Inbound Marketing for Industrial Manufacturers.