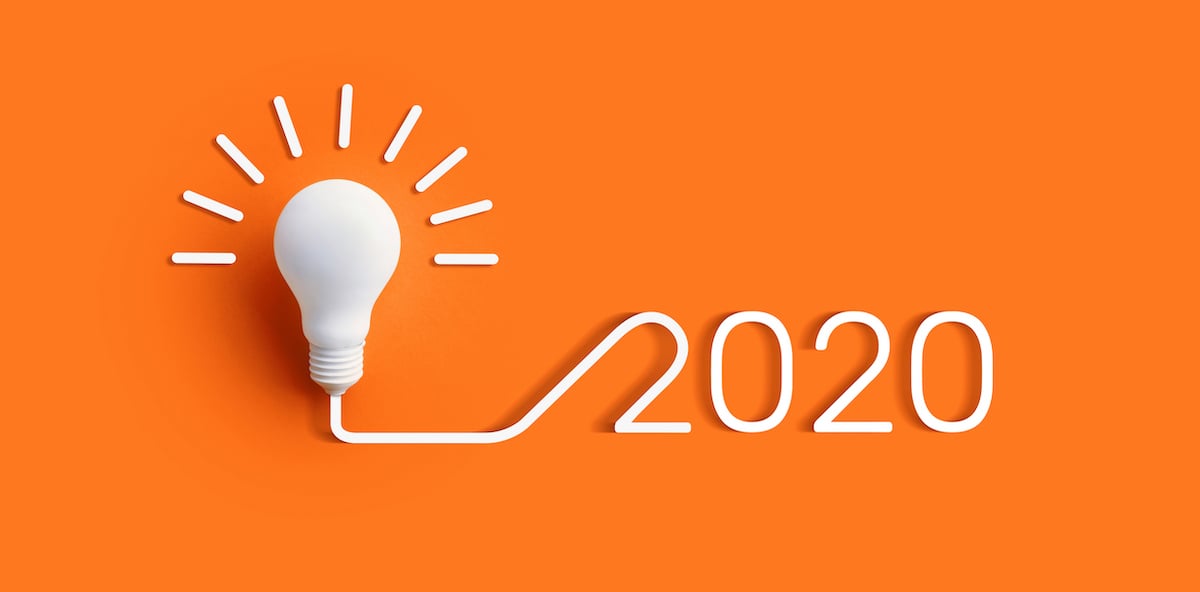 What marketing efforts really worked for your business in 2019? What missed the mark?
In what marketing direction should your business head? What lessons did you learn last year?
What technologies should you put more energy behind in 2020? Which should you ditch?
Since our overall focus at Weidert Group is to help complex B2B businesses grow better and smarter, we've identified six top B2B inbound marketing strategies that we're going to be emphasizing more than ever in 2020, both within our clients' marketing plans and our own.
Before we dive in, it's important to frame these opportunities within HubSpot's marketing flywheel philosophy, starting with force — what you do to power the flywheel through the three continuous stages: attract, engage, delight — and friction — eliminating anything that reduces the momentum of the flywheel through unintended barriers or a lack of simplicity.
The flywheel approach helps marketers think far beyond the traditional sales funnel — which treats the purchase decision as the end of the process — and instead looks at customers both in the context of their lifetime value and the potential marketing/product improvement value they can represent. The flywheel more formally embraces what we all intuitively knew — that an initial purchase should really be the beginning of an ongoing customer-vendor relationship.
Here are six inbound marketing strategies we believe B2B marketers in complex industries should implement this year. And keep in mind, if you use HubSpot, many of these trends can be approached using their tools that already exist. So, it's not as difficult as it may initially seem.
1. Market TO Your Customers
Few aspects of a customer relationship are overlooked and undervalued more than customer lifetime value. It's critical to long-term success, yet most marketers don't think about it much. Pumping more into successful relationships sounds logical, but you have prospects you need to land, right?
Well, consider this: How much more expensive is it to acquire a new customer versus retaining an existing one? Some studies suggest spending time and resources on finding a new client is 5 to 25 times more expensive than the cost of effective retention efforts. So marketing to — and getting value from — your current customers is a cost-effective opportunity that should not be missed. How can you do this?
Be thorough: Dig deep to uncover exactly what they need. You already know them, their industry, and their challenges. Strive to understand what they need before they even know it.

Be relevant: Market to customers in the ways they want to be marketed to. This varies by customer, of course, but we suggest providing value first. Then turn that into a sales opportunity.

Be a good listener: Your current customers have had a customer experience (or CX), and they may have a lot to say about you. Have you ever asked them? I bet you'll hear ideas that can enhance your inbound marketing strategy with both current customers and prospects.

Here's another stat! Some studies say that increasing customer retention by only 5% can increase profits 25 to 95%. So marketing to current customers can be huge. Now, let's explore marketing through them.
2. Market THROUGH Your Customers
They know you. They appreciate you. They love you!
Marketing "to" customers is a rocket launcher for marketing through them. Identify the top, say, 20 percent of your customers, not necessarily in terms of total sales but pure satisfaction. These are your greatest advocates, and they'll likely be thrilled to help you grow.
Here's how we helped a client do this... We interviewed some of our client's top customers; simple one-on-one discussions during which our client was not present. These provided insights on the industry, real customer challenges, and it generated honest feedback on that client's performance. So, we not only collected valuable information to shape their inbound marketing plans, we captured testimonials, sparked case studies, and developed other gold mine marketing content.
Imagine how valuable this content can be: a prospect reads the praises for a company written by a current customer in a similar situation as them. That's powerful and compelling!
You just need to make it easy for your customers to be great advocates. And, more importantly, act on that feedback to improve your performance. When customers see you acting on their input, they're more inspired than ever to repeat that behavior and help you grow.
These first two strategies are foundational to the flywheel. Yes, you're capitalizing on force (your successes with your customers), and you're reducing friction (improving CX and making it easier for customers to fuel your marketing). Plus, you're celebrating successes, building trust, and showing that you appreciate a customer's value.
3. Conversational Marketing and Chatbots
You know that the traditional marketing approach of convincing people has been replaced by helping people. Today's buyer expectation is to receive some guidance or advice first. Then, they may be open to purchasing something, if your guidance is solid.
The style in which you communicate, or conversational marketing, comes down to people needing to be treated like people (imagine that). No matter the industry, people want to be heard, understood, and helped. It's this kind of positive CX that, I'll say it again, reduces friction and creates force. Go flywheel!
Google's big change in fall of 2019, BERT (Bidirectional Encoder Representations from Transformers, of course), included improvements based on improving language understanding. Google realized that queries reflect natural language and conversations, so BERT better understands these human nuances, which means more helpful results.
The science of conversational marketing relates to chatbots. People are demanding quick, accurate answers to their questions and are becoming more and more comfortable using chatbots, which are becoming more and more helpful and customizable.
Yes, most people know chatbots are sophisticated algorithms, not real people, but they still feel comforted and cared for. Depending on where you are within a website, a chatbot can ask to be of assistance in different ways. It can help narrow a visitor's focus and lead him/her through their individual buyer's journey.
4. Personalization
One of the simple joys of having Netflix is clicking on my profile icon and seeing the various options pop up. Yes, the algorithms used to track my viewing and recommend shows may be spooky accurate, but it's a personal touch that I do appreciate.
As a human in today's world, each of us expects a level of personal touch, even in our day-to-day business dealings. Personalization, a next-step evolution of conversational marketing, not only includes your name, it includes your preferences and often directly addresses your needs. And, it's within the grasp of every company. So, why not use it?
Similarly, retargeting ads follow an audience that has visited your site, reminding them of your existence and creating a more personal touch. It's another way that creators are getting smarter, wanting us to feel that they get us.
It's amazing how quickly people will adapt to new technology, especially when it enhances our lives. Every year, we expect our experiences to improve, from navigating websites to watching videos. Speaking of video …
5. Video Marketing
At Weidert Group, we've been talking about video's power for nearly a decade (this still-relevant post is from 2011), and it's only becoming stronger. No other medium connects on such an authentic and emotional level, which naturally leads to more interest, engagement, and conversions. Plus, people now accept the presence of videos in places they wouldn't in the past: emails, social posts, presentations, within reviews, and on website landing pages.
According to Cisco, more than 80% of all internet traffic will be video within a year. And it's not all cat videos. Forbes says that 52% of executives watch work-related videos each week. So, video is clearly a powerful content marketing tool that won't stop growing.
Again, the resources available to create videos, from HubSpot to Wistia to many others, make it quite easy to use this valuable strategy.
6. Voice Optimization
"Alexa, is voice optimization more trendy than video marketing?"
I wonder what she'd say. As various digital landscapes evolve, many using artificial intelligence, they combine advanced technology with what people really want — a connection — they just do it in different ways.
Voice optimization is skyrocketing because our comfort level interacting with computers — from mobile devices to home-based systems — is improving at light speed. Similar to Google's BERT, voice technology advances are focused on using "plain English" and are pushing search optimization importance forward.
Welcome to the year of going beyond the traditional sales funnel and embracing the flywheel. Thanks for your time, and congratulations for being a thought leader by consuming content that makes you a better marketer! May your 2020 include additional learning and continued success.
Want to learn more about inbound marketing? We're happy to provide a free consultation that includes a brief overview of inbound as well as some discussion on your business. Just reach out.