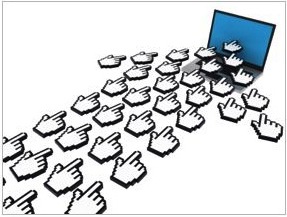 There's an apparent shift taking place in the marketing world. With consumers becoming more and more savvy with the use of online search and social media to find new products and services that meet their needs, the discipline of Inbound Marketing continues to gain popularity for both B2B and B2C marketers. As a full-service marketing agency that has embraced Inbound Marketing both as a user and service offering, our team still believes in the use of traditional outbound marketing, but knowing the possibilities of a well-executed Inbound Marketing strategy we keep telling clients and prospects that it can't be overlooked as part of their overall marketing mix.
Here's a closer look at some of the stats and facts of why Inbound Marketing is winning in today's marketing world over traditional outbound marketing, which was highlighted in a recent article from the folks over at Mashable thanks to a superb infographic developed by Voltier Digital:
44% of traditional outbound direct mail is never opened, which is a waste of budget, paper and postage

86%

of people now skip through

television commercials

thanks to DVR

84%

of 25 to 34 year olds have exited a favorite website because of an

irrelevant or intrusive ad

91%

of email users have

unsubscribed

from a company email that they previously opted into
In a down economy with scaled back marketing budgets,

Inbound Marketing costs 62% less per lead

than traditional outbound marketing
The

average budget

spent on company blogs and social media has nearly

doubled

in the last two years

2/3

of marketers say their company blog is "critical" or "important" to their business, since

57%

of businesses have acquired a customer through their company blog

57%

of companies have reported customer acquisition through LinkedIn,

48%

through Facebook and

42%

through Twitter
Want to know more about Inbound Marketing and how it can work for your business? Download our free eBook "A Step-by-Step Guide to Inbound Marketing," which walks through the basics of what Inbound Marketing is and how it works.