For most industrial companies, inbound marketing is undoubtedly an uncharted territory. If you're a manufacturer, industrial service provider, or wholesaler, more likely than not, the fact that you've adopted an inbound mindset means that you're at the forefront of smart industrial business development. The only problem with that is that, as a leader in the sector, you might have trouble measuring success and finding good benchmarks for comparison.
Today, I want to provide the latest data and perspective from Weidert Group on how industrial companies should measure success in inbound marketing—the kind of results you should expect to see for your lead generation funnel, your sales success, and overall content efforts.
Why do Industrial Companies Need Better Marketing Benchmarks?
Benchmarks are critical to helping companies understand and visualize their progress toward success. For industries with lots of distinct niches, such as industrial manufacturing, it's particularly important to understand what expectations you should set with your executive and financial team when ramping up your inbound marketing efforts.
Benchmarks help you determine how to refine your marketing activities that will match up to your desired goals.
The Latest Industrial Inbound Marketing Benchmarks:
1. Business Development Funnel Benchmarks
The best place to start, when looking for benchmarks, is to understand how leads in your sector convert through the funnel. For instance, on average, how many manufacturing leads are generated per 1000 website visits?
This question can be related to the bottom of the funnel: your closing rate. However, at every stage of your funnel, you should benchmark the quality and quantity of your lead generation by companies that are comparable to your own.
According to the Marketing Bechmarks from 7000+ Companies HubSpot survey, within manufacturing (which, admittedly, isn't very specific), only 1% of website traffic turns into leads. You can see other benchmarks we've collected throughout the entire funnel—Visitor, Contacts, MQLs, SQLs, Customers—in the table below.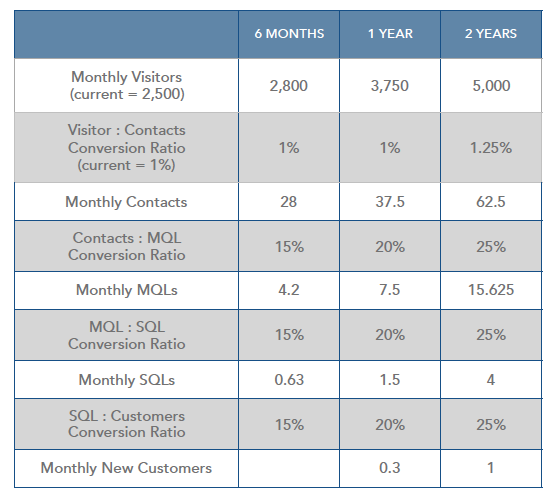 This chart helps to reinforce that if you are presenting your audience with helpful and educational content it is more likely that you will attract more quality leads even if the amount of leads generated is smaller.
We recommend starting at the bottom of the chart, to determine how many customers you need, using the conversion rates to calculate your benchmark numerical goals for every month/quarter. Typically, if you're starting inbound marketing efforts, you'll gradually build up to these numbers, about 6 months out, as blogging and advanced content are being established and are starting to reach your target audience.
2. Benchmarks for Industrial Website Traffic
The variety and frequency of inbound marketing activity helps to bring in visitors from untapped areas. With the addition of social activity, regular blogging, and emails promoting advanced content the source of your traffic will improve.
As depicted in the chart below (courtesy of HubSpot Research) the web activity increases in all areas after inbound marketing efforts, but most notably, organic, direct, email, and social see the most noticeable growth.
This is due to the increased collateral that is being consistently published on your company's behalf helping to boost online presence. For manufacturers, because most verticals do not have a lot of marketing content online, traffic will almost certainly grow in these areas. As you build traffic from different channels, you'll find that traffic growth and quality comes from the right combination of sources.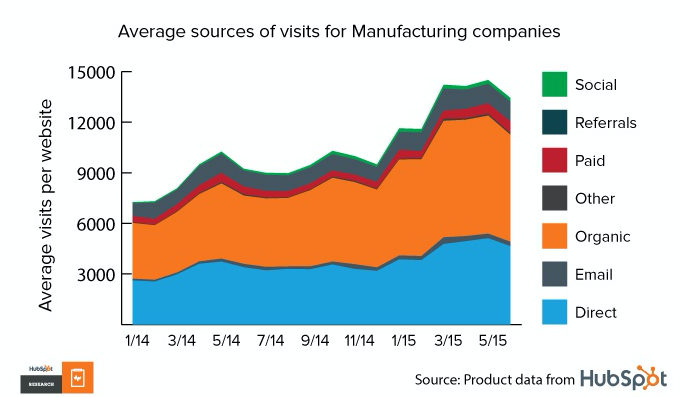 3. Advanced Content Pacing & Digestibility
The key to creating consumable content is to make sure that you are creating pieces that follow the basic buyer's journey: awareness, consideration and decision stages. Start with those go-to, awareness-level pieces that can continue to perform and serve as relevant content for your target prospects, no matter their industry. Down the road it may be beneficial to consider what vertical markets you are looking to speak to as they start considering and deciding on a purchase. But to start, awareness level content is the most important for building traffic.
Consider this example from Sentry Equipment Corp. We developed an introductory guide that spoke directly to prospects in the awareness stage of the buyers journey. To promote the eBook we sent out a promotional email to their existing contacts, shared on social media, in combination with creating a call-to-action for the guide placed throughout their website and blog. The results were rather immediate, with a conversion rate of over 60% within the first two weeks, and assisting in generating 80 MQLs in that same time period.
Now not every piece of content that you create will have a booming success rate but if you pay attention to what your target audience is searching for and provide helpful and educational material for them to consume you will see an increased response from your prospects. Aim to create one new content piece per month supporting it with a promotional email, social posts and website call- to- action buttons.
4. Email Open Rates
As in any industry, having contacts engage with batch emails can be a major challenge. What's encouraging for the manufacturers and other similar companies is that it is not an overly saturated market for email content.
As you can see in the chart below, email in the so-called "industrial and manufacturing" sector is among the most opened when compared across datasets—see HubSpot's Demand Generation Benchmark Report.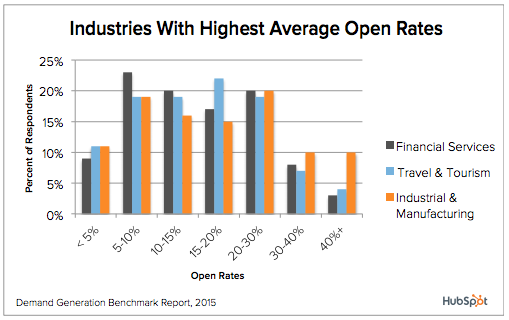 Why Benchmark?
Using these benchmarks to secure both your activity and expectations will help to build out continued success with your inbound marketing program. Your contact database will continue to grow and through conversions you will be able to further segment the audience you are speaking to. Through nurturing workflows and the right content you can reengage old contacts and attract new. Take note of where your program begins so that you can continue to set accurate and realistic goals.