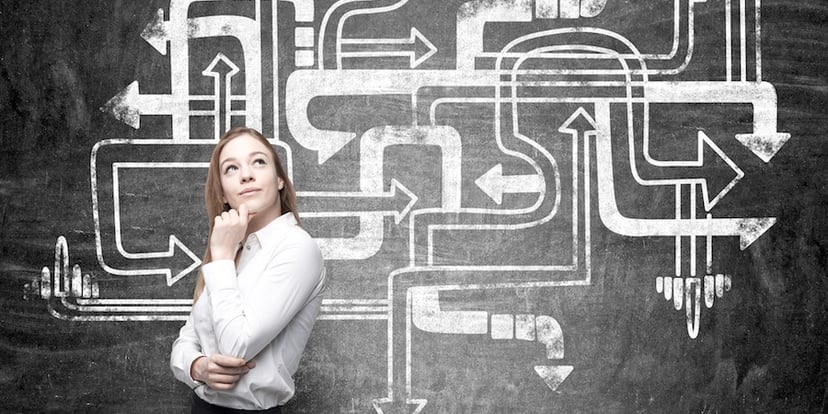 Today's buyer has more control than ever. In fact, it's estimated that by 2020, 80% of the buying process is expected to occur without any direct human-to-human interaction (Forrester). That's a significant part of the journey taking place without a salesperson involved!
The good news for marketers is that the journey still exists and buyers want and need knowledge throughout the process. They just want it and get it in a different way (online!).
According to a study from LinkedIn, the top 4 most important factors in the willingness to engage with a vendor all center on demonstrating knowledge. Buyers expect sellers to (1) understand their company's business model, (2) be a subject matter expert/thought leader, (3) provide valuable resources, consultation, education, etc., and (4) know their company's products/services.
Offering that knowledge in the form of the most relevant content, at the right time and in the right place will help you attract and move potential buyers along the journey to becoming customers in today's world. Use these five tips to help you fuel your content engine along the way:
1. Brainstorm Questions Buyers Are Asking
First, it's critical to understand what questions your buyer may be asking along the journey. Let's start with 4 stages from a simple buyer's journey model that we've found helpful to use across all B2B industries:

Buyers start their journey in the Awareness stage, asking questions online to solve a problem they have or learning about an opportunity they could pursue. For example, an Oil Refinery Facilities Manager for an above-ground storage tank company may ask,
"We've added capacity and now need additional storage tanks to hold it all. Which type is best for the products we store: welded steel, concrete, polyethylene or bolted steel?"
During the Consideration stage, the buyer is evaluating all the options. The ideal buyer of the storage tank in the example above may ask,
"It looks like for our purposes (storing crude oil), bolted steel and welded steel might be the best bets because they don't crack and don't react with oil. Which one is right for me?"
Once the buyer decides on the best option, it's time to select the best vendor/partner. In the Decision stage, the buyer in this example may conclude,
"Welded steel tanks have fewer potential weak points, so this is the best choice. There are two companies on my short list: Acme and XYZ. Which one is a better fit for our company?"
And lastly, the Experience stage is applicable if up-sell or cross-sell opportunities exist among current customers. Once the buyer becomes a customer, they'll want to achieve the highest value from your products/services. For example,
"I might be interested in a maintenance contract; I wonder if it makes sense for us?"
Mapping out questions your buyers are asking at each stage will help you clearly articulate what your buyer is doing and thinking – and how he or she is behaving – so that you can develop content that precisely aligns with what they're looking for.
2. Identify Members of the Buying Team
The buyer's journey should be mapped separately for each persona (target buyer). However, in the B2B world, it's important to recognize they are rarely alone in the decision making process. Identifying the others on the buying team helps you identify new content ideas. Here's your opportunity to provide your target buyer with content they can pass along to the rest of the team!
By knowing who else is involved at each stage, you can also prepare your buyer to "sell" it to the rest of the buying team. Educate them on articulating the ROI with an ROI calculator, for example, to prepare them for a meeting with the CFO.
3. Choose the Right Format
Step 3 is determining the right format for the content that is created.
In the Awareness stage, choose simple, straightforward pieces that outline the problem and begin suggesting solution angles:
Tip sheets

Briefs

Blogs

Guides

Overviews
For Consideration, more in-depth pieces that are based on specific problems and aligned solutions make sense:
eBooks

Reports

Whitepapers

Video demonstrations
In the Decision stage, choose formats that help you articulate value:
Case studies

Free assessments

Vendor features/services comparisons

Product literature
And lastly, in the Experience stage "how-to" formats typically work best:
Briefs

Blogs

Guides

Overviews
Keep in mind that there are two considerations for this step: 1) the type of content that aligns to the stage, and 2) the preferences of the persona. For example, simpler content (checklists, tip sheets, blogs, etc.) are best suited for the Awareness stage when the prospect is just starting to understand the problem and do initial research. But you also have to consider the persona…if you're selling to mechanical engineers, a light, image-laden eBook may be less appropriate and less valuable to them than a document that includes technical specifications and detailed analysis.
4. Be Where the Buyer Is
Step 4 is about identifying where the buyer is looking for answers so that you can be found and promote your content successfully.
Consider where your buyer looks for information outside of Google. This may include trade shows, industry publications, associations and, of course, social media channels.
5. Optimize Your Content with Keywords and Relevant Terms
In Awareness and Consideration stages, Google is king: 70% of buyers return to Google at least 2-3 times during the course of their research, diving even deeper into each company's specific offerings to see how they can address the pain points. What keywords and terms will he or she use to find information? Long-tail keywords are going to get you more quality traffic because you're closely aligning with the prospects' specific needs.
Putting it All Together
Once you've completed these five steps, it's time to put it all together. Download this Buyers Journey worksheet for an easy-to-use template and start offering the knowledge your next customers are waiting for!