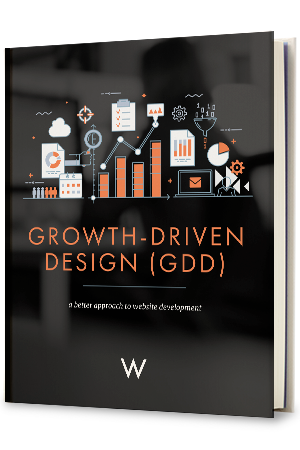 Using a traditional website development process, a huge amount of time and money is spent creating a site that, once launched, is considered "done" and isn't touched for years. In the meantime, that site becomes outdated and ineffective.
Today, smart marketers are using a Growth-Driven Design (or GDD) approach to their web presence. GDD is a more efficient and productive method of building and maintaining a website because it's all about 1) building a more modest "launchpad" site, then 2) continually improving that site, adding to and modifying it based on data that shows how users are (and aren't) using the site. A GDD site also takes less time to launch, starts generating leads sooner, and is easier to budget.
Download our guide, Growth-Driven Design: A Better Approach to Website Development to get an in-depth understanding of how GDD works, and the many benefits to your organization. Topics covered include:
What is Growth-Driven Design?
Phases of the Growth-Driven Design Website Development Process
How GDD Compares to Traditional Website Design
To get this FREE resource, simply fill out the form on this page. It's a first step in making your website work harder to attract and convert leads!