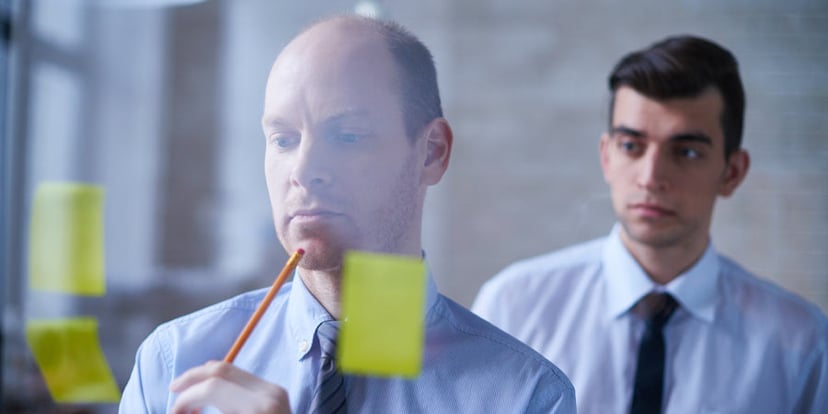 According to the HubSpot 2017 State of Inbound report, 76% of marketers in North America use inbound marketing approach as their primary strategy—meaning, if you aren't currently doing inbound for your business, three of your competitors likely are.
Not enough to get your attention? Try this: inbound marketing campaigns achieve higher ROI than outbound techniques regardless of company size, geography or budget. The explanation is pretty simple. Inbound marketing revolves around meaningful content, and that content generates attention and can be shared easily. It takes on a Field of Dreams quality: build it and they will come.
That brings up an interesting aspect of inbound marketing. As opposed to some traditional methods that largely impose marketing on people, inbound marketing leverages buying behavior in order to attract, convert, close and delight them. Inbound marketing enhances the buying journey instead of interrupting it, and the numbers support it:
80% of business decision makers prefer getting brand information through an article series versus advertising
96% of B2B buyers want content with more input from industry thought leaders
68% of online buyers report spending "considerable time" reading content published by a brand they advocate, with half of that time spent on custom content
77% of online customers prefer permission-based promotions via email; in fact, 8 in 10 Millennials state they've left a favorite website due to intrusive advertising
77% of the B2B purchasers prefer to do their own research before ever speaking to a salesperson
So, customers buy into Inbound Marketing, but are marketing professionals true believers? No doubt about it. Of surveyed B2B companies:
55% of marketers say growing traffic to their website is a top priority in 2017
81% of companies that have their marketing & sales tightly aligned say their marketing strategy is effective, compared to just 27% of companies with misaligned sales and marketing teams
83% believe that content is highly effective across marketing channels
32% believe traditional marketing tactics (i.e., print, outdoor, broadcast) are overrated
Marketers' faith in inbound marketing bears out in—among other things—lead generation impact:
The average cost per lead drops by 80% after five months of consistent Inbound Marketing
Inbound leads cost an average of 61% less than outbound leads
Inbound Marketing generates three times more leads per dollar than traditional methods
B2B companies that blog at least 1 or 2 times per month generate 70% more leads than the companies who don't blog
Persona-driven content generated by Inbound increases the volume of Sales Qualified Leads (SQLs) by 45%
Nurtured leads make purchases 47% more often than their non-nurtured counterparts

Topics: Inbound Marketing

Written by
Vicki Woschnick
An experienced writer and content planner, Vicki has a variety of client-side and agency experience in all of Weidert Group's service areas. She is highly adept at learning various industrial niches and producing effective content on behalf of clients. In Weidert Group's inbound marketing programs, Vicki plays a major role in crafting blog-form articles as well as downloadable advanced content offers.