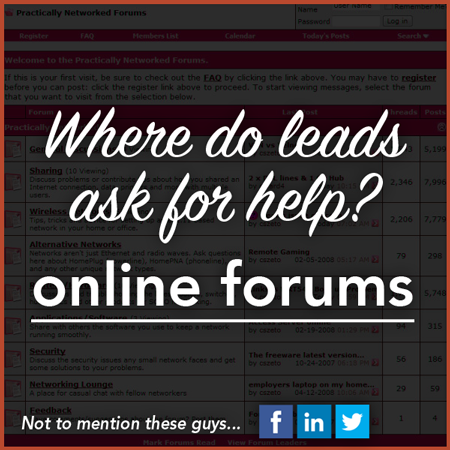 With marketing's emphasis on popular social media—Twitter, Facebook, Pinterest etc.—it can feel as though online forums and communities are a thing of the past—"they're just so 2003." And, for the general public, this is mostly true. Most consumers aren't hanging out in old chatrooms and public interest forums. Facebook and Twitter ate up that social gathering space a long time ago. But, the same isn't necessarily true for business people. For B2C marketers, Yelp, Foursquare and other services are active, growing media for business-to-consumer engagement, and for B2B interaction, LinkedIn has truly become a dominant medium for sales prospecting, deal-making, and initial contact.
But as a B2B inbound marketer, I'd never tell you LinkedIn is the only place for gathering leads in the social sphere. In fact, for many industries, it's simply not the place to generate new leads. Consider where your industrial prospect goes when they're looking for solutions to their problems. If it's an efficiency problem they have—perhaps a problem in the supply chain or a frustration with staffing—where do they seek help and advice?
In many cases, leaders in industry are still looking for help among their peers on niche industrial forums online. In online forums, they know they'll be reaching a set of peers and competitors that have experienced what they're going through. Often, the community has been set up by an organization or association they belong to. And for most industries, it's the same group of people online that they'll see at tradeshows and other events.
That's why, for B2B sales and marketing, industry forums represent a valuable, untapped prospecting space. The key is to understand how to find appropriate forums, how to enter the community without being flagged as a self-promoter (and fool), and how to convert forum participants into leads without blatantly pushing them toward your content. It's important to remember that industry forums are supposed to be a safe place for getting questions answered; participants and moderators get bothered by marketers looking to promote their brand; and just like LinkedIn Groups, if you come off as self-promotional, you're at risk of getting blocked out. The point is, attracting leads in industry forums requires the patience to always be helpful and the willingness to replace your company's brand with your personal identity as a helpful expert (the idea there being that when they're ready, they'll find your brand regardless).
To explain exactly how we recommend marketers use industry forums to generate leads, I'll give you a quick example of just how non-promotional forums are and how help-oriented your activity should be when trying to attract new prospects.
Learning to Participate in Industry Forums from the World's Largest Competition for STEM Education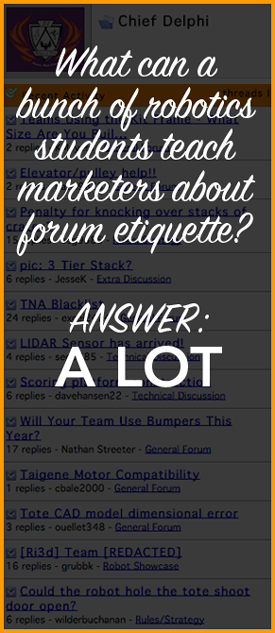 If you're familiar at all with the world of STEM education (as most engineers, manufacturers, and technical experts should be), you might have heard about FIRST Robotics. It's the world's largest competitive high school robotics league, started by Dean Kamen (the inventor of the Segwey), and since the early 90s, the entire league has been funded by some of the biggest names in American industry—Rockwell Automation, Boeing, Underwriters Laboratories, Baxter, Deka, General Motors, etc. Every team in FIRST Robotics Competition is run by a group of engineers & machine experts who mentor a team of high school students, providing a fun and experiential view of the STEM fields. It's a great cause, and a great way of producing new generations of technical experts.
However, the interesting thing about FIRST is that its online presence mirrors how many industry competitors in manufacturing, engineering, and construction, still interact online. In a world dominated by Facebook & Twitter, the old school machine shop engineers who mentor FIRST Robotics teams have their teenaged students interacting online in niche "industry-like" forums where students communicate with other teams, share new ideas, and assist with friendly competitors' aches and pains. As with any industry, there are multiple forums out there, but there's always one that stands out as the most credible—in FIRST it's called Chief Delphi (student-named I'm sure). Remember, this is a student program; FIRST has a vested interest in keeping Chief Delphi a safe, helpful space for student teams. Sure there are companies that consider FIRST Robotics teams to be profitable leads—after all, every robot built requires a supply of small motors, sheet metal, etc. not to mention a CAD program, automation programming, etc. But on Chief Delphi, the goal for everybody involved is to help students learn. Overt self-promotion just wouldn't fit in this educational community. (And the same is true for almost any online forum.)
On Chief Delphi, teams share whitepapers, team-building documents, and other content that's directly helpful to students learning how the business of engineering and manufacturing works. Engineers and corporate sponsors are involved, too. Adults can often be found offering their expertise and advice as teams face new problems, whether in competition or in finding funding to support STEM education in schools. Chief Delphi is an example of a healthy niche community, defined by being a safe online space without anybody profiting from the help being offered.
So What Does a Student Robotics Forum Have to Do with Attracting Leads?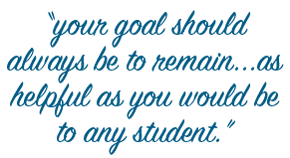 The lesson here is simple: as you look toward niche-specific online forums in your target industry to gather prospects and attract leads to your company, your goal should always be to remain helpful—as helpful as you would be to any student. In essence, you're a mentoring engineer (of whatever you do) and your prospects are like students who want to learn from your success.
Just like the engineers on each team, you have to give up being a representative of your company (at least temporarily). Gathering leads is about being helpful as an individual expert. Regardless of who you work for, forum participation is just like good networking—people can tell when you're being false and sales-y. The goal should be to be a friendly, helpful face, interested in benefiting others.
3 Steps to Finding the Forums Where Your Company's Prospects Hang Out
So, I take it nobody reading this article is exclusively targeting high school robotics teams (if so, more power to you...). Instead, you might be an equipment or machine manufacturer looking to draw in new leads from whatever industry you serve; maybe it's the paper industry or the food processing industry or the electronics sector. It can be a struggle to just identify which industry forums you should be participating in and what online communities you might be missing out on. This is where a deep understanding of your target industries really helps. Whether you're expanding into a new sector or trying to get a better grasp on an industry you know well, use these three steps to identify which forums you should be participating in:
1. Do background research of online forums with targeted online keywords.
Do a simple search on Google for terms that your target personas commonly use. Maybe add "forum" or "community" to that list, so that you start to discover all the possibilities. Often, when you're reaching into a new market—maybe you're a Massachusetts-based manufacturer that's looking to grow its presence on the US West coast—then a quick search will help identify online communities you were never aware of. Even if this tip seems obvious, you'd be surprised how many marketers fail to do the research they need to.
2. Utilize forums set up by key industry associations.
Is your company one that has always belonged to your industry association but never really participated very much? We see this all the time. Maybe in your company's history, you've never seen leads come in through the association. However, as organizations have modernized, so have their online efforts. Many associations, such as the Brewers Assocation, have a members-only forum that provide great opportunities for getting help and growing connections in a niche market.
3. Ask your best customers where they interact online.
You always have the option of trying to gain a better understanding of the industry you serve by asking. If your customers have a long lifetime and they won't be offended by helping out your prospecting efforts, then take advantage of good relationships and just ask. Often, you'll find that your current customers get information from a wide variety of sources, some of which may have influenced their decision to buy from you in the first place. By asking about their online help activity, you'll inform better behavior in online communities in the future.
Participate the Right Way in the Right Online Forums, and You'll Make Lead Generation Magic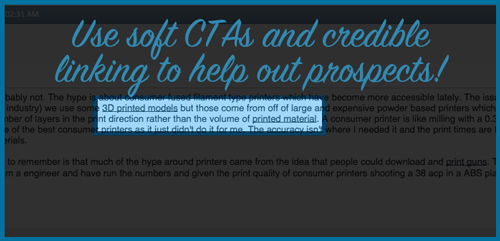 So, if you're following me this far, you understand that successful prospecting in online forums requires a true dedication to being helpful. Just like in LinkedIn Groups or whatever forums you, yourself participate in for help, if you're too braggy, pompous, or downright sales-y, your peers will totally ignore you.
On a tactical level, this means that even if you're in the right forum, you can't just promote your daily blog or downloadable content in a discussion thread and hope people congratulate you on your success. In fact, I'd argue that if you're trying to link forum users back to your company's landing pages, then there's no way you'll see leads come from that forum.
Rather, lead generation will come from "soft" calls-to-action and credible linking in answers to real problems brought up in discussion. Say you're a parts distributor trying to work opportunities in a forum full of automotive manufacturers and service providers. If you're obvious about being the salesman in the forum, then nobody will take your advice as honest; they'll see it as biased and not focused on their needs. The best path to lead generation is to link to your marketing content when it makes sense, offer advice without links when you can, and prove you're a valuable source of knowledge before forum participants have a chance to write you off as a marketer or sales professional looking to make money.
You always want leads in a forum to have an opportunity to find you and your company when they see who you are, but focus first on being helpful and supportive. Take a tip from the engineers supporting students in FIRST Robotics. They'll share whitepapers, offer CAD designs, and even link back to their own websites when it makes sense, but the outreach is in an honest spirit of helpfulness—the true purpose of online forums as a medium.