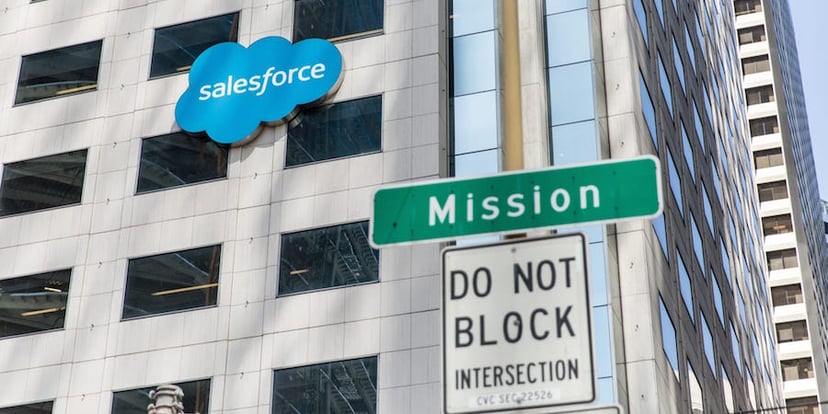 For as long as sales and marketing teams have existed, the arguments that "marketing doesn't generate enough quality leads" and "sales doesn't follow up on leads" have existed, too. This point of contention—or some variation of it—limits the effectiveness of business development as a whole, which holds back the entire organization.
As marketing automation software emerged and companies like HubSpot and Salesforce began integrating their systems, technology created a solution to this struggle—at least in theory.
CRM and Marketing integrations as a solution to misalignment?
The possibilities of a HubSpot-Salesforce integration are really exciting. There's finally a way to bridge the gap between sales and marketing. Tools like HubSpot and Salesforce, for example, make it possible to nurture and manage a lead from first contact all the way through to the sale.
Let's say your organization is using both. Your marketing team relies heavily on HubSpot while your sales team spends their days in Salesforce. HubSpot gathers and tracks specific data related to marketing while Salesforce tracks everything related to the sales process. Sharing that data between the two would make everyone more effective. So you decide to integrate them.
Integrating them is a great idea. But what does that really mean and how will it help you?
Well, HubSpot and Salesforce have made the actual integration fairly easy. They have built tools to walk you through the process. With a few clicks, the two can be integrated and your team is on their way to a better more fruitful relationship, right?
The answer is—kind of.
At Weidert Group, we've worked with many clients who have integrated HubSpot and Salesforce, and while the integration projects are successful, we've also learned some of the limitations. Before you dive into a CRM-HubSpot integration yourself, we want to provide you with five important parameters to understand.
1. The Naming Convention Mismatch
When making comparisons, people often refer to taking an apples-to-apples approach. An apple is always an apple, right? When talking about a HubSpot-Salesforce integration, it is very possible that what you think is an apple is actually an orange.
For example, in HubSpot an individual person is usually called "a contact" no matter where they are in the sales process. So when someone downloads a piece of content, HubSpot creates a contact record for them.
However, if you know Salesforce, you know that it's not that simple. Salesforce has both "leads" and "contacts," and they mean different things, depending on your Salesforce setup.
Before you begin with an integration, it's important to identify all of the language mismatches that impact your process and plan how you will address them.
2. It's Not an Equal Exchange of Data
When you first start thinking about an integration, it's easy to imagine that you'll be combining two things into one. However, in a technical integration, not everything from HubSpot can be entered into Salesforce, and vice versa.
For instance, activity-level data in HubSpot (data points you see in a contact record's timeline) cannot be fully integrated into Salesforce; instead, it appears in a special window that cannot be manipulated. Similarly, Salesforce task information can only partially be accessed and manipulated on the HubSpot end.
Just like with the mismatched language, make sure you are clear about what data matters most to you before you begin the integration. Then verify whether or not it will be exchanged between the two systems and how. You may find that what matters most to you isn't part of the standard integration.
3. Any Integration Can Create Data Integrity Issues
One of my least favorite topics of discussion as a marketer is data integrity.
Of course, I understand the importance of it and believe it should be a priority, but there is really nothing fun about cleaning up data. Once you integrate two systems, like HubSpot and Salesforce, you introduce yourself (and your organization) to a myriad of data nightmare possibilities. The most likely possibility is duplicate records.
HubSpot looks for matching email addresses, which means a new contact will not be created if the email address already exists. In Salesforce, it's not that easy. Rules need to be set or add-ons used to prevent duplicate records from being added.
Instead of saving time and streamlining processes, your integration could create a mountain of additional work if you're not careful.
Make sure you have the right protocols in place before you begin.
4. An Integration Cannot Translate Lists Between Platforms
Segmentation is key to effective lead nurturing. Chances are, if you're using HubSpot, you've created many lists to segment your leads by well-defined criteria. Salesforce also allows users to make lists using reports. Depending on how you're using the lists, they may be a very important part of your process.
However, it's important to know that when you're integrating contact records, you can't simply gather lists from one platform and auto-create lists in the other. The integration doesn't allow for lists to be carried over from HubSpot to Salesforce or Salesforce to HubSpot.
If having the same lists available to HubSpot users and to Salesforce users is important, they will need to be created independently, using the same underlying criteria.
5. Limited Capabilities: Workflows & Salesforce Tasks
Automation is a great thing. Using HubSpot, it is possible to create workflows to automate many different processes.
We have recently been working with a client who wanted to use a workflow to trigger a task in Salesforce after certain actions occured in HubSpot. While we were able to create that task workflow, the information we could put into the task was very limited.
Before we could write the workflow, new fields needed to be created within Salesforce to make the trigger possible. Our client wanted to include additional information in the task, but we were only able to include basic instructions.
Tech Integrations Can't Replace Real Sales and Marketing Alignment
There isn't a piece of technology out there that can replace a well-defined, tested marketing and sales playbook. If you have not spent the time really digging in to create processes around your sales and marketing efforts, technology cannot save you. Before you even consider implementing marketing automation, CRM or integrating the two, invest in building a process that will align your marketing and sales teams to drive revenue.