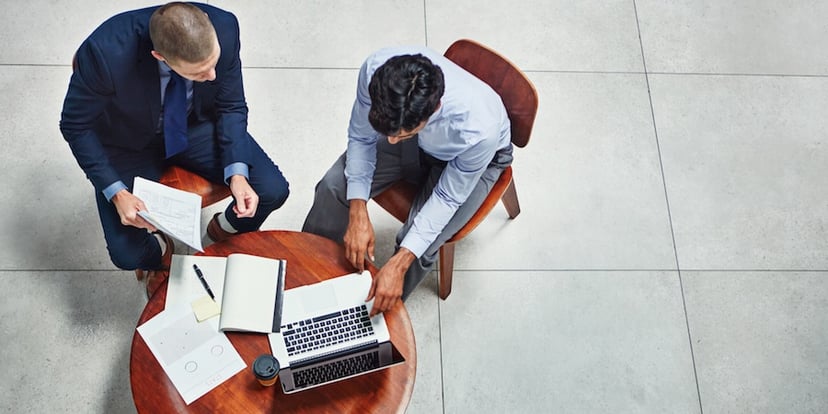 The scene begins in a conference room, as two businessmen (an inbound marketer and an executive from a local financial services provider) are busy discussing a new inbound marketing proposal:

"Is your brand on any social media sites already, like Facebook?""Facebook? Yeah, we're on Facebook!""That's great, how many likes do you have?""Not that many, it really hasn't been that great for us… Let me check."** Pulls up Facebook Page **"Only 29. See, told you it wasn't very effective.""I see that, but you haven't posted anything since March 2015…""Oh yeah, um, [insert flurry of excuses here]."

As more and more companies have started to adopt online marketing strategies, more and more businesses are creating social media profiles for their brand. And while this might actually sound like a step in the right the direction, one step in that direction isn't enough to make a difference. In order to be successful in anything you do (not just inbound marketing), you have to make a full commitment to whatever it is you're doing. If you don't put 100% in, you won't get 100% out — plain and simple.

That being said, if your business has a social media profile that's been dormant for a few months (or years…), don't panic! Though it might take a little elbow grease to shake off the rust, by the time you're done reviving it, it'll be well worth the effort. To help your brand bring your dormant social media profiles back to life, here is our 5-step guide for reviving an inactive Facebook Page or Twitter profile.
1. Recover Old Passwords
Whether you had an intern create your profiles and then leave with the login info, or it's simply just been that long since you've used them, being able to log in and access your profiles is kind of a big deal. For Facebook, if you simply can't remember your password, you can start the recovery process by following this link. However, if you no longer have access to the email associated with your account, check out this link. On the other hand, if your Page's only admin is no longer with your company and is unable to be reached so that they can transfer control back to you, you have two options. You can either report the page – making Facebook delete it altogether and let you start fresh – or you can claim it as your own. For Twitter, if you can't remember your password, simply follow this link.
2. Update Your Profile Information and Photos
Now that you have access to your old account, it's time for you to get in there and dust off some of the cobwebs. Looking at your Facebook Page, go to 'About' (in the left side column) and you'll be able to update everything from your business' name, address, description, website info, and much more. Once all those details have been brought up to date, you'll want to do the same with your profile and cover photo. To do this, just hover your cursor over the image you'd like to change, and click the small camera icon in the corner. We recommend using your logo and other images that help your fans easily identify your brand.
On Twitter, go to your profile and click the 'Edit Profile' button underneath your header image. This should highlight your header image, profile photo, bio, location, and website information. From here, you should be able to click on whatever you'd like to change. Remember, your bio is limited to only160 characters!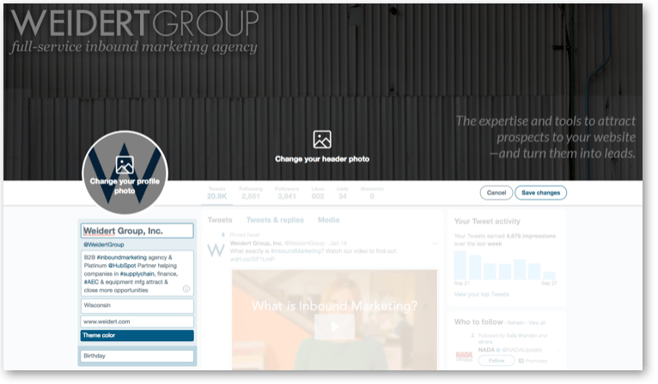 Bonus Tip: Check out the ultimate guide to all of the major social media image dimensions.
3. Reassert Your Presence
Even though you might have neglected your profiles for quite some time, some of your fans might not have even noticed. In fact, it's pretty common for a fan to like your Page or follow your account without ever intending to visit your Page or profile later. Instead, they just notice what appears in their feeds. Once you're ready to return, rather than drawing attention to the fact that you've been away for a while, hit the ground running and don't look back!
4. Boost Your Likes and Followers
Because you haven't been actively engaging your social media audience, you probably don't have much of an audience to engage with. Even though you might have sent out invitations to all of your friends asking them to like your Page after you created it, what have you done since? To help create a quick uptick in Page likes or followers, there are a few things you can do.
One of the most effective ways to generate more fans in a short period of time is by running a social media contest. Though the ideal size and scope of your contest will differ from brand to brand, these blog posts should help you start off on the right track:
Twitter: How #EsuranceSave30 Taught Us to Retain Fans After Social Media Contests
Facebook: Best Practices for Running a Successful Facebook Contest
If you don't want to run a promotion, you can also use Facebook and Twitter's advertisements to grow your likes and followers. In fact, after 'Boosting' one of our client's posts on Facebook, they saw their reach increase from approximately 30, to over 1,500!
Bonus Tip: Thinking about just buying more Page likes and followers? Think again!
5. Establish a Plan
Now that you're well on your way to restoring your profiles back to their rightful glory, you have to keep the momentum going the right direction. Rather than letting your old habits come back to ruin your progress, establish a plan of action that allows you to stay on top of your social media marketing efforts. Try using a social scheduling and monitoring tool like HootSuite to plan your Tweets/posts in advance, as well as monitor any mentions of your brand. This way, you can create an active social presence throughout the week in just a matter of minutes.