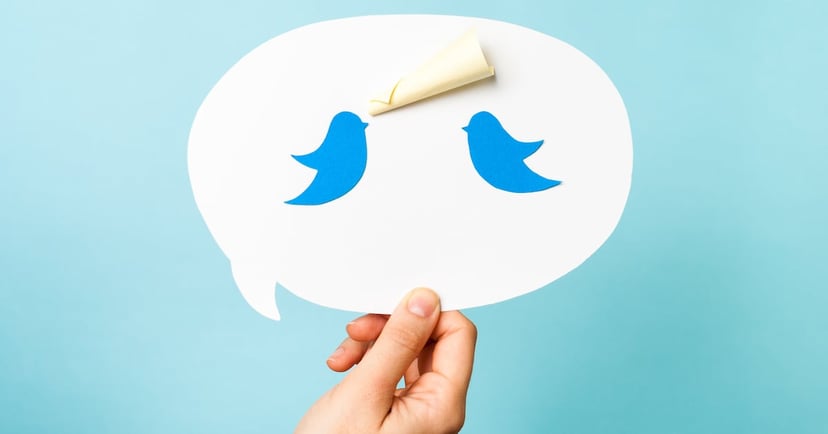 There's no shortage of social media channels on which B2B marketers can target prospects and customers: LinkedIn is the biggie, right? Yet, there's also Facebook, YouTube, Instagram, Pinterest, Snapchat, TikTok. Yes, some are better for B2B marketing, and some are geared for B2C engagement. But what about Twitter?
Launched in March 2006, Twitter has grown to be a powerful social networking tool (and search engine) loaded with early adopters; people use this platform to find the latest information about so many topics, including business-to-business information.
About 79% of people on Twitter like to discover what's new1, and 53% are more likely to be the first to buy new products2.
More than 500 million Tweets are sent every day, and there are over 326 million average monthly Twitter users globally (according to Twitter's data). So, there's no denying the reach of this around-the-clock news source for just about anything and everything.
Why Are B2Bs Unsure About Twitter?
First, let's quickly discuss social media overall. When it comes to the various ways that B2B marketers distribute content, social media tops a list that includes tried-and-true blogs, email, and PR3. That's impressive!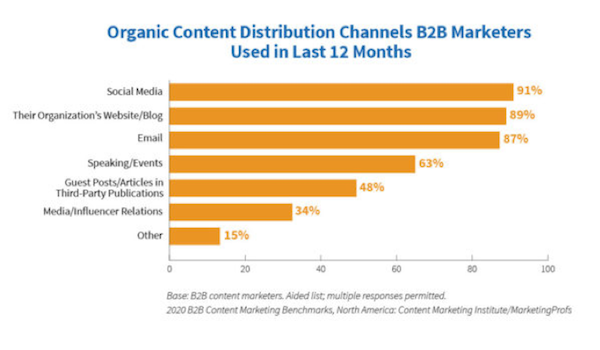 OK, I mentioned that LinkedIn is the biggie, and it's true: LinkedIn is the most popular social network for B2Bs with 95% of B2B marketers using it to distribute content during the last 12 months. And although Twitter finishes in second with 86%3, a lot of B2B marketers don't give it the credit it deserves when it comes to marketing success.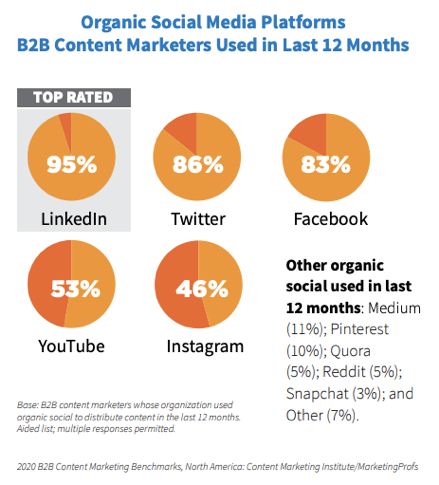 It's obvious why most B2Bs consider LinkedIn to be their top social networking choice: target audience. LinkedIn is uniquely positioned to be the platform for building professional business relationships and sharing industry information. Their mission statement says it all: "Connect the world's professionals to make them more productive and successful."
RELATED: Prioritizing LinkedIn Lead Gen Tactics: A Quick Guide for Inbound Marketers
However, Twitter is loaded with those users, too, and they're ready to buy! Remember the stat from earlier: 53% of people on Twitter are more likely to be the first to buy new products2. Although you might have to learn how to find them, they're out there...and in notable numbers.
To help convince you to start taking advantage of this valuable marketing channel, here are the top 6 reasons your B2B company should be using Twitter.
1. Identifying Your Audiences
This is worth emphasizing: Twitter users cover just about every level of the persona spectrum. Don't think your industry is represented on Twitter? Check this out: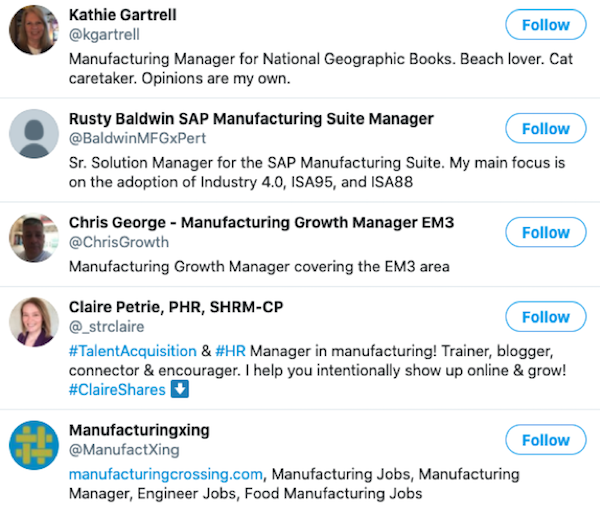 After searching for profiles with the words "manufacturing manager" in them, I was shown literally hundreds of Twitter profiles of professionals who work in a management position for a manufacturer. Try searching for terms that your target audiences would use to describe themselves, and you'll be surprised at how many good potential leads you'll find.
2. Creating Brand Awareness
Knowing you've got a massive user base, you can promote your content and get it in front of your audiences to generate brand awareness like never before. Your Twitter activity can drive traffic to your blog and website, which can convert them to leads and eventual customers.
Plus, you can use this platform to position yourself as a thought leader. If you're a manufacturing company consistently sharing helpful Tweets, you'll be the first resource people check with product questions. Once your brand is trusted, you're elevated in the minds of the people who mean the most to you. Use a site like RiteTag to uncover the best hashtags that will serve up your content to your target personas.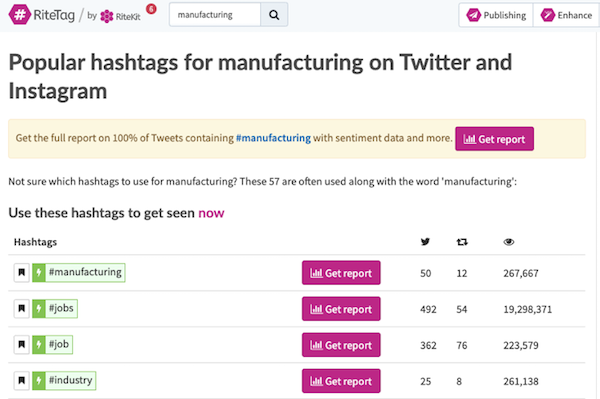 3. Maximizing Social Monitoring
Twitter is a great way to help online audiences get answers to their questions. Many B2B companies set up specific Twitter customer service profiles, monitor those feeds, receive notifications when their Twitter handle (or company name) is mentioned in a Tweet, and respond instantly instead of forcing customers to call and sit on hold forever.
Think of being connected on Twitter as an extension of your customer service. Because it's a public area, it's a fantastic way to demonstrate customer delight. Your quick responses and positive outcomes speak volumes for your business.
These two stats show how superior response on social media drives sales4.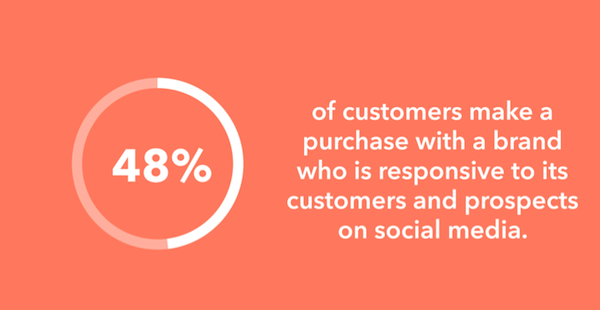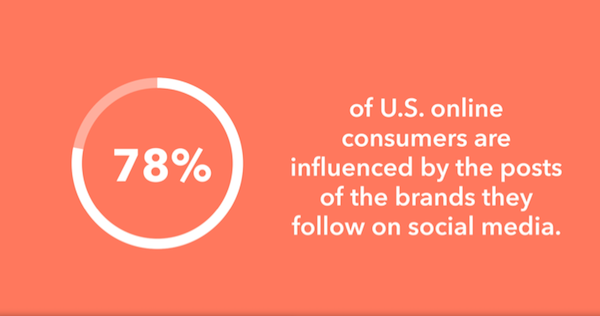 Source: Marketforce
In addition to customer service, you can see what people are saying about your brand, your product, and your competitors. By focusing on certain terms, you can discover where your competitors are falling short, and you can fill that need. Or, just keep track of trends in the industry to plan future product development.
It's easy and efficient to demonstrate superior customer service and monitor for brand mentions, especially if you're using a marketing automation tool like HubSpot or Hootsuite.
4. Studying Competitor Analytics
Is it frustrating when you're unsure where you stand compared to your competitors? If you don't know how well they're doing, what are you supposed to use as a benchmark for where you stand? Luckily, you can use social listening to understand how people feel about your competitors.
By monitoring a few free Twitter analytics (follower growth, Tweet activity, impressions, etc.), you can check to see where you stand on the social media podium and keep an eye on your competitors' shared content. Once you monitor their activity, their mentions, and specific hashtags, you can position your company accordingly. And if you see a potential customer sharing dissatisfaction with a competitor, you can be that good listener and helping hand when they really need it.
What analytics tools are available to help you? There are a bunch, but we're hooked on the HubSpot social tool to filter inbox streams, react and respond to conversations, identify interaction-generating content, and manage all social media engagements in one place.
And if you think all social media management software is the same, think again. G2, an unbiased source of reviews on user satisfaction, ranks the HubSpot Marketing Hub platform among the best available.
5. Connecting Globally
With more than 186 million daily active users across the globe6, Twitter isn't just exclusive to the United States. If your B2B company serves multiple global markets, Twitter is the perfect social media channel to reach them all. Plus, the platform keeps tabs on your industry, too, across the globe.
6. Capitalizing On Opportunities
Twitter is a unique social media channel, and simply ignoring its opportunities could hurt your business in the long run. Here are some strengths of Twitter as a B2B marketing tool (some were covered already, but the full list is impressive):
It is free to use; the price is right
Its reach is incredible; 500 million Tweets a day sent by 186 million daily active users across the world
In a second you can promote your branded content
You can converse with followers and share updates
You can instantly respond to customer questions/concerns; and save money on traditional customer service
It helps you keep track of competitors' activities; see what tactics they're using
Your prospects can used it as a search engine tool to find you
You can implement hashtags (Tweets with hashtags receive 2X as much engagement as Tweets without them) that expand your reach and influence on Twitter
Obviously, some research is needed to see how much your target audiences use Twitter (hint: use a tool like SparkToro to find out). For the typical B2B marketer, however, the data proves that this is a worthwhile investment of your time. Whether you'll be generating brand awareness, answering customer questions, or positioning your company as a thought leader, it's vital to take advantage of this massive network within your overall social media plan.
Speaking of social media plan, Twitter should be one of several channels you use in addition to LinkedIn. Just be careful not to overstretch yourself on too many different social networks. You want to maintain high-quality social platforms that share helpful content and provide support for prospects and current customers.
So what are you waiting for? If your business needs help setting up and executing a social media plan as part of your marketing strategy, let us know!