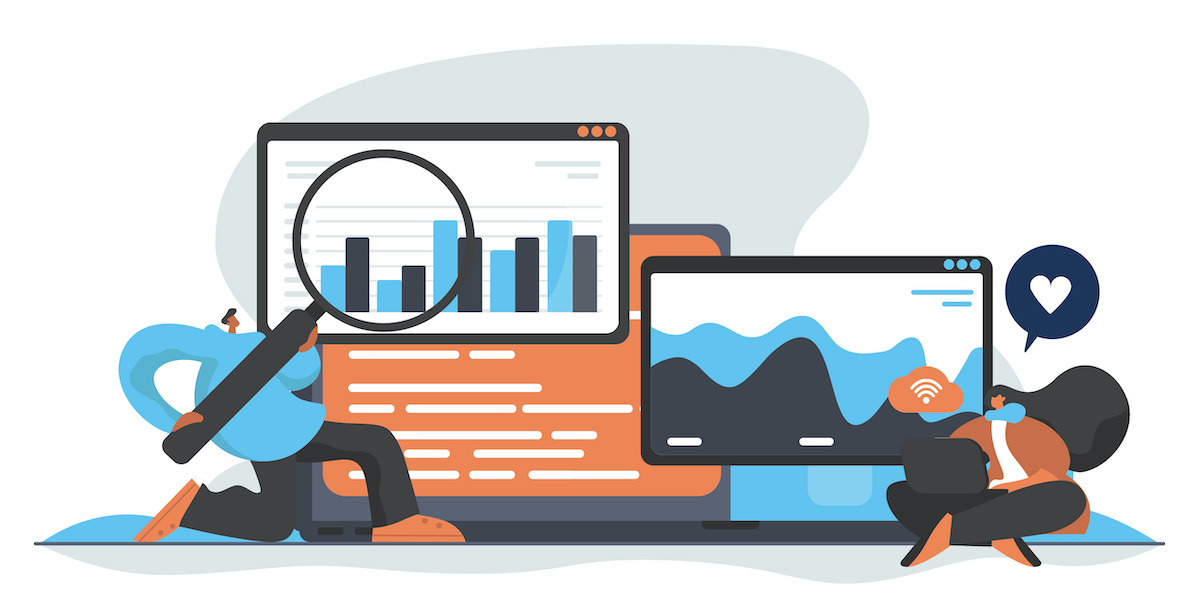 There was a time when bounce rate and average time on page were "nice to know" metrics. They showed up in your website analytics, but you probably paid far less attention to them than other SEO data points.
Times, they are a'changin'. Bounce rate and average time on page have valuable information to share with regard to website performance and user experience — and B2B marketers and web designers building and maintaining sites are paying close attention.
The question is not if or why bounce rate and average time on page metrics matter, but how to improve them on your site.
In this article we'll cover:
What Do Bounce Rate and Average Time On Page Mean?
Hubspot's definition of bounce rate is, "the percentage of people who land on a page on your website and then leave without clicking on anything else or navigating to any other pages on your site." In practice, bounces look like this: Someone finds one of your blogs on a search engine results page (SERP), clicks through, reads the article, and then exits your site without visiting any other pages.
Average time on page is exactly as the name suggests — the average amount of time visitors spend on a particular page — and it reveals if they are actually reading your content. For instance, if the average time on page for a lengthy blog post is only 10 seconds, it's safe to assume that most visitors aren't actually reading the post.
What Are Good Numbers For Bounce Rate and Average Time On Page?
Many factors influence bounce rate and average time on page, such as what kind of traffic your site is attracting and the SEO that's been done.
The page type and the content it contains are also factors. If the page is largely informational without many links to other parts of your site, then a high bounce rate and low average time on page may not be too alarming. The opposite should hold true if the page is, for example, mainly a directory of links to your products and services.
What's an ideal average for time on page?
The truth is, ideal average for time on page will vary. Some marketers state that their average time on page is between 2-3 minutes. Others dial into this metric using read time, which is averaged based on the number of words in an article and a general reader's words per minute speed. In that scenario, a 40- to 50-second page visit is encouraging.
Target Bounce Rate Percentages
To get an idea of the variations in bounce rate, check out this graph created by Conversion XL showing the average bounce rate for various industry web pages.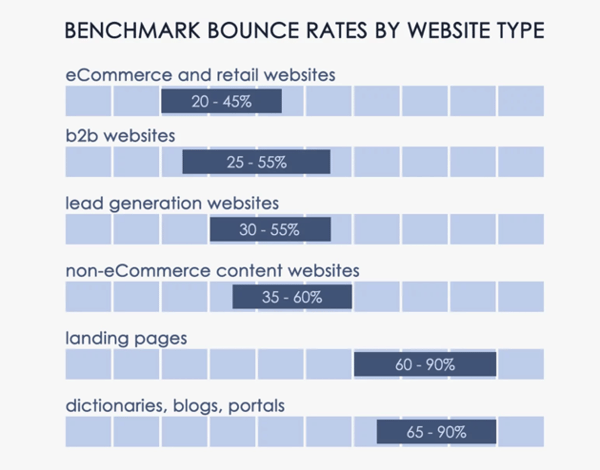 Source: ConversionXL Bounce Rate Benchmarks
In general, you should aim for a bounce rate below 40%. If it's above 55%, you definitely need to look for reasons why people may be leaving your site and for ways to improve.
On the other hand, don't let an extremely low bounce rate lull you into a false sense of security. An average bounce rate of 20% or less might reflect really engaging content, but it's more likely an indication that there's something wrong with your site analytics tool, such as a duplicate tag.
4 Reasons Behind High Bounce Rate
Mobile devices. You're probably among the 81% of adults in the U.S. who own a smartphone and know how difficult it can be to do extensive research on a small screen. People are likely to bounce sooner when using a mobile device rather than a computer or tablet.
Popular blog posts. Blogs with high SERP rankings and social media shares attract a lot of traffic that want answers to specific questions. Once they've found those answers, most people bounce to other sites for additional perspectives.
Some pages are more in-depth than others. A disproportionate amount of time may be spent on different pages, for various reasons. For example, pages with a single CTA are likely to have a much higher bounce rate than those offering multiple CTAs, links, and other similar in-depth content. Your landing pages should have very low bounce rates, since ideally visitors would be getting there from a CTA on your site, and taking another action on the page, such as filling out the form.
Structural issues. If your bounce rate exceeds 70%, look at your pages from a visitor's perspective. Where is the user experience failing? Are there any obvious errors like 404 pages or content that doesn't align with meta descriptions?
My Metrics are Horrible! What Do I Do?
Don't panic, but do investigate how you can remedy a high bounce rate and/or low average time on page:
Check your site's page-load speed. If you have a ton of large, high-resolution images, pages may take too long to load. People are impatient and will abandon pages with excessive load times.
Make sure site navigation and page links are user-friendly. Your main site navigation menu should appear on every page except landing pages, and each page should link to related articles/content so users can dig deeper into your site, no matter what page they first enter through.
Review for SEO. Use proper keywords, page meta descriptions and titles throughout your site.
RELATED: 7 Ways to Craft the Perfect Meta Descriptions that Convert
Provide engaging (and relevant) content. It will help you see the largest improvements because visitors will be more likely to read what you have to offer. It's great to generate a large number of visitors, but if they aren't sticking around, you're missing opportunities to convert them to leads.
(More) Best Practices to Improve Bounce Rate
Use short paragraphs and section headings to keep text easily digestible.
Don't use pop-ups, they're annoying. If you can't help yourself, make them exit intent pop-ups. They appear when a visitor's cursor moves outside the upper page boundary (indicating their potential exit from the site), and are far less likely to cause bounce.
Regularly write and repurpose blog content, advanced content, and press releases.
Use keywords and long-tail keywords that prospects will organically search. Research tools like SEMrush or Ubersuggest are great resources for identifying appropriate keywords.
Thoughtfully craft meta descriptions and calls-to-action (CTAs) to encourage clicks.
Open external links in new tabs.
Add video! Need inspiration or tips on making video happen? Check out our library of Video Marketing Resources
To help keep these tips top of mind, our friends at Easelly made this infographic summary:

Improving your website's bounce rate and average time on page will ultimately improve your SEO. Check out our SEO Survival Guide for even more ways to improve your SERP rankings and website performance.