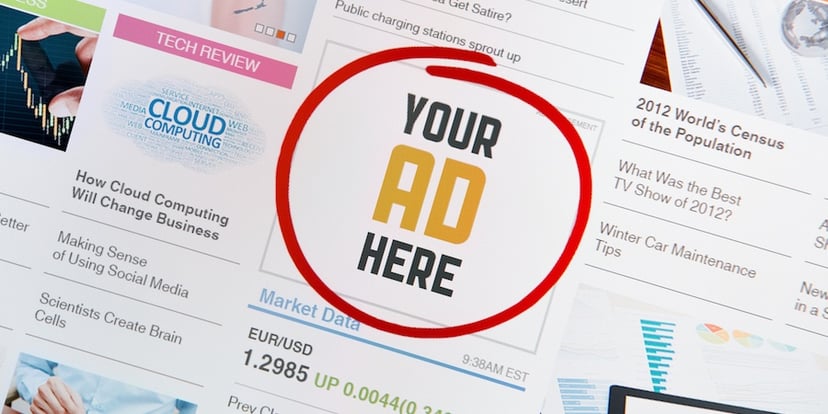 There are three basic types of media in marketing: owned media, earned media and paid media. Owned media is anything that your business is in control of – your website, blogs and other web entities. Earned media is content that naturally moves within the internet – social mentions and shares, reposts and reviews. Paid media is viewed as more of a traditional marketing tactic, in which businesses will pay a third party to broadcast and promote a message.
You may think, "Why would I use paid media? Doesn't it go against the inbound marketing methodology?" It's a valid question, but paid media can act as a "boost" for your inbound tactics. Its purpose is to open the door (even if it's just a slight crack!) to web users who otherwise wouldn't have seen your content. After all, a promoted post or tweet may be someone's first exposure to your brand.
Consider the following ways in which paid media can fit in an inbound program and how you can incorporate it in your future inbound efforts.
Target a Highly Relevant Audience
Targeting a relevant audience is the backbone of inbound marketing and paid media can enhance these efforts. Various social networks provide a number of paid promotional options; Facebook for instance, allows businesses to target an audience based on:
Geographic location (country, region, city or postal/ZIP code)

Age

Gender

Languages spoken

Interests (sports, films, music, etc.)

Behaviors (where or how consumers shop)
Even with the social network's giant base of 2 billion monthly users, the ability to hone in on a specific customer type is relatively easy. Remember, the more specific you are when targeting an audience helps ensure that the decisions you make in the future are dictated by your customers, which will set you up for long-term success.
Paid Media Can Improve the Timing of Inbound Marketing
An important inbound marketing strategy is building a relationship with your buyer personas before they're ready to buy. That way, when they are ready to buy, they have a brand in mind (yours) and won't even think twice about it. But what if a buyer persona is ready to buy but has no idea your business exists? Bad news: they go to your competitor.
With the help of paid media, you can reach these personas who know nothing about your business but who are ready to buy. Paid media allows you to target and expedite them through the buyer's journey. Depending on your product, service or industry, this "impulse buyer" may not be common, but it's important to realize that they do exist.
SEO Domination
It's important to sprinkle in keywords potential buyers are searching for in your website to fuel search engine optimization. Google's advice is: "Think about the words users would type to find your pages, and make sure that your site actually includes those words within it."
The challenge, however, is figuring out what exactly buyers are searching for. Sure, there are keyword suggestion tools, but those can only get you so far and can still leave you guessing whether or not your efforts are working.
This is where Pay-Per-Click (PPC) initiatives come in. PPC tools can help you discover keywords potential buyers are using, identify keywords that are most productive (trigger conversions), negative keyword suggestions and insights on how to craft winning PPC ads. Using PPC is just another tactic to use in your inbound marketing efforts, especially if you're seeing a decline in website traffic.
Numbers Don't Lie
Take a look at the results from a sponsored LinkedIn campaign we created for one of our customers compared to that of another post with the same content, unsponsored. The sponsored campaign lasted 7 weeks, but to keep this a fair fight, we'll focus on the first two weeks of the promoted post.
Impressions, Clicks and Total Engagements
The promoted post grew impressions by 739%, from 2,764 to 20,424 impressions. Clicks grew by 644% and total engagements (likes, comments, shares and clicks) grew by 303% from 36 to 109 engagements. The promoted post also gained the company page 3 new followers. Score!
Landing Page Submissions and New Contacts
Here are the numbers that really matter: landing page submissions grew by 300% and new contacts grew by 200% when the content was promoted. Remember, this campaign lasted 7 weeks and this is only a small snapshot of it. In this case, paid media didn't just leave the door cracked, it blew the door wide open!
It's All About Content
While paid media can boost your inbound marketing efforts, it's only as smart as you are. What's the point of paid media if you don't have thoughtful content created for your target persona? Download our content creation guide to start creating content with your target persona in mind!