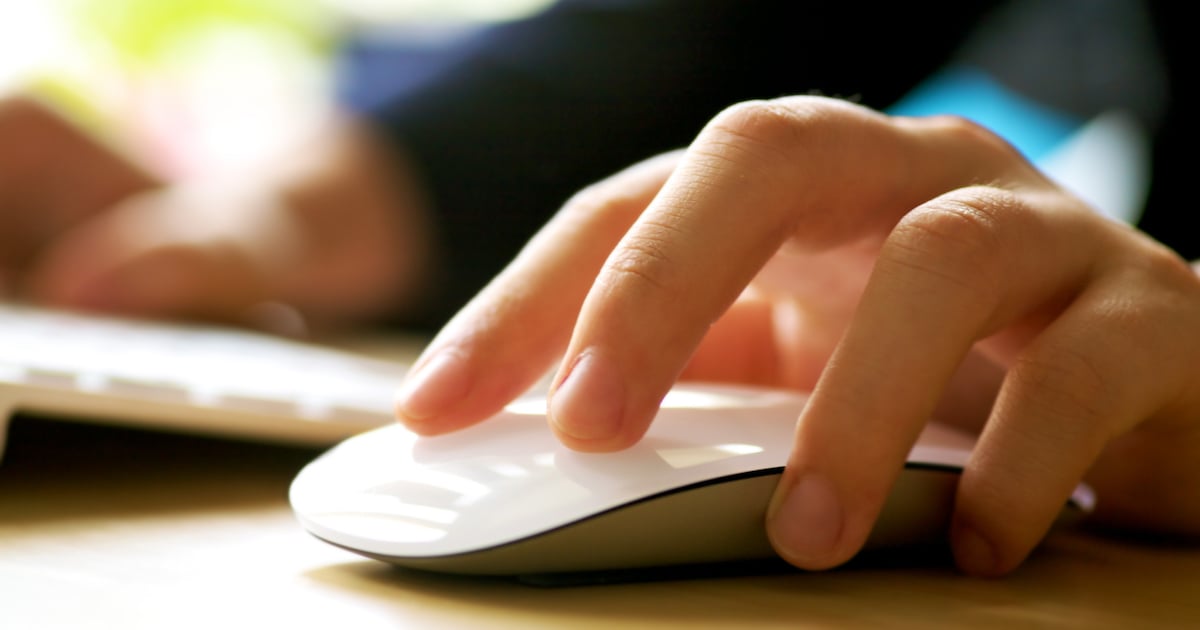 There are three basic types of media in marketing: owned media, earned media, and paid media. As the name implies, owned media is any marketing asset your business has control of (i.e., your website, blog, etc.). Earned media refers to content that naturally flows throughout the internet, such as social mentions, shares, likes, reports, and reviews. The third type — paid media — is probably the most traditional of the three, and perhaps the most confounding as it relates to inbound marketing.
Since paid media involves a business hiring a third party to broadcast and promote messages, it seems to fly in the face of the inbound marketing methodology. Paying for media attention may feel disingenuous compared to organic, and that makes some of our B2B prospects and clients question using pay-per-click advertising (PPC) — a paid media stalwart — within their inbound program, and turn to us for an answer.
The answer they get? Yes! Paid media is viable — when done strategically and in an inbound way. PPC is an increasingly essential tool B2B marketers use to boost inbound tactics. Its main purpose is to make a targeted audience of web users — your target personas — aware of your content and brand. After all, a promoted post or tweet may be someone's first exposure to your brand, which could open the door to business opportunities.
The value of pay-per-click advertising
To put the value of pay-per-click advertising into context, here are seven use cases that demonstrate how an agency-managed paid media strategy is complementary — not contrary — to inbound programs for complex industries.
1. Market expansion/penetration
Strategic expansion in existing or new markets is typically a key goal for B2B companies. Because of its visibility, paid media is a natural fit for increasing reach and penetration. In some instances, circumstances dictate that a B2B company enter a market faster than anticipated.
Such was the case for one of our clients, a pump manufacturer with products that align with COVID-related disinfection needs. A series of LinkedIn and Google ads aided the manufacturer to quickly foster awareness about their solutions within new audiences and gain competitive traction. Shortly after launch of their PPC campaign, 82% of new contacts and 13% of website traffic was directly attributable to paid ads.
2. Brand/product launch
A well-established contract manufacturer saw and took the opportunity to branch into autonomous equipment. Their entree into the market — a robotic cart — spurred the launch of a subsidiary company that required extensive marketing support. Principally, the website had no domain authority, and no SEO authority for the company name and related keywords. We came alongside our client to help, with one tool being placement of PPC ads on LinkedIn, Facebook, and Google. Within a few months, the pipeline was stuffed with more than 130 leads and several RFQs.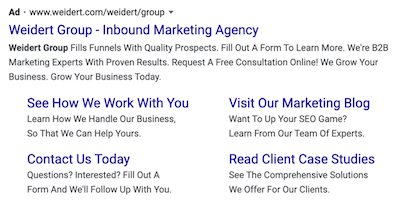 Branded Google Search ad
3. Inbound lead generation/conversion acceleration
What happens if you don't have a lot of content created yet, or your gated content isn't driving enough traffic to reach lead conversion goals? Is your inbound program doomed? Absolutely not.
Pay-per-click advertising can help you leverage existing content while you continue to build organic SEO and traffic. Promoting material that speaks to specific pain points provides value for ad viewers. It compels them to click on an ad more so than generic conversion messaging.
Two examples come to mind. The first involves our work with an adhesive manufacturer. We aligned paid media with their topic cluster content/SEO strategy and used HubSpot workflows to automate notifications. As a result, the sales team knew exactly what topic the lead was interested in and could follow up with highly relevant messaging.
For another industrial manufacturer, we used Google Display, LinkedIn Display, and Google Search Ads to promote content that was created within the first six months of their inbound program. The combination spurred website traffic, lead conversions, and also organic activity.
4. Inbound recruiting
Manufacturing sectors continue to feel the impact of the labor shortage. The global pandemic ratcheted up the difficulty for a food manufacturer looking to fill spots. Leveraging the low per-click costs available at the onset of the COVID-19 crisis, we developed an inbound recruiting PPC campaign that brought in viable candidates — and even some leads not associated with career opportunities.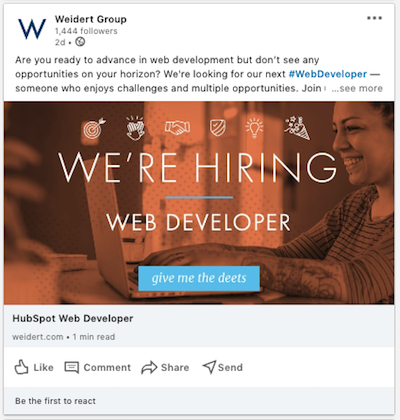 Inbound recruiting on LinkedIn
5. Events
Events may look and function a bit differently under the "new normal" of 2020, but that doesn't necessarily diminish their value. If you choose to host, sponsor, or exhibit at an event, pay-per-click advertising is a great fit for improving lead gen return on investment (ROI). Why? It's an easy and cost-effective way to extend beyond your current audience to attract more event attendees.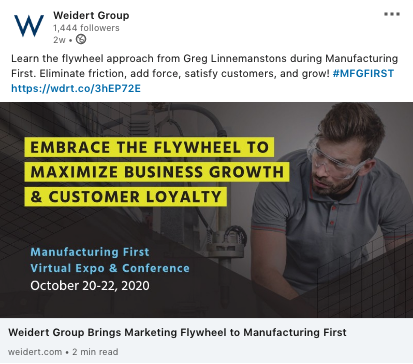 Event sponsorship promotion on LinkedIn
Likewise, you could create real buzz around ticket sales, registration, and even certain event components like virtual booth traffic. As regular hosts of online and pre-pandemic in-person events, our agency finds LinkedIn ads particularly effective. With it, we are able to target the industries, roles/personas, and geographies most closely aligned with event topics and our focus.
6. Account-based marketing (ABM)
When run alongside your inbound program, account-based marketing (ABM) is an effective way to nurture highly attractive prospects. Coupling it with the strength of Google Display Network to generate return website visits from desired visitors can be a lead gen boon.
ABM can help you dial in on select prospects. Using ABM campaigns focused on known contacts — through Google retargeting/remarketing ads, for example — can uncover opportunities within a group familiar with your brand, products, and services. On a larger scale, ABM can help you connect with people who aren't aware of your company. Targeted LinkedIn ads are a common tactic for generating new ABM leads.
7. Limited time/high conversion offers
Pay-per-click advertising can also spark interest in limited time offers, typically aimed at BoFU conversions. For example, a product trial or R&D analysis is more enticing the closer prospects are to their purchase decision. Connecting to such an offer through PPC promotion may well be the opportunity they didn't know they were looking for.
The commonality in all of these use cases is the need for research. The right platforms, keywords, and audience targeting parameters must be identified to be successful. Being purposeful in the use of PPC alongside a comprehensive inbound strategy elevates the effectiveness of all media — owned, earned, and paid — resulting in higher quality leads. Having a good mix of organic and paid tactics that align with your holistic inbound strategy also ensures your pipeline doesn't dry up if you adjust the mix. Transform your entire online presence into a qualified sales lead machine with the tips you'll find in our guide, 10 Key Elements of an Inbound Website: How to build a website that generates business growth.