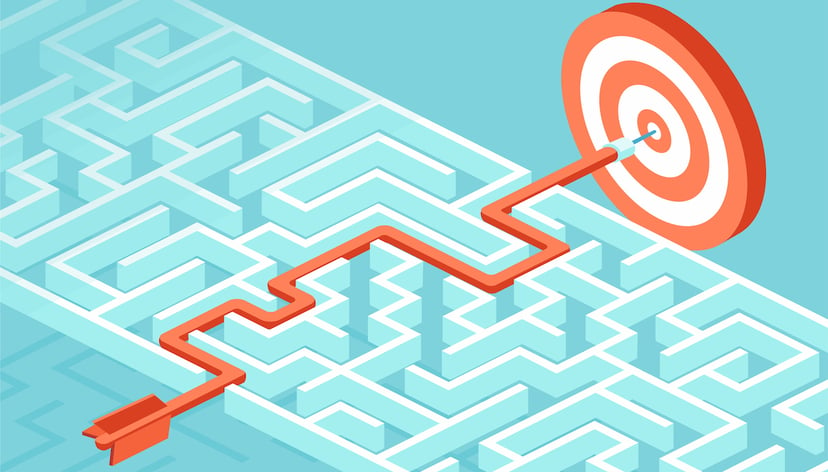 Account Based Marketing (ABM) is a big buzzword in the industrial manufacturing space, and recent statistics reveal why. Here are just a couple of eye-openers:
Companies that have an account based marketing plan generate 208% more revenue from their marketing efforts.

1


84% of B2B marketers ascribe "significant benefits for retaining and expanding current client relationships" to ABM.

1
Given these impressive percentages, you probably want to get your own ABM plan up and running ASAP — but don't jump in without familiarizing yourself with these ABM basics and implementation strategies.
What is Account Based Marketing?
Simply stated, Account Based Marketing is a B2B strategy that focuses on a targeted set of desired accounts using highly personalized campaigns. It provides marketing and sales teams with a number of advantages, including a faster sales process, cost effectiveness, and a more efficient use of marketing resources than traditional marketing.
With all of the things ABM is, though, it's important to remember that ABM is not targeted outbound marketing. It's much more considered, personalized, and strategic than a cold, irrelevant email blast or call to every contact at a company. Also, ABM is not meant to be the only tactic your company employs, and it shouldn't replace your inbound marketing strategy. (In fact, ABM and inbound go hand-in-hand.)
Why is ABM Such an Effective Strategy for Industrial Manufacturers?
An account based marketing project plan is most effective in situations that typically align with the business models of many industrial manufacturing companies:
Purchases are highly considered

There is a small pool of large-sized target prospects

Cross-selling to current customer base yields high profitability

High customer lifetime value (CLV)

Strong emphasis on reaching sales goals faster

How Do You Develop the "Right" Account Based Marketing Plan?
Once the ABM goal has been established, shaping a campaign around it generally consists of one of these two approaches:
Pursuing contacts within different divisions at companies with which you already have established relationships, and promoting the effectiveness of your work using tools like

custom sales pages



Identifying companies that have similar, desirable business attributes and sending key contacts targeted content to guide them along the buyer's journey. There are

four types of ABM

that can be implemented within a larger inbound marketing strategy

To maximize ABM's tactical effectiveness in your marketing mix, choose the approach that best aligns with:
The number of targeted accounts

The internal structure of targeted accounts

The projected monetary value of the targeted accounts

The marketing automation and CRM systems you have in place

But, ABM isn't quite that cut-and-dried. It's imperative that the following pieces of your account based marketing plan are well thought out before launching your campaign:
1. Leverage your content library
Since your target accounts might not have previous knowledge of or organic online interaction with your company, sharing relevant content to provide context behind your outreach is a must. Evaluate your offerings to see which pieces can be tailored for targets' specific needs, pain points, or roles. If your allotted budget allows, create new content to fill gaps. You'll also need to develop a strategic cadence for content delivery that follows this general format:
Run a

targeted LinkedIn ad

or another paid online placement to put your company top of mind for key contacts — this also gives them a chance to organically convert.


Follow up with strategic emails, sales outreach, LinkedIn messages, event invitations, etc. Remember to make each offer unique and reflective of your understanding of the recipient and their specific business needs.



Make sure the sales and customer service teams know the steps to take after a contact expresses interest or converts on one of your messages so they can move closer to a closed/won action.

Your ABM plan won't go anywhere if there aren't commonly understood protocols in place for following up with target leads, and what to do with leads who express interest. If you're running an effective inbound marketing program, you'll already have this process ironed out.
Detail how your ABM plan will be carried out. Make goals specific, measurable, achievable, relevant, and time-bound (SMART). Arbitrarily targeting and reaching out to contacts with no way to gauge success is akin to wasting your company's money. Similarly, if the data on your contacts' typical journeys through the sales funnel suggest unattainable results, consider spending your marketing dollars elsewhere. A 90-day budget and timeframe for your ABM campaign is recommended to help determine what is achievable with the content portion of your strategy, and how long to wait before pulling final analytics on overall campaign effectiveness.
4. Identify target prospects
Have your sales and marketing teams define your "ideal customer" based on characteristics such as industry, size, location, previous purchases, opportunities for growth into different departments/divisions, and annual revenue. In addition, identify the job titles of potential buyers. Use the criteria to pull lists of companies and contacts from your marketing automation platform, CRM, social networks, and various company websites.
5. Define campaign technology and setup requirements
If you're using the HubSpot platform, this can initially include company score reporting, workflows, custom contact properties, social media ads, and tracking URLs. If you have HubSpot Marketing Enterprise, more ABM features are available as well.
Once these key pieces are in place, it's time to launch your ABM plan! Be mindful of:
Monitoring the results over the duration of the campaign

Scheduling a debriefing at the end of the campaign to assess goal attainment and budget alignment

Identifying accounts still in the pipeline that would benefit from additional nurturing

Account Based Marketing is a popular and effective B2B strategy for industrial manufacturers, especially if built to complement an existing inbound strategy. Check out our completely free Inbound Marketing Guide to learn the basics!
SOURCE
1FlipMyFunnel, Account Based Marketing Isn't the Death of Anything, Undated