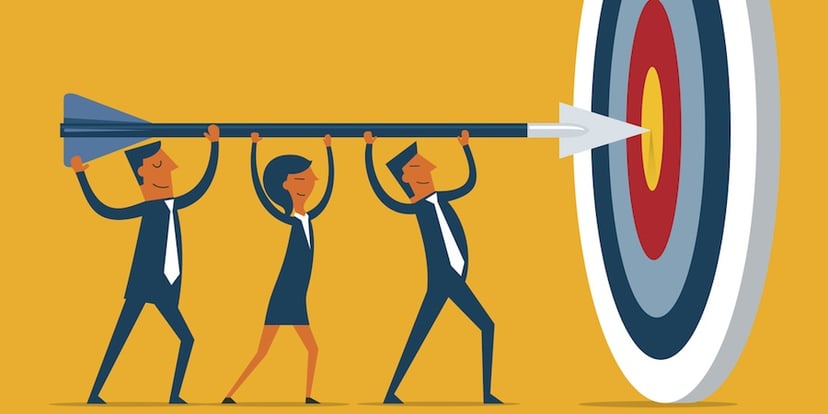 Account Based Marketing (ABM) is a big buzzword in the industrial manufacturing space, and for good reason. When compared to other marketing initiatives, recent surveys have found that "ABM delivered the highest Return on Investment of any B2B marketing strategy or tactic." Armed with this information, you probably want to get your own ABM plan up and running ASAP – but don't jump into ABM without developing a solid strategy. Where should you start when developing an effective ABM plan? First, let's dive into some ABM basics.
What Exactly is Account Based Marketing?
You know what the acronym stands for, but what makes up the approach? Simply stated, Account Based Marketing is a B2B strategy that focuses on a targeted set of accounts using highly personalized campaigns. It provides marketing and sales teams with a number of advantages, including a faster sales process, cost effectiveness, and a more efficient use of marketing resources. With all of the things ABM is, though, it's important to remember that ABM is not targeted outbound marketing. It's much more considered, personalized and strategic than a cold, irrelevant email blast to every contact at a company. ABM is also only one of the tools in a comprehensive marketing tool kit; it shouldn't be the only tactic your company employs, and it shouldn't stand as a replacement for your inbound marketing approach. In fact, ABM and inbound go hand-in-hand.
Why is ABM Such an Effective Strategy for Industrial Manufacturers?
ABM is most effective in the following situations, which align with the business model of many industrial manufacturing companies:
Purchases are highly considered
There is a small pool of large target prospects
Cross-selling to current customer base yields high profitability
High customer lifetime value (CLV)
The pressure is on to reach sales goals faster
While any company B2B can launch an inbound approach, industries like industrial manufacturing will experience the best results.
Is ABM a One-Size-Fits-All Approach?
Selecting the ABM tactical approach that you'll employ is just as important as determining that you want to introduce ABM to your marketing mix. There are four types of ABM you can choose from, based on the number of accounts you want to target, their projected monetary value, and the marketing automation and CRM systems you have in place.
The four types of ABM are:
At Weidert Group, we recommend ABM Lite for a majority of our clients.
How Do You Develop the "Right" ABM Plan?
Once you've selected the ABM tactical approach you want to carry out, it's important to make sure all pieces of your plan are well thought out before launching your campaign. Here are 6 details to iron out while developing an ABM Lite plan:
1. First and foremost, you want to have an established inbound marketing strategy and a library of content already created. Without relevant content to share with target accounts, and without any previous knowledge or organic interaction with your company online, your reachout could feel as cold and irrelevant as those dreaded "We haven't met before but …" emails in your inbox.
2. Next, and just as important, you need to make strong marketing and sales alignment a priority. Your ABM plan won't go anywhere if there aren't commonly understood protocols in place for following up with target leads, and what to do with leads who express interest. If you're already running an effective inbound marketing program, you'll already have this ironed out.
3. Next up, set a SMART goal for your ABM plan, detailing how it'll be carried out and measured. If you're just targeting and reaching out to contacts with no way to gauge your effectiveness or success, you might as well be throwing your company's money down a hole. Along the same vein, if, after reviewing data on your contacts' typically journeys through the sales funnel or realistic revenue generation, you expect extremely unattainable results, you might as well look for other places to spend your marketing dollars. Determining a budget and timeframe (we recommend 90 days) for your ABM campaign are also important aspects to your overall goal. These two metrics will help determine what is achievable with the content portion of your strategy, and how long you'll wait until pulling the final analytics to gauge your campaign's effectiveness.
4. After the solid foundation of your ABM plan has been set, it's time to identify the key accounts you want to target. The best place to start is for sales and marketing to meet and discuss the characteristics of ideal customers for your business, with defining characteristics like industry, size, location, previous purchases, and annual revenue. In addition, identify the job titles for each potential buyer you'll reach out to. Once your targets have been outlined, use the criteria identified to pull lists of companies and contacts from your marketing automation platform, CRM, social networks and company websites.
5. Once you have key accounts gathered (as a reminder, for ABM Lite, 10-100 accounts are recommended), it's time to lay out your tactical messaging strategy. Perform an audit of the content that's most relevant to your targets. Evaluate your offerings to see which pieces can be tailored for targets' specific needs, pain points, or roles. If you identify gaps, create new content if the budget you've allotted allows. You'll also need to develop a strategic cadence for the delivery of your content. We suggest starting by running a targeted LinkedIn ad or another paid online placement to put your company top of mind for key contacts – this also gives them a chance to organically convert. Then, follow up your ad campaign with strategic emails, sales outreach, LinkedIn messages and event invitations (to name a few) – just remember to make each iteration and offer unique, reflect your understanding of the person you're reaching out to, and always present the unique value you can provide their business. Also, it's extremely important to make sure the sales and customer service teams know next steps after a contact expresses interest or converts on one of your messages so they can move closer to a closed/won action.
6. Next, define any necessary technology requirements and setup needs for the campaign. If you're using the HubSpot platform, this can include setting up company score reporting, workflows, and custom contact properties. More broadly, it can also include setting up social media ads and tracking URLs.
After you have these key pieces in place, it's time to launch your ABM plan, being mindful of monitoring the results over the duration of the campaign. Don't forget to set up a debrief meeting at the end of the campaign to assess if your goal was achieved, if your plan aligned with your allotted budget, and if there are any accounts still in the pipeline that would benefit from additional nurturing.
Account Based Marketing is a popular and effective B2B strategy for industrial manufacturers. But, to achieve results, you will want an inbound strategy in place so your ABM program builds off of it. Check out our Inbound Marketing Guide to learn the basics!