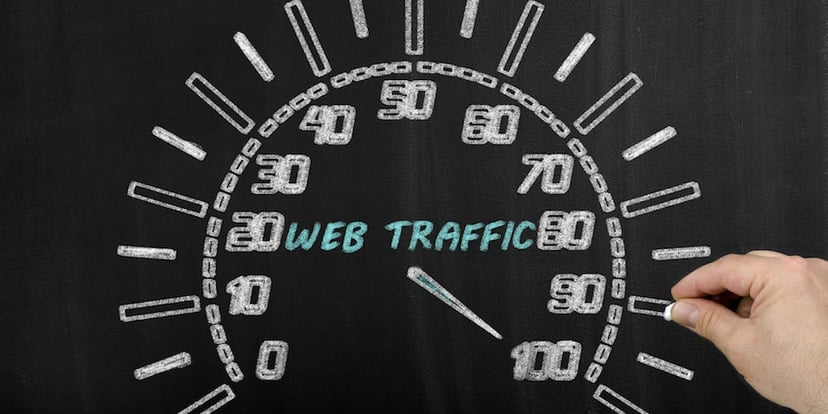 It's the answer every new blogger wants to know, especially companies just embarking on the journey of blogging. How long will it take before they start seeing increased traffic flood into their website? Is it weeks, months or years?
The answer, of course, is: it depends. And if your boss is asking, tell him not to expect a flood of new contacts and traffic tomorrow.
With content publication it's truly a marathon, not a sprint. There's no easy way around it. It's important when making the decision to launch a blog to go into it with dedication and understanding that you'll need to commit to blogging for at least 12-18 months before you fully assess its effectiveness on both attracting increased traffic to your website, and how it attracts and converts new lead opportunities.
What I can tell you based on our own experience with our own blog, and assisting clients with launching their blogs, there are ways to influence how soon you see exponential traffic growth. And there's a definite tipping point once you reach a certain number of blogs when publishing them on a consistent basis.
Factors That Impact Getting Website Traffic From Your Blog
1. Website Integration & Calls-to-Action
In an ideal world, your blog should be directly integrated within your main website content management system (CMS) so it lives within your website's core domain. This helps your website build authority with search engines since every new blog article counts as another indexed page filled with searchable content.
The alternative is having your blog live on an external platform with a subdomain such as blog.yourwebsitedomain.com. This is often easier to set up but since this new subdomain has no previous content authority with search engines you're starting from scratch. So, expect things to take longer with securing favorable rankings in search results.
Whichever route you choose, it's key that visitors of your blog can easily access your core website pages, whether that be the main website navigation still appearing when viewing a blog or strategic use of calls-to-action (CTAs) that direct blog visitors to specific pages of your website.
2. Consistent Frequency
Google loves content sources (websites & blogs) that are consistent with their publishing frequency, and your subscribers appreciate a consistent pattern as well. In order to build your credibility in both cases you need to pick a frequency (daily, weekly, bi-weekly, etc.) and stick to it.
It's clear that websites & blogs who maintain a consistent frequency experience a steady increase in traffic, especially when that frequency is at least once per week.
3. Quality of Content
A daily or weekly blog frequency is only going to help you increase your traffic if the content is unique, thoughtful, and helpful to your readers. When creating any type of content it's always better to follow the rule of quality over quantity, as long as you're not posting only one blog article per quarter.
By identifying target personas, the ideal person who would be reading your blog, this will help you tailor your writing to their needs, painpoints and writing style. This will also help you form a content strategy of what topic areas will be included in your content calendar to continue to stay relevant and a potential thought leader to your target personas.
4. Social Media Activity
Great content goes unread every day online, largely due to lack of promotion. Companies who take a team approach to promoting their content on the social media channels see a dramatic increase in attracting additional traffic. Especially when you're consistent about it!
On a similar note, don't feel like you can only promote a blog article once. If a particular post is really resonating with your readers, share it again on LinkedIn a week or two later on your personal profile or in a different LinkedIn group. If Twitter is a utilized social channel share the article again a day later and a week later, since the shelf life of a tweet is often seconds.
5. Competition in Your Industry
If you're lucky you might be the only one in your industry taking on blogging. If so, you'll attract a lot more attention and traffic, especially if you set a high standard on the quality level of content you publish from the start.
If your competition is already blogging it's up to you to outpace them with better content, published more frequently and better promotion on the right social media channels.
The Blogging Tipping Point
Here at Weidert Group we have been blogging since April 2011, which gives us many years of quality blog posts. But when we launched our blog it wasn't sunshine and roses out the gate, it took years of hard work and creating content to see the success that we have today. Since April 2011, we have strived to publish our blog every business day, we have fumbled a few times, but for the most part we hit that goal of pushing every business day.
Like I said, our success didn't happen over night. Looking back at our first 13 months of blogging (April 2011 to April 2012), Month 5, Month 10 and Month 13 were the months we saw a tipping point of exponential traffic growth. (Green = organic search traffic, Yellow = referral traffic, Turquoise = social media traffic, Orange = email traffic, Blue = direct traffic).
To clarify, our blog lives directly within our website and core site domain.
Overall Website Traffic (first 13 months of blogging)


Organic Search Website Traffic (first 13 months of blogging)

The number of total blog articles published at these tipping point months were as followed:
• Month 5 = 77 total blog articles
• Month 10 = 150 total blog articles
• Month 13 = 215 total blog articles
Our Month 5 blog total is consistent with what we've seen with our clients, and when talking to others in our industry based on their clients' results, in that the 55-70 blog total is when most companies see a tipping point of exponential traffic growth. It seems there's something with reaching that range of consistently published blog articles that Google deams you a legitimate source of content, and increased traffic/rankings then follow. This is more of a qualitative assessment but holds somewhat true for many, including with our own experience.
If we step back and look at the various other tipping points in our blogging journey, there's clear milestones where we benefitted from Google algorithm updates that favored websites with high levels of original and helpful content created for actual users (versus created for Google's algorithm). The real key to this kind of traffic growth though was dedication and consistency, which has amounted to over 1,200 individual blog articles.
Overall Website Traffic (April 2011 – November 2017)

CONCLUSION:
Every company and industry is different, so there's no magic number on how many blog articles it will take to reach your own exponential traffic growth. But striving to reach that 55-70 total blog article range as quickly as you can, while still achieving a high quality level and consistent publishing schedule, should be your initial goal to seeing traffic growth.
Following the other suggested actions such as website integration, social media promotion and keyword optmization will be key factors in your success as well.