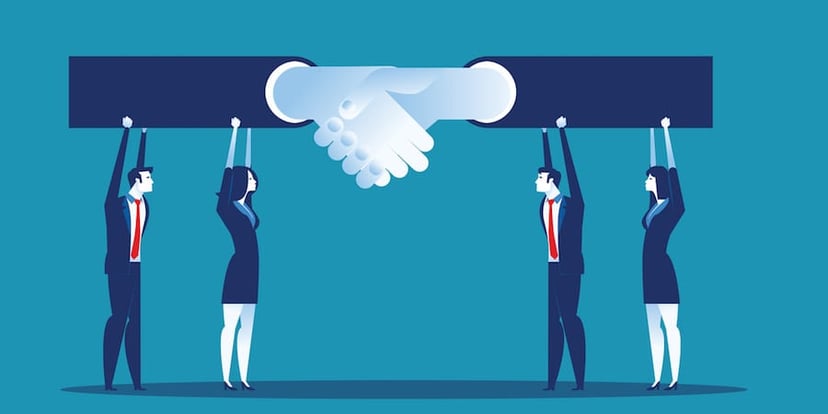 Sales and Marketing. Marketing and Sales. The two are inextricably linked in the majority of companies, and presumably share a common goal: creating customer value and driving company results.
More often than not, however, a divide exists between the two departments about how to accomplish this goal. Marketing leans towards creating customer value. Sales leans toward driving company results. Can the two philosophies (and departments) be aligned for mutual success?
Enter inbound marketing and, more specifically, sales enablement. Wait...sales what? Officially, HubSpot defines sales enablement as "the processes, content and technology that empower sales teams to sell efficiently at a higher velocity." Simplified, sales enablement leverages marketing strengths — creating and using processes, content and technology — to support sales efforts. With Marketing empowering Sales to sell more efficiently and faster, departmental alignment naturally occurs because the focus becomes unified around the buyer and, ultimately, their positive, productive experience with your industrial company.
How does it all happen? The process is explored in-depth in the HubSpot Sales Enablement Certification course. It gives you the tools you need to view your company through a sales enablement lens, and reveals opportunities for correcting practices that undermine success with best practices that include:
1. Timing contact with Leads
Chasing leads as soon as they visit a page on your website or download a very high-level awareness piece can quash any budding interest, and actually drive potential buyers away from your company instead of towards it.
Sales enablement takes the focus from overly aggressive pursuit to understanding the context around why potential prospects comes to your site, and if their motivation warrants follow-up. Simply put, Sales and Marketing must mutually define what a qualified lead looks like and what actions trigger sales-readiness. A simple matrix, like that illustrated below, can help define your qualification strategy and when leads are ready for contact.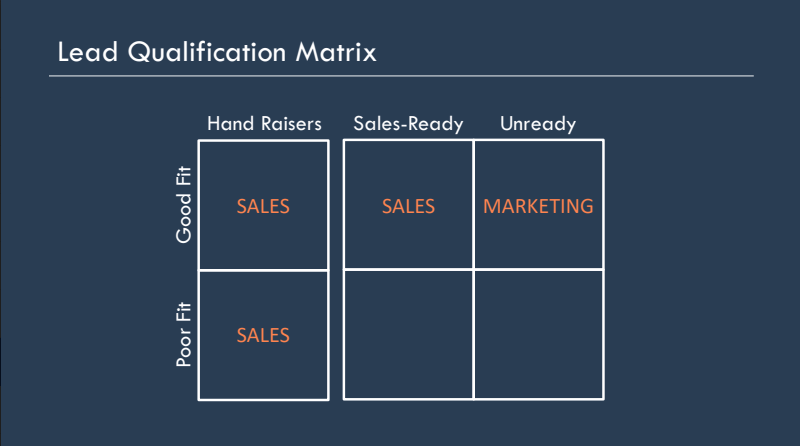 While 69% of high-performing companies rank communicating business goals company-wide as the most important and effective way to build a team, only 7% of employees know what they need to do to contribute to company-wide goals.
Startling statistics, to be sure, and they aptly illustrate what happens when Sales and Marketing aren't clearly communicating. Introducing a Service Level Agreement (SLA) — an output-based contract that defines what the parties can expect from themselves and each other — ensures no confusion with simple, black and white language like:
"Every month, Marketing will deliver 1,000 qualified leads to Sales, and Sales will contact each of those leads within 24 hours of receiving it."
Touch-base interdepartmental meetings to discuss progress toward the promises outlined in the SLA (commonly referred to as "smarketing") reinforces commitment to the goals and allows for corrective action.
3. Identifying what jobs your product/service is being "hired" to do
As counterintuitive as it seems, some people will buy your product or service for something other than its intended purpose. Understanding the reasons behind these purchases — essentially, the jobs your product or service is "hired" to do — helps you further refine your target market and personas.
Interviewing existing customers gets to the heart of the matter. Ask pointed questions, like:
Why did you buy [product or service]?
How long did you think about the purchase prior to doing so?
Had you considered buying [product/service] before this purchase but didn't? What made you change your mind?
Did you use [product/service] for its intended purpose? If not, what did you use it for?
4. Understanding that content is king
Developing content is at the core of your marketing efforts as it attracts prospects and addresses their questions or concerns throughout the buyer's journey. Content is a powerful sales tool, yet many industrial manufacturers are underutilizing it. Why? Either not enough relevant content is being created for Sales to leverage, or the content is not conveniently accessible to them. Without access or a process around it, any tool — content included — won't be used.
Chances are, your sales process is in need of some updating to make content work to its full potential for your team. Reframe it using sales enablement to find the knowledge and strategic gaps and smarket your way to a solution that makes content central to all Sales and Marketing activities.
Sales enablement is a game changer for industrial companies, and these are just a few of the thought-provoking insights you'll find in the online HubSpot course. Take a minute to sign up for this free and valuable certification, and for more on aligning Sales and Marketing, click the button below to download A Guided Tour of Marketing and Sales Service Level Agreements.