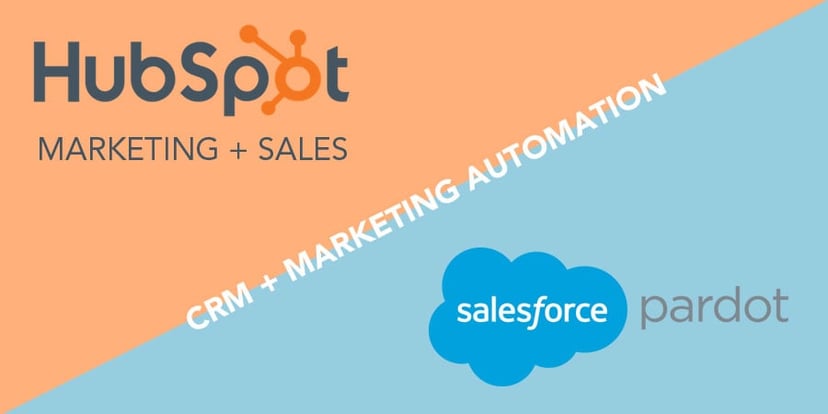 One question that comes up frequently with new clients and prospects is, "Why HubSpot?" It's a great question, since there are a number of marketing automation and customer relationship management [CRM] platforms out there.
So, with so many options available, how do you choose the right one for your company? This is a particularly important question for prospects that are already using Salesforce as their CRM, which is extremely likely since it's the industry leader in market share for CRMs. Salesforce's annual DreamForce conference congests the streets of San Francisco with more than 171,000 marketers, developers, and designers. They have thousands of integrations with other platforms and are constantly updating their software.
Since Salesforce also owns Pardot, another marketing automation platform, many of you might be asking, "If Salesforce and Pardot are built by the same company, shouldn't I use Pardot if I'm already using Salesforce?" If only it were that simple. CRM and marketing automation should be considered and purchased in tandem, and the right company for your CRM isn't always the right marketing software for you. In this blog post, I'll highlight the important comparisons between Pardot & Salesforce vs. HubSpot Marketing & Sales—the two major software suites that feature marketing automation and CRM together.
What is Pardot?
Pardot is a marketing automation platform that started its life in 2006. ExactTarget acquired them in October of 2012; in 2017, Salesforce bought ExactTarget in 2014. Pardot's current features center around email marketing, lead generation, and marketing automation. As a Salesforce product, Pardot is specifically positioned as its B2B-specific marketing automation suite.
What is HubSpot?
Founded in 2006, HubSpot started its business focused on inbound lead generation via blogging and social media. It has grown to an all-in-one website, social media management, marketing, and CRM platform.
Comparison by Functionality
Lead Generation
HubSpot's focus is on generating inbound leads. They have an integrated set of tools designed to bring individuals along their buyers' journeys. Some of the tools are the blogging platform, email functionality, forms, smart content and A/B testing. The goal is to provide relevant content to the visitor that will lead them to a landing page where they submit their information via a form to receive such things as advanced content or a blog subscription.
These tools are easy for smaller companies to use right out of the box. There are opportunities to customize the look of blogs, landing pages, and forms as a company grows, and simple changes like copy and colors are easy to do. More customization is available, but requires more training or the support of an agency.
Pardot also supports lead generation, but focuses on a more traditional lead generation method. Creation of forms and landing pages is more clunky than HubSpot. Further customization requires training or help from a Pardot developer.
Social Media Management
Both Pardot and HubSpot offer social media posting and monitoring. HubSpot's offers Instragram scheduling (something unique to HubSpot) and more integrations, but Pardot is sufficient to manage a basic social media presence. Both platforms can benefit from a 3rd party integration, such as Hootsuite, for a more robust solution for major social media promotions.
Customer Relationship Management (CRM)
CRM is where Pardot, and its direct integration with Salesforce, really shines. Salesforce has a robust CRM with integrations with most other platform out there, including HubSpot. It is also customizable and able to fit any companies needs.
The advantage here goes to Pardot. Because Salesforce owns them they have the most direct connection. They even share the same contact database.
While HubSpot does have a free CRM, it's not as robust as Salesforce. There are not as many integrations with other developers, and you cannot customize it to the same degree as Salesforce. You can integrate Salesforce with HubSpot, but they have different contact databases and only some of the information syncs between the two platforms.
Website Hosting
HubSpot has a constantly improving website platform. It offers good basic templates for companies just launching a site and have little time to spend on a custom setup. At the same time, it has a customizable development platform that can support almost any type of company webpage you would want to build.
Pardot and Salesforce offer site.com sites that are very basic; if you want to create a website you're going to need a 3rd party solutions such as a WordPress site or SquareSpace.
Reporting
Out of the box, HubSpot offers better reporting than Pardot, letting you see what needs attention from a big-picture perspective. Pardot's reports are able to give you similar information, but need more customization to be actionable.
Price
Both HubSpot and Pardot have a tiered pricing model. HubSpot starts at $200 for the basic model and increases in cost the more contacts you add. Pardot begins at $1,000. You also need to add on the cost of Salesforce for your CRM. Both systems also offer various add ons, which will affect your cost. HubSpot is a less expensive solution, especially as you're starting out.
Which one to choose?
There is one primary driving factor that determines which platform you should choose for your marketing automation efforts: is your company heavily using Salesforce? If so, then you will need to consider Pardot, since Pardot it built with Salesforce in mind, making its integration on point. But, if you're just getting started with a CRM or are looking to make a change, HubSpot offers better all-in-one, out-of-the-box solution that can grow with you over time. Even if you've started with Salesforce, HubSpot's integration will still serve you well if you can define how you want the two platforms to communicate and operate together.