Today's marketers have heard it a hundred times: When it comes to creating content for search engine optimization (SEO), it's crucial to always write for the user FIRST and search engines second. This is especially true when it comes to writing compelling and action-oriented meta descriptions for your individual web pages, including blog articles and landing pages.
Good meta descriptions give your site an advantage in search engine results pages (SERPs), providing more click-throughs, which means more chances to convert visitors into leads or new customers. Search engines don't use meta descriptions alone as a direct factor in how they rank pages, but they definitely use click-through-rate (CTR). And what improves your pages' click-through ranking factor? Visitors finding value in your meta descriptions, clicking your links, and consuming your content (aka not bouncing because they didn't find what they expected)!
Here's a look at 7 ways you can write meta descriptions for your B2B website content that make your visitors want to click and access your pages, thus improving your SERP rank.
1. Keep Your Meta Description To 160 Characters or Less
According to the expert team at Moz, the guideline for meta description character length is up to 160 characters. Although in late 2017 Google expanded the number of characters to 300, I personally aim for 155 characters or less. While this can prove to be a challenge when writing the perfect description for certain web pages, it forces you to be succinct (get your most crucial information out first) and ensures your description isn't cut off in the SERP. Avoid these awkward mid-sentence breaks (as shown here) in your description by forcing yourself to stay within 160 characters. That way you can present a complete statement that inspires the user to click.
2. Provide Your Value Proposition to the Visitor
For every meta description you write, consider what the user thinks: "What's in it for me?" This is where your value proposition can clearly articulate what you have to offer in relation to the particular service/product for which you're writing the page description. For every meta description you write, ask these two questions: "What is this page offering?" and "Why should I visit this page?" If you're not answering them, rework the descriptions until you can.
For additional SEO tips, download our SEO Survival Guide now »
To ensure that your value proposition is unique and stands out from your competition, do side-by-side comparisons to evaluate what they're saying in their page descriptions. And then write a better one!
Review the following meta description for Accenture and see how it perfectly encapsulates what I've mentioned.

3. Make It Welcoming and Flawless
So, why should you always write for the user first and search engines second? To make your web copy and meta descriptions inviting rather than awkward. Stringing together numerous keyword phrases with little or no personality won't get you very far in the SERPs, even if you do rank in the top 3 results for the phrase(s) you're targeting.
As John Clark from Rival IQ put it in his article, Is Your Meta Description Working As Hard As Your Tagline?, evaluate whether your meta description is a friendly doorman or an angry bouncer. Your goal should be to write in a warm tone that welcomes the user to enter your virtual front door.

One of the quickest, surest ways to make your meta description uninviting is to have typos: it looks pretty bad in such a short amount of text, and can even make your website look spammy. Needless to say, read and then read it again to make sure there are no mistakes.
4. Incorporate a Call-to-Action or Offer
Your page's meta description is essentially an ad in the SERPs; it's your sales text, especially if you're ranking in the top positions just below the paid ads. So, make it work hard for you! Incorporating a short call-to-action (CTA) or offer somewhere in your meta description is a great way to boost your click-through rate and be your answer to standing out from your competition.
Here's a look at what we mean. See how this employee engagement software company introduces on of their offers right in their meta description?

5. Bust Out Some Name Dropping
For certain industries, incorporating some names of clients, vendors, brands or certifications that your company is associated with makes a compelling case for your qualifications and credibility, and they encourage more click-throughs.
Don't go crazy, and be mindful of the other tips outlined in this post. But if you're crafty enough to make it work within your allotted character limit, go for it! Always remember, though, Google cuts off any description with double quotation marks. So do not include any non-alphanumeric characters when you mention a certification or brand.
How to harness the power of Word of Mouth in your inbound marketing
6. Be Mindful of Competition from Google AdWords
With Google AdWords now getting more prime SERP real estate, with as many as 4 ad listings within some search results, your organic search listings need to perform at an even higher level. As your company secures a top position in the organic SERP listings for your key website pages and look to capture the most click-throughs, consider monitoring what you're up against as far as Google AdWords listings and make adjustments as needed.
If you're able to write a more welcoming and helpful meta description that appears less "sales-y" than the paid ads, you'll go a long way to ensure you're standing out and capturing click-throughs. See this perfect example from our friends at Wistia. Their description is much cleaner and more inviting than the Google Adwords appearing above it.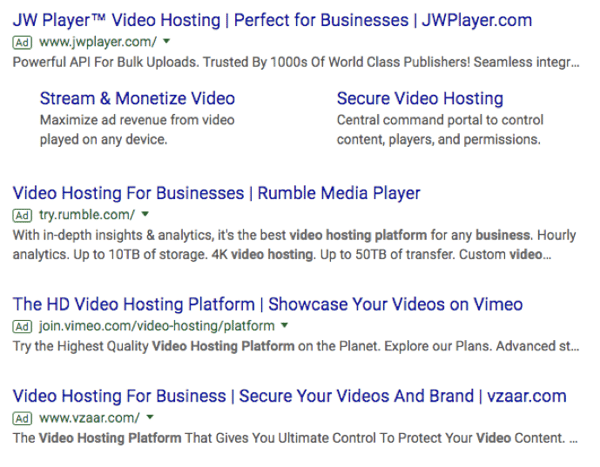 7. Test, Monitor & Adapt
With anything that you do online associated with your website and marketing efforts, it's key that you test, monitor and adapt your activities based on your ability to track what's working and what isn't. This goes for your SEO activities and your meta descriptions, too. Don't be afraid to experiment a little to see what works best for your website and industry.
If one of the above tips does wonders for you, try doing more of it for other pages on your site. But please, stay away from a duplicate meta description! If several pages have the same meta description, your SERP results will show a bunch of your website's pages for the same search, and the visitor is likely to think they're not relevant.
The Best Meta Descriptions Are Backed by High-Quality Content
Similar to social media, Google algorithms and the world of SEO are constantly changing. Yet one thing is constant: A website that both meets the needs of those searching for quality content and provides a user-friendly experience wins in the SERPs. It all starts with a good meta description for each page, which is essentially the welcome mat to your site's virtual front door. Incorporate these tips to ensure your business is presenting the best first impression possible to build credibility and trust with future customers.
For additional SEO insights and tips, download our FREE eBook: The SEO Survival Guide below.
Editor's note: This article was originally published in 2013 and has since been updated for comprehensiveness and current best practices.