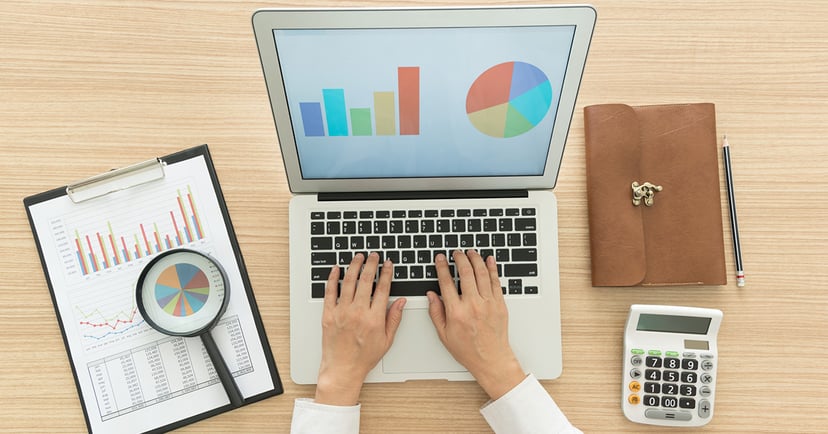 Whether a contract manufacturer with a warehouse full of components or a service organization trying to keep your supplies organized, accurate inventories help you operate more efficiently and save time and money.
As inbound marketers, the same principles apply to the content we create. Are you overstocked with content on a particular subject while other relevant topics are woefully underrepresented? What topics are resonating well with your audience? You may have a hunch, but how can you really know without taking inventory?
A content audit not only helps you see what you have but, just as importantly, what you don't, and can fuel ideas, show opportunities for repurposing content, and even help you fill up that never-ending content calendar you stress over. Here are the steps you need to take.
1. Choose a Tracking System
Convinced you need to take an inventory of all the blogs, eBooks, infographics, whitepapers, videos and other content you've created over time? Before you dive in, determine the best way to organize it all. While a warehouse may use barcodes or a complex ERP system to track inventory, you don't necessarily need the latest technology to perform an assessment of your marketing content.
Honestly, a good, old-fashioned Excel spreadsheet can do the trick. Simply create columns for the various fields you want to track (more on that later), and you'll be able to filter by relevant information.
Admittedly, manually tracking your content in a spreadsheet does have its drawbacks (that whole "manual" thing) but, in the end, the simplicity of it can make it easy to use as long as you update it every time you publish something new. It should be a living, breathing document.
One key to a successful content inventory is ensuring it's always up-to-date and that others can access and contribute to your working document. For that reason, cloud-based platforms like Google Sheets may be more appropriate, or you may want to check out some other alternatives to Excel.
Gathering everything you've accumulated may seem daunting, especially if you've been doing content marketing for years and have an extensive library. Utilize your marketing automation software to help. For instance, in HubSpot, you can sort by the type of page (e.g., blogs, landing pages, site pages, etc.) and export lists of each content type along with performance data, including the number of views, submissions, bounce rate, publish date and more. From there, you can organize it however you want, such as creating separate tabs or columns within a spreadsheet for each content type.
If you're not using HubSpot, there are third-party apps, like Screaming Frog, an SEO spider and site crawler that can help you conduct a more extensive audit of your site and analyze results.
2. Select Your Content Audit Criteria
Now that you've chosen a tool or platform where you can gather all your content, you'll need to determine the criteria and data you want to track when it comes to sorting and analyzing it all.
Say you're a food ingredient manufacturer and you want to analyze your library of blogs and downloadable content. You may already have your blogs, pillar pages and landing pages tagged by certain categories or topic clusters, such as:
Health benefits
Clean labels
Sustainability
Ingredient alternatives
Consumer trends
Formulation tips
Product application
And so on
In addition to the topic cluster, create columns containing all the categories and related data you want to track to help inform your decisions moving forward, such as:
Format (blog, ebook, pillar page, etc.)
Title
Buyer persona and stage
Publish and last revised date
Views
Submission rate
New contact rate
Url
Here's a basic example of what a content audit spreadsheet might look like. You can download a copy of this content audit worksheet here:

Some additional criteria you may want to track depending on your objectives include:
author
CTA used
target keywords
bounce rate
workflows used in
You can get as granular as you want with your categories, but stick with information and data that you'll actually use and adds value.
3. Assess & Improve Your Content
Once you've populated your tool with your content, it's time to dig deep into the information you've gathered. If you're using Excel or Google Sheets, use the simple filter feature to quickly sort and analyze which content performs best and might qualify for an optimization opportunity to improve its engagement even further.
Sort by topic, for example, to see which topic clusters seem to have traction and which areas could use some help. Using the ingredient manufacturer example, consider whether you have a couple dozen articles on health benefits but only have two that talk about formulation challenges. This represents a great opportunity to talk with your R&D department about what issues they come across when helping clients formulate various applications. You'll likely walk away with several new blog ideas, and your subject matter experts are often eager to share their insights (especially if they can be listed as the author).
You may also discover two blog articles that are very similar and cover the same issue. Leverage both pieces and combine the thoughts from each into a single article using SEO tools to optimize it; then, retire the one that has very little engagement. Or, repurpose content from several articles into a single, comprehensive eBook or resource pillar page. The possibilities are practically limitless.
Use data to your advantage and examine metrics to see what's performing best and, just as importantly, discover why. The insights you gather can help improve other online content that's lagging behind or fuel fresh, new ideas.
Need more help leveraging your content and optimizing it to attract more qualified leads? Check out our guide, The Power of Repurposed Content: A How-To for more tips on auditing your content, then analyzing and prioritizing into opportunities.