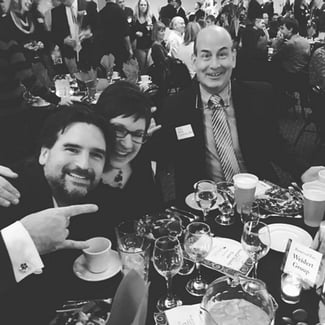 For the second time this year, Weidert Group will be recognized for their business performance, this time by the Fox Cities Chamber of Commerce.
In May, the Fox Cities Chamber of Commerce & Industry will honor Weidert Group for a highly successful 2015 characterized by explosive business growth, new hiring, and major media attention as a leader in retaining young professionals.
In February, the Heart of the Valley Chamber of Commerce also honored Weidert Group with a Business of the Year award, lauding the agency's dedication to innovation in marketing technology in Northeast Wisconsin.
While the Chamber awards place a spotlight on the agency's highly successful year in 2015, they also reflect Weidert Group's sustained success since transforming into an inbound marketing agency in mid-2010.
"Like many small businesses, the recession hit us very hard. And in 2010, we made the decision to reinvent ourselves," said President Greg Linnemanstons when accepting the award from the Heart of the Valley. "Thanks to the team of dedicated, talented, and enthusiastic employees, we've made incredible progress. And the future looks even brighter."
Linnemanstons attributes the company's growth to its own inbound marketing efforts. "The same type of strategy we execute for clients is the one we execute for our own business. We publish content on our blog, we leverage social media, especially LinkedIn, to get content where our best prospects see it, we populate our website with offers of content…inbound is a method whose effectiveness we can clearly demonstrate using ourselves as a powerful case study," he said.