Understanding the power of Inbound Marketing to significantly grow your business is simple; what's more complicated is understanding the process of attracting visitors to your site and turning them into qualified leads: What steps do you need to take to get started? What has to be done each day to keep the process moving? How do you interact with and manage prospects?
While the execution of Inbound Marketing varies somewhat by client, prospect, industry, etc., we've created an infographic can be used to understand:
What work is foundational
What work is ongoing
What your prospects will experience moving through the sales funnel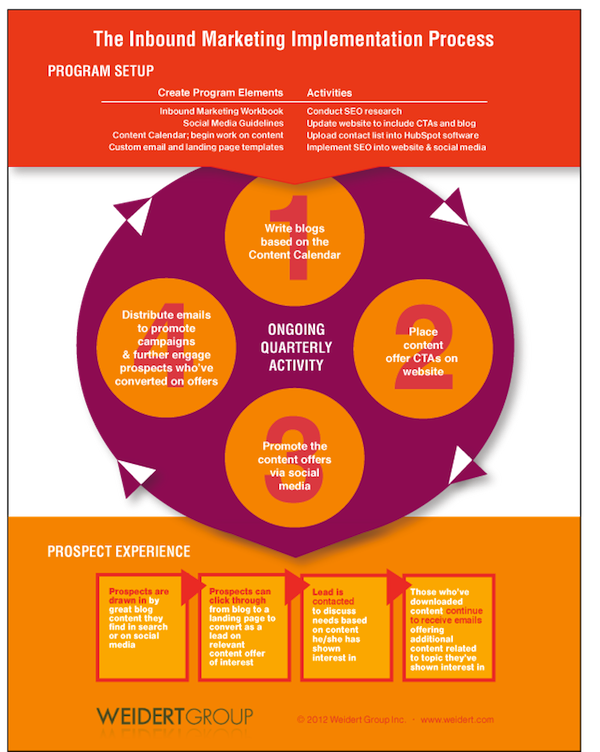 Click here to download a pdf of the infographic!
We eat, breathe, sleep Inbound Marketing, so if you have questions about your specific Inbound Marketing needs give us a call! We're always eager to help people understand and take full advantage of this powerful approach.
If you need to step back and get a full overview of Inbound Marketing – what it is, why it works, what steps you need to take to get started – download Weidert Group's "Answers to the Top 15 Questinos About Inbound Marketing" – one of our most popular downloads ever!
Topics: Inbound Marketing

Written by
Meg Hoppe
Meg provides creative vision to all client projects and serves as the agency's chief content writer. She has extensive experience writing for a variety of industries, including manufacturing, financial services, and healthcare. Meg started in advertising and has become a thought leader in digital content creation and inbound marketing.