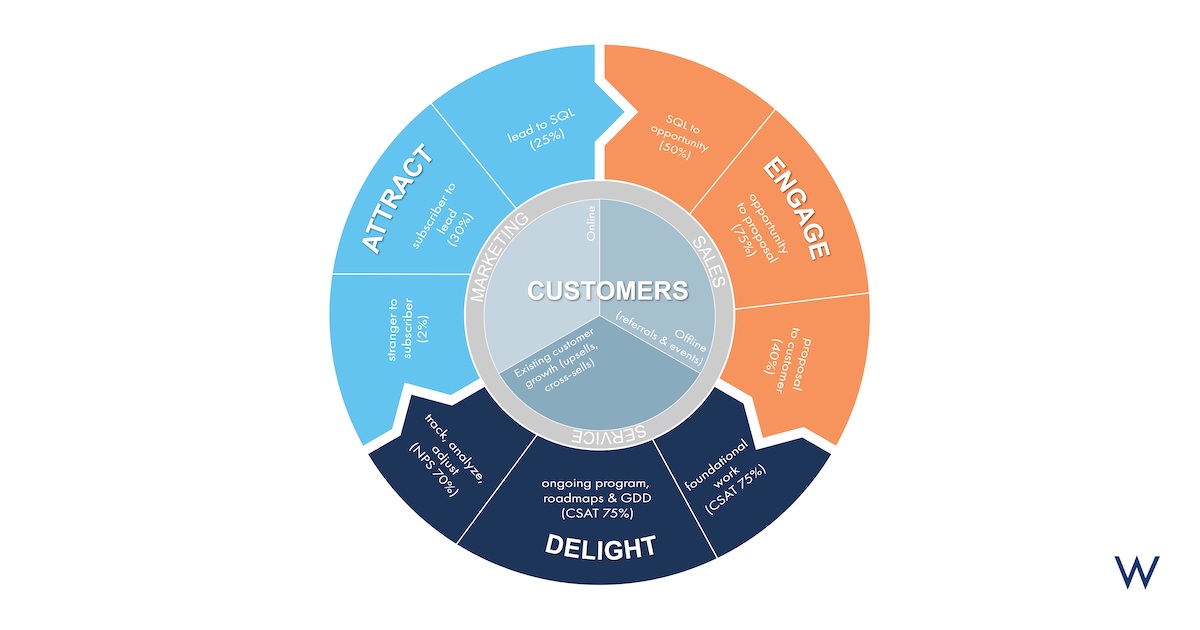 We frequently get asked by companies unfamiliar with inbound, "What does a successful inbound marketing program actually look like?" While we've been executing inbound for ourselves and our clients for nearly a decade, our thinking has evolved in the last year and a half — ever since HubSpot CEO Brian Halligan so dramatically proclaimed, "The funnel is dead!" during INBOUND 2018.

Since then, we've been hard at work understanding the opportunities offered by the flywheel methodology and how to put it into action to design next-level inbound programs that help align marketing, sales, and service teams to grow business.
In fact, last fall we created a video series to help explain the power of the flywheel to grow your business. Check that out if you missed it (it covers a LOT in 12 total minutes).
If you're reading this article and think you're ready to embrace the power of the inbound flywheel, but putting it into action is unclear, you're not alone.

This article will cover how to create an inbound marketing plan — centered around the flywheel — that is designed to meet your company's growth goals. What it looks like, how it works, and why it crushes the traditional sales funnel.
6 Steps to Making Your Inbound Marketing Program Successful
Step 1: Lay the Foundation
Correctly doing foundational work — the base of your inbound program, the gruntwork, the "tough stuff" — is key to your success.

The elements we mean here are things like identifying personas, positioning, budgeting, etc. In fact, this article provides the "10 must-haves" for your inbound marketing strategy. It may feel like a ton of legwork, but once you have sales and marketing alignment, know the buyer's journey, and have a solid competitive review all documented, you can move ahead with tremendous confidence.
Step 2: Design Your Business's Flywheel
OK, now we can start talking about the flywheel!

Every business is different. How you design your flywheel depends on your business model. Consider what areas of your organization, and what teams, impact your business the most. Now make note of those as points of force to drive the flywheel's "attract," "engage," and "delight" stages.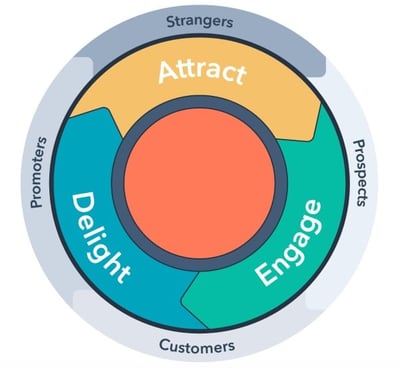 Here's an example of a business-specific flywheel. This one is specific to Weidert Group's stages. Yours will surely vary based on your industry and process.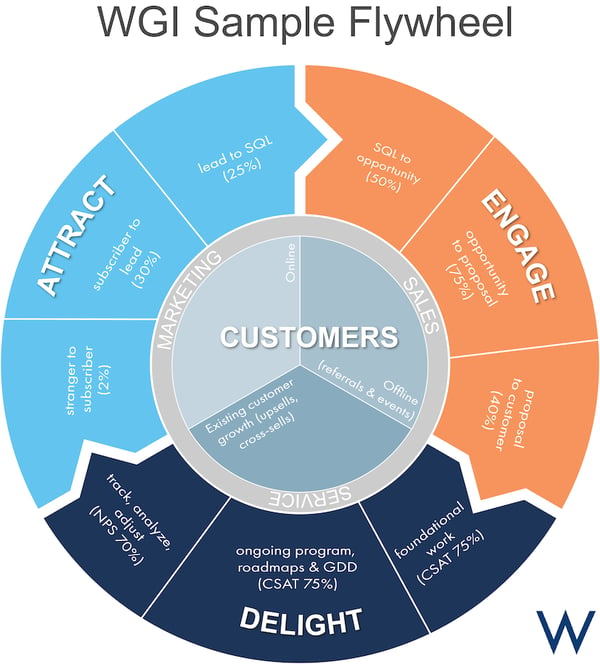 Near the middle, customers are identified as to how they entered the flywheel: online, networking, referrals, etc. Just outside of that first ring, you see how marketing drives the "attract" stage, then hands to sales in the "engage" stage, and so on, along with key conversion stages and rates. The main advantage of the flywheel compared to a funnel is seen in the connection between Service and Marketing — the flywheel allows you to capitalize on customer momentum by turning delighted customers into promoters and recognizes the importance of delight in attracting repeat customers (upsells, cross-sells, recurring purchases). This is how the flywheel aligns marketing, sales, and service teams to grow business better.

Where does this order and these numbers come from? Let's dig deeper...
Step 3: Analyze Your Current Performance
Take a moment to answer some basic questions about where your performance throughout the flywheel stands today.
What "attract/engage/delight" elements do you already have in place?
How are you attracting customers today?
How successful are you at engaging website visitors and converting them to leads?
What channels and tactics are producing the best leads?
What percentage of leads enter the sales process?
What percentage of opportunities do you close?
How do you gather and analyze customer feedback?
What are your conversion rates from one stage to the next?
What are your growth goals for inbound and how quickly do you need to achieve them?
Assessing where you are now, and where inbound marketing can possibly take you, helps you properly align your strategy with your organization's growth goals. Whether that's developing penetration into a specific target market, increasing overall revenue, or converting more leads to sales, your goals and strategy need to be complementary.
Step 4: Identify Forces & Friction in Each Stage
The flywheel model demands that every team in the entire company be focused on attracting, engaging, and delighting customers. The "handoff" isn't nearly as clear-cut as it has traditionally been. Proper alignment means anyone interacting with your business gets the same delightful experience no matter who within your company does the interacting.
Create a list of all the forces/friction within your flywheel, including the handoffs between stages.
Identifying the force gained at your key conversion points helps you maximize handoffs between those stages. At other points there may be friction; stages where prospects are getting stuck in the buyer's journey.

It could look something like this (duplicate as many times as you need as you move around your flywheel):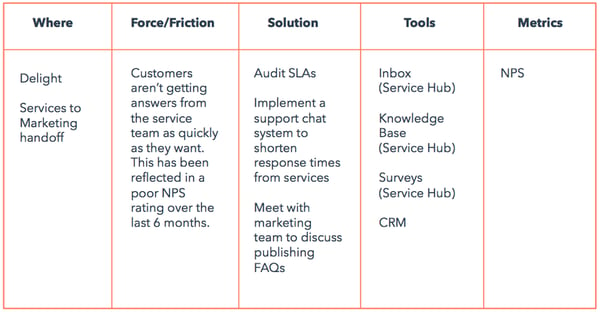 As you increase force and reduce friction, you're creating promoters of your business; those special customers who speak up for you and support your attraction of new business. That's a key to the flywheel philosophy!
Step 5: Prioritize Action Items
The force/friction exercise helps you realize opportunities and potentials for business growth. Now, you have to do something about what you've discovered. But you likely can't do everything, so you'll have to prioritize them.

For example, customer service issues may be a high priority for you. If you're not delivering what your marketing is promising, you're losing customer trust, and their negative reviews could come rolling in. The "delight" phase of the flywheel is failing.

Another example may be friction caused by your website not being optimized for search engines (SEO), so your "attract" phase isn't working well. Or maybe your site doesn't have the right content to convert a visitor to a lead; your "engage" phase needs some help.

The action items you select should be used to build your inbound marketing playbook and your ongoing quarterly marketing roadmaps — prioritize achievable tactics that solve your force/friction issues and have the biggest potential to improve your business results.

Here are some sample tactics for each stage of the inbound flywheel that could be built into your inbound program. Already have some elements in place? Your inbound program is that much closer to getting off the ground.

Attract
Use simple, highly consumable content (blog posts, emails, social media) to answer visitors' initial questions
Determine whether paid advertising makes sense for your situation and the speed at which you need to see results
Identify how your on- and off-page SEO best practices can be optimized to boost visibility and search engine rankings
Engage
Convert leads with gated advanced content offers (eBooks, tip sheets, infographics, case studies) and subscription offerings
Nurture leads based on where they are in their buyer journey
Configure messaging tools (live chat and chatbots) to deliver exceptional customer service and strengthen relationships
Delight
Provide content that aligns with what leads have shown interest in and how they've already interacted with your content
Case studies, reviews, and testimonials are valuable and provide opportunities for you to connect with happy customers and reinforce your value to them
Develop a voice of the customer program to gather feedback and turn happy customers into flywheel force
Use marketing automation software to help customers self-serve 24/7 when and where they need it
Step 6: Use Automation Tools
Speaking of marketing automation software, you should map your prioritized action items to the right automation tools to create repeatable, efficient processes. For example, use HubSpot's marketing automation software to set up workflows that automatically email leads based on specific behaviors. If a lead downloads a certain eBook, it sends a followup email in three days inviting him/her to read a related blog post.

Another example is using HubSpot Tickets to automate customer service issue routing, making sure no one falls through the cracks.

Yet another example is using HubSpot Feedback to gather and organize different types of feedback. If technology is ready to help, let it help — and get your flywheel spinning faster in the process.

So, that's how to start inbound marketing and what an inbound marketing program that's designed to maximize force and decrease friction can look like. Using the flywheel does so many things, beginning with identifying and prioritizing components and tactics that may have the biggest impact on growth.

Still need more inbound marketing guidance? This tactical guide includes 7 key steps to start implementing a complete and powerful inbound marketing program. Click and check it out!