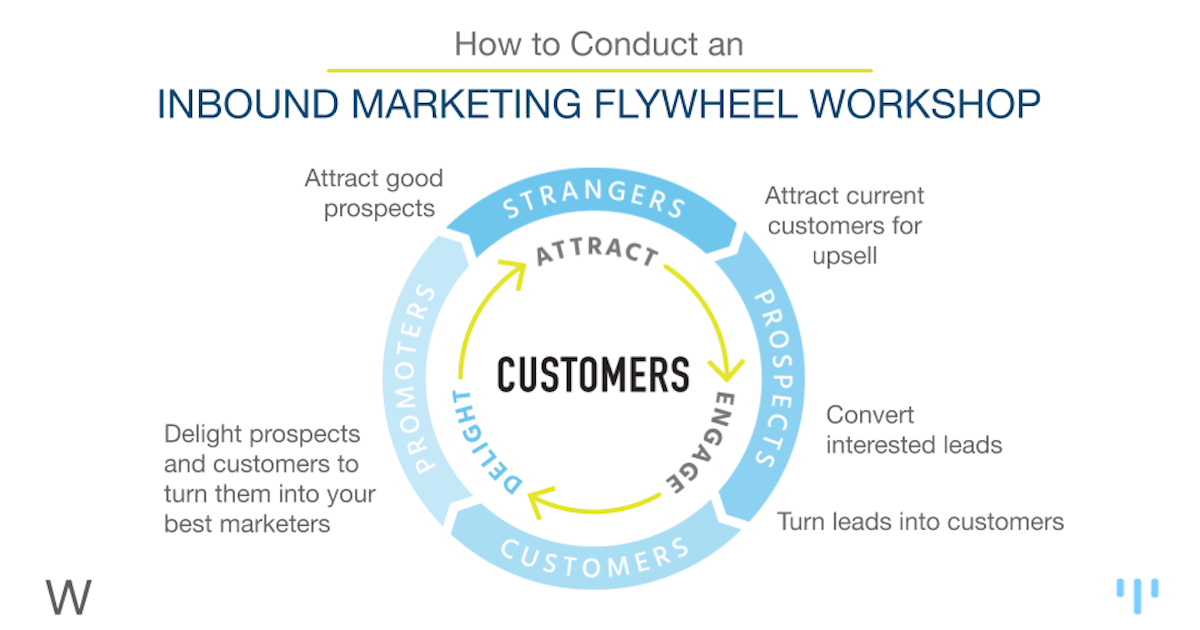 As chaotic as 2020 has been, we B2B marketing pros still have to plan for 2021 using the smartest methods we have. Conducting an inbound marketing flywheel workshop can be a huge help when planning for the year ahead. It helps identify and prioritize items that'll have the greatest impact on meeting your objectives and growing your business.
And, if you're not extremely familiar with the inbound marketing flywheel, don't worry. This article provides a brief overview with helpful links, outlines the basic steps involved in conducting a workshop, and dives into applying the findings to build your annual marketing plan and roadmaps.
Quick Overview of the Flywheel
The traditional sales funnel model has failed industrial marketers and salespeople because it positions customers as an afterthought in the sales process instead of a driving force. The flywheel growth methodology, developed by HubSpot, structures marketing, sales, and service processes to fully leverage customer delight. If you'd like to read a quick comparison of traditional methods and the flywheel, this article does a great job.
Thinking about your marketing plan in relation to the marketing flywheel helps you identify your true priorities, and it puts the customer relationship at the center of everything. Here are the parts of the flywheel and who is influenced by each:
ATTRACT — Getting prospects to visit your website because of your visibility and relevance; turning these potential buyers into visitors; goal: capturing leads
ENGAGE — Creating trust while nurturing leads, this traditional sales function of converting prospects is the responsibility of the entire team; goal: closing customers
DELIGHT — Turning customers into promoters, loyalty into advocacy; goal: making customers your best marketers
Creating Your Workshop
So, how can we take this core of knowledge and turn it into a rewarding workshop that will fuel your 2021 annual marketing plan? First, let's consider who should be involved in the workshop to ensure it's successful in helping you prioritize initiatives.
Leadership must be represented; without participation and buy-in from the top level of an organization, your effort is wasted. Now, invite the managers of your marketing, sales, and customer service teams.
This truly requires a team effort, and that starts with top-end managers of your company's three main growth drivers. Finally, consider other influencers from those three areas as well as other departments not yet mentioned. These additional people (about 10 people maximum) round out the participants and create a dynamic workshop.
Now, let's develop the workshop's guts.
Attract
You're going to discuss and document what causes force and friction in each of the three parts of your flywheel. So, if the goal of the Attract phase is to create content and conversations that start meaningful relationships with the right people, how are you doing? What force is being generated by your efforts? Specifically, what tasks are marketing, sales, and service performing to drive force?
Here's an example of force-driving tools, with YOU being the potential buyer: You've decided to buy a boat. As research, you downloaded a guide to choosing a boat for first-time boat owners. You read a blog about the best boats for recreation. You read reviews about a specific kind of boat and testimonials from a boat dealer's customers. You go to a boat dealer's website and start an online chat with a sales representative to find out what they have in stock.
Of course, other tools can be used within the Attract phase: social media, chat bots, trade shows, emails, etc. Consider them all and have your team score your efforts on a 1-10 scale.
Now consider friction points within the Attract phase. What's slowing prospects down? Here are some examples:
Google can't find your website because content isn't optimized
The content available on your site doesn't answer prospects' questions
Your

social media

activity isn't very social
There's no easy way for visitors to get help on your website
Sales people are struggling to prospect virtually
After listing them, identify which are top priorities — forces to add and friction to resolve. These are the biggest opportunities to impact business growth in a way that aligns with your business goals and objectives. Need help with this? Create a simple 4-quadrant chart that places each point into one of four categories (see below). This can help focus on immediate needs versus long-term goals.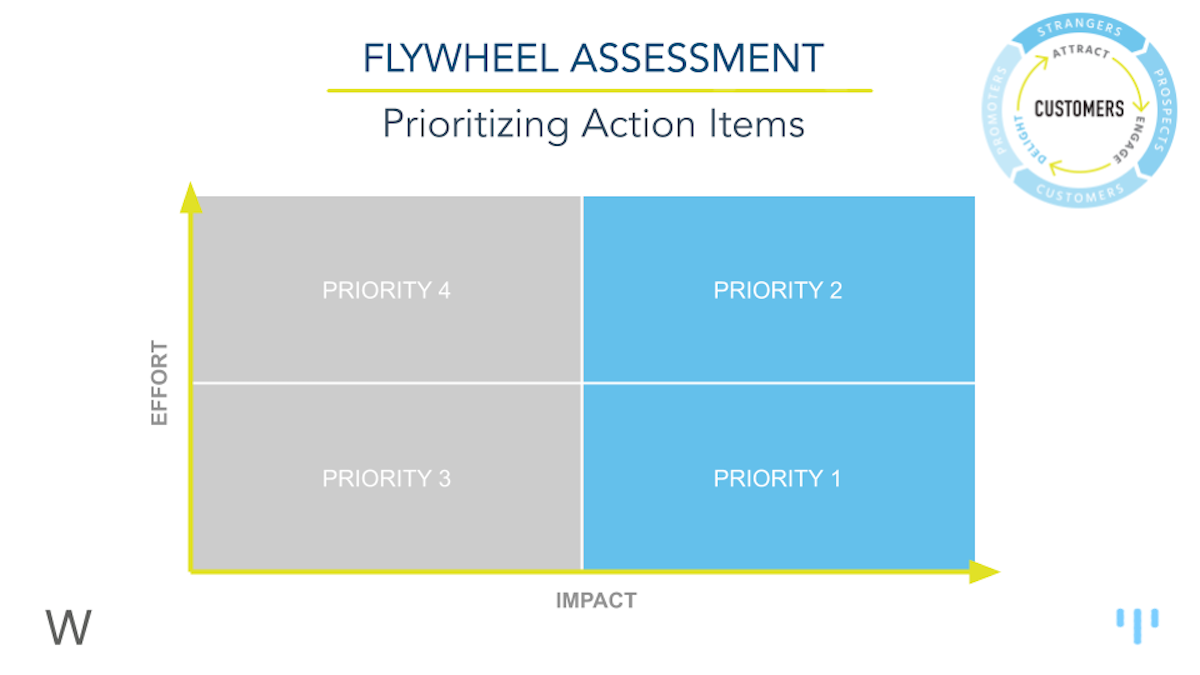 If you need more inspiration (and ideas) for gaining force, check out this resource: Force, Friction, and Flywheel Marketing: Key Ways to Gain Momentum
Engage Assessment
The goal of the Engage phase is to build lasting relationships with people by providing insights and solutions that align with their roadblocks and goals. Are you building trust and answering questions while providing solutions?
Remember, the engage phase begins the moment someone takes a desired action — completing a form, clicking a link, interacting with a chat bot, attending a live event, etc. Immediately after one of these happens, it's your turn to continue to engage them and build trust.
Examples of force during the Engage phase include:
Advanced (gated) content
Live chat or chatbots
Pop-up forms
Lead handoffs and lead notifications
Website

growth-driven design

optimization
Live chat to engage directly
Human social media outreach
Self-service with bots
Educational resources
Again, now consider friction points within the Engage phase. Here are some examples:
It takes a long time to connect with leads
Landing pages have low conversion rates
Nurturing emails have low open or click through rates
Leads are handed off without clear protocols in place
Proposals don't address everything a prospect needs to say "yes"
Don't forget to prioritize these into "quadrants," too!
Want to get some quick tips on reducing friction points in your sales process? Read this article.
Delight Assessment
The goal of the Delight phase is to provide an outstanding experience that adds real value, empowers people to reach their goals, and inspires them to become promoters of your company.
Yes, we all love to reach new prospects, but don't forget about your loyal customers. You've already won them over at least once, but you can get to know them all over again when you conduct interviews and have some real, meaningful conversations. And then you can delight them in new and deeper ways.
Examples of force during the Delight phase include:
You're getting good at this now, aren't you? Consider friction points within the Delight phase. Here are some examples:
Difficult for customers to self-learn or self-serve
Slow response times to customer service needs
Limited opportunities for customers to realize more value
Difficult for customers to provide feedback or reviews
Expectations are not matching reality
Of course, you're prioritizing these as well!
Whew! Yes, conducting an inbound marketing flywheel workshop may seem like a daunting task with so much to organize before 2021. Yet, putting in this effort now can result in an annual marketing plan you can truly lean on for maximum impact in the coming year.
If what you've just read intrigues you, then we highly recommend downloading our 21-page guide, Inbound Flywheel Overview and Workbook. It covers everything in this article and a lot more. Just complete a form, and it's yours to use immediately.