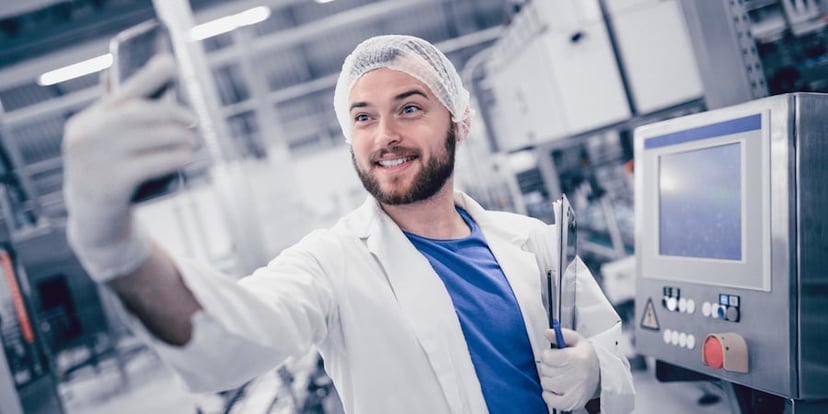 Some companies are overlooking one of their greatest potential marketing assets that, when unleashed, could transform their digital strategy and catapult their online presence in the marketplace. The reality is that these companies are already paying for it, yet aren't leveraging it to its fullest potential.
I'm not talking about overlooked marketing software capabilities or some hidden website functionality. And I'm not even talking about an "it;" I'm talking about who… your employees!
In case you haven't heard, social media employee advocacy is a "thing," and marketers are increasingly relying on employees to share companies' brands and messaging through their personal social channels. Where some organizations have limited their employees' social media use during work hours, others are encouraging it. And for good reason! Here's why you should encourage employee brand advocacy.
Employee Advocacy Gets Results
What if I told you there's a way to increase your web traffic by 500% and see a 25% increase in leads? Those are the kinds of results your company could see simply by fully leveraging employee advocacy.
One strategy hasn't changed much throughout the millenniums; despite the latest and greatest marketing tactics, word-of-mouth is still an effective and compelling tool. In fact, more than 92% of consumers say they trust products and services recommended by friends and family. The form in which that type of communication happens has changed, however. In today's digital landscape, word-of-mouth now happens by way of tweets, Facebook recommendations and other social avenues.
The reality is that people are more trusting of content shared by someone they know personally rather than a faceless corporate entity. That's why a brand's message is 24 times more likely to be re-shared when posted on an employee's personal profile versus on a company's page.
Happy Employees — The Key to Social Success
The types of results noted above have one major contingency: employees cannot be forced to use their personal social media channels to promote a company's brand.
Creating a culture in which workers feel compelled to share their personal accounts of what's happening within a company and why the work they do matters requires a foundation that values individuals and their contributions. That type of culture cannot be created overnight, and it requires dedication and, most importantly, demonstration from leadership.
When employees are happy, they'll be more engaged and more likely to enthusiastically promote their employer and its mission. According to the Edelman Trust Barometer report, employees are the most credible voices on a company's work environment, integrity, innovation and business practices.
A global company that experienced great success with employee advocacy is Starbucks. Even though they have an entire team of social media strategists, one of their greatest secrets to social success is that their own employees do a lot of the tweeting and posting themselves. Starbuck's Tweet-a-Coffee Twitter campaign, for example, was encouraged by employees and resulted in $180,000 in direct sales in less than a month.
Yes, I know; you don't have the social leverage of a global brand like Starbucks. But don't minimize how pivotal a role employees can play in helping build your social presence and influence within your own niche market or industry.
Make Social Sharing Easy
Just because you've built a healthy workplace culture and have happy and engaged employees doesn't mean they have the marketing skill set to deploy your social advocacy initiative. It's important to give employees the tools they need to make it easy. Here are a few suggestions for equipping employees with the support they need.
Provide resources and guidelines, including what to say, what not to say, how frequently to post and a list of potential topics and links to share
Provide a list of appropriate hashtags
Offer a variety of pre-drafted messages that employees can easily copy and paste, or customize to reflect their own personalities
If an influential team member or company leader isn't comfortable posting or has limited time, suggest having a ghostwriter post on his or her behalf
Some larger companies have developed mobile apps for their workforce that pushes notices to their smartphones and allows them to review and share directly from their devices
Consider creating an incentive program that rewards those who post and promote
Offer a lunch-and-learn session to educate employees and encourage them to get on board (and it goes without saying that providing lunch will increase participation considerably!)
Are your workers among the 60 million American employees who already share positive comments about their workplaces online? Use these tips and begin to see the results that an engaged and socially active workforce can have on your brand awareness and sales. You can go even further and ask your best clients and partners to become advocates and, of course, you can return the favor to them as well.
Some industries have minimized the role that social media can play in their marketing strategies, but we believe it's an invaluable tool as part of a well-rounded inbound strategy. See what we mean by accessing our free eBook on using social media to attract visitors to your website. Simply click the link below.

Topics: Social Media
Written by
Lucie Hennetier
Lucie Hennetier was an inbound marketing assistant at Weidert Group, where she coordinated content, marketing automation campaigns, and a variety of other projects. Originally from France, Lucie is trilingual (English, French, and Spanish) and worked as a brand manager for an Australian start-up before venturing to the United States.