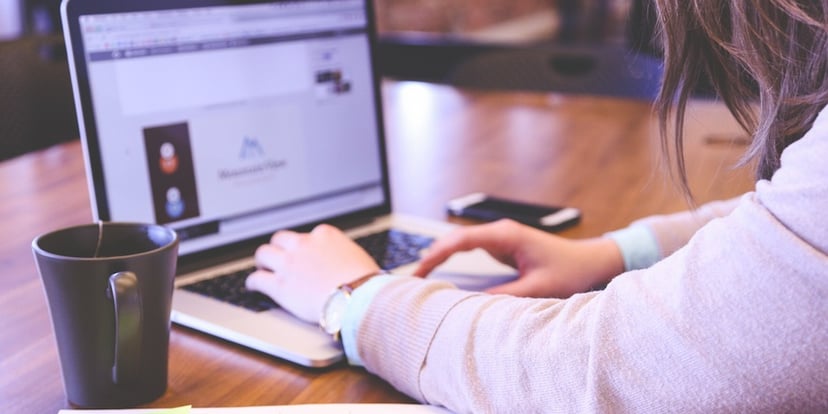 When I hear that Facebook is going to make a change to Timelines, profiles, or pages, I tend to cringe a little. It seems as though we get used to one layout and right when that happens, "BOOM," it all changes. This doesn't have to be a bad thing, however, because if you can stay on top of the changes and be sure to update your page regularly, you can avoid any problems (or cringes in my case) that may occur. Here are 3 things you should know about the changes to your Business Page.
1. Administration Navigation Tabs
Page: This tab will be the "homepage" for your business page Timeline. Thankfully, there isn't an admin panel taking up half of the page with metrics that scare and worry you (they're still accessible, don't fret). In this view, you will be able to post a status, share photos or videos and create an offer, event, or business milestone.
Activity: The activity section will give you an appealing layout to interact with your fans by being able to view your notifications laid out by date and displaying your messages.
Insights: Remember that rich information you don't see on your admin homepage, well, its located right here! The Insights tab provides you with easy-to-view statistics from page Likes to post reach.
Settings: Here, we enter into endless possibilities for your page settings. You can manage your company information, administrative roles for your page, and even see suggested edits that Facebook thinks you need to pay more attention to.
This Week: Separated from the above-mentioned four tabs, the "This Week" synopsis allows you to see a 2 metrics along with your unread notifications and messages. The metrics shown are new page likes and a post reach count from a week's time. Clicking on the metric will expand the information giving you more details such as the post reach count per post during the current week.


2. Watch Pages

A useful addition, newly added in the recent update, allows you to watch a number of pages. Located under the insightstab at the bottom, you can select pages to actively watch. In doing this, you will be able to compare your pages' total likes, new likes, number of posts during the current week, and the total engagement for the current week to similar pages. Facebook has a list of recommended pages that you can select to watch, along with selecting your own.
You might be asking why you would even want to do this? Watching pages will not only let you see how you rank against competitors and what their engagement levels look like, but also to learn from industry leaders about what kind of content they are sharing and what engagement they are receiving out of it.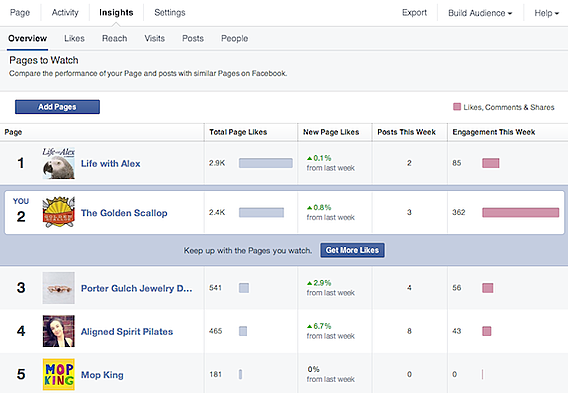 3. Timeline Layout
The last large change you will notice is the layout of your page Timeline. The left-hand side is now dedicated to information about your company and includes information such as your about summary photos, and reviews. This section is populated by what used to be directly under your cover photo. These individual pieces can be moved (with exception of the "People" and "About" sections which are fixed in their current position) by clicking on the pencil icon in the upper-right corner of the section.
While the left-hand side is populated with apps and information, your right-hand side brings together your regular Timeline look. The change of layout simply locates each post to the right side of your Timeline rather than utilizing a two-column page.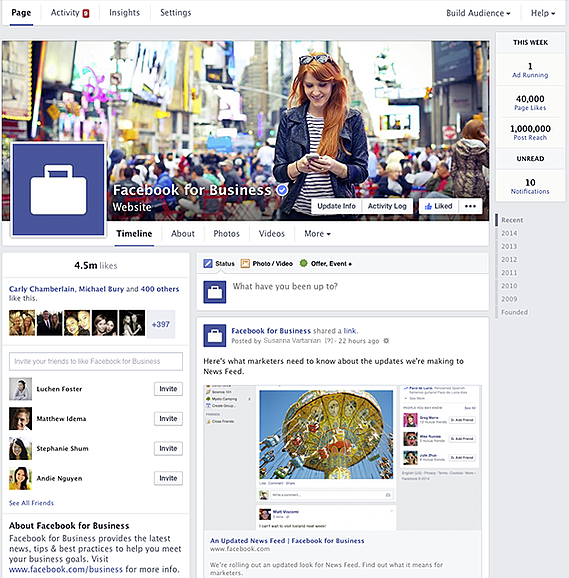 Now that you have a handle on what changes to expect when updating your business Facebook page, head on in to the new layout and check it out before all pages are visible to fans on June 13th.