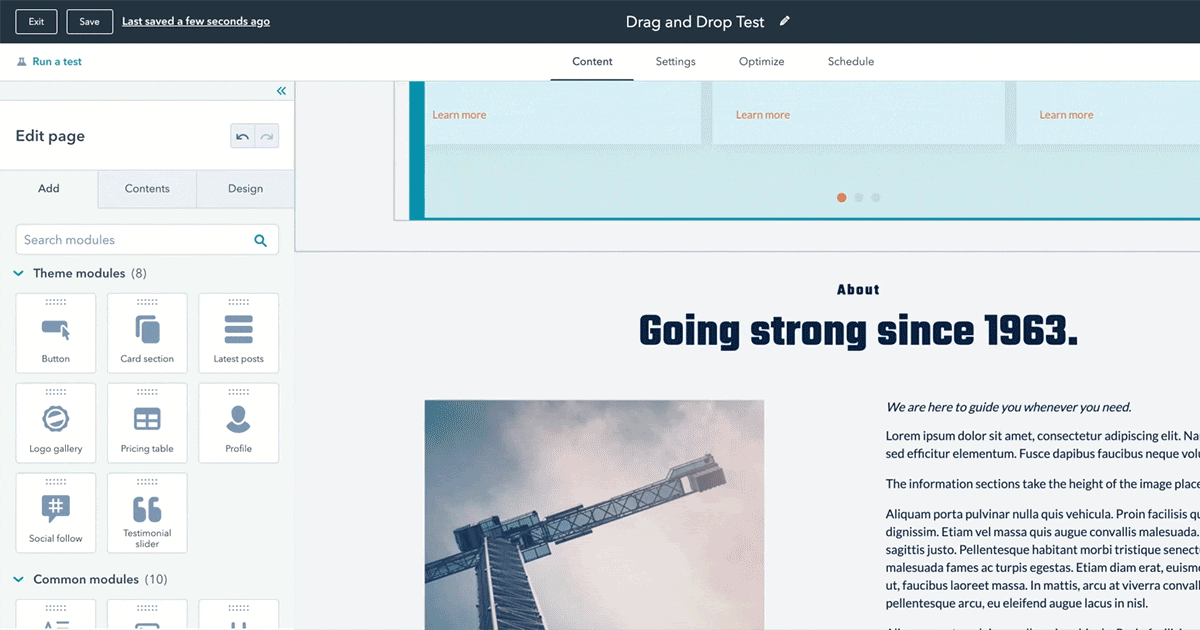 The best content management system (CMS) not only allows you as a marketer to "manage" your content, but helps you to create it and optimize it for the best possible results. We've compared several platforms, each claiming to be the best CMS for B2B companies. But many are simply too clumsy and difficult to use without extensive coding knowledge and a significant time investment.
You need a CMS that's scalable, easy and, most importantly, effective.
That's why we use HubSpot CMS (in addition to a bunch of other reasons we'll list below). Simply put, HubSpot's CMS Hub has features that marketers love.
Website Themes
HubSpot has a library of themes available to website builders and developers, allowing them to easily change key aspects of a website in one location. It ensures consistency across your entire website, including header styles, fonts, brand colors, backgrounds, CTA styles, and the like.
Additionally, when others on your team create content, they can do so in HubSpot's user-friendly website platform themselves. Because there are themes in place, they're given parameters and aren't going rogue, if you know what I mean. We don't need anyone straying from your brand, let alone using comic sans to look "cool."
HubSpot Marketplace
Where are you going to find a theme for your website? There are pages filled with hundreds of stunning website theme options in the HubSpot CMS Hub Marketplace.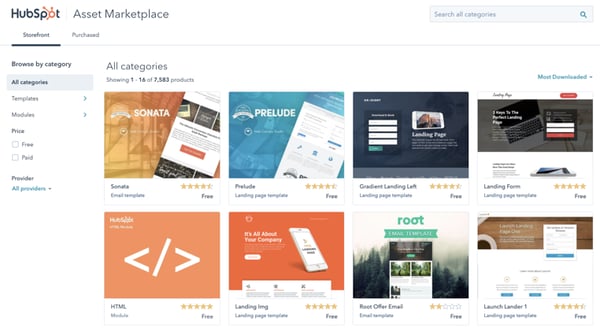 You're sure to find a theme that fits your company's style and the professional image you'd like to convey. You can simply browse through the gallery or search for different categories. They even have individual modules for purchase, so you can just get a testimonial slider or background video to add to an existing page template.
Drag and Drop Editor
The best CMS isn't one that's only great for developers, but gives everyone on your marketing team more control to edit web pages and publish new content without having to bring in a developer. HubSpot's drag and drop editing feature uses blocks of website content called modules, which can be arranged in rows or columns and grouped into sections.
These modules can be adjusted to fit the style of your page by applying a background image, aligning content, resizing, or editing the spacing. The drag and drop feature lets you add a new module and edit it easily.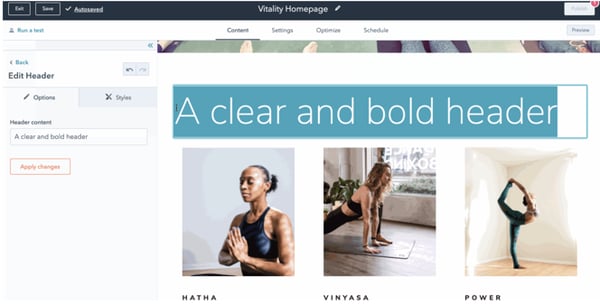 Personalized Content
Make your website talk directly to your prospects and existing customers by personalizing their experience. Contacts within your customer relationship management (CRM) database can view content that's tailored to them.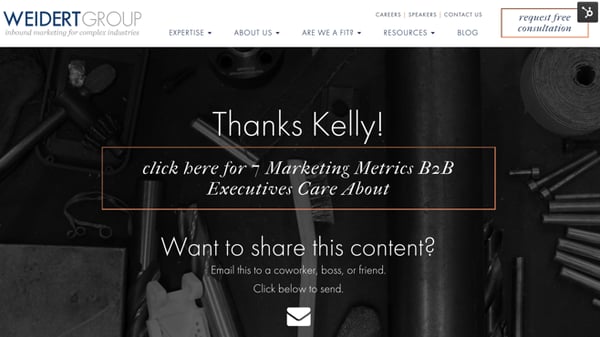 The more you can personalize your email and website content, the more likely visitors will engage with you. When your CRM is integrated with your CMS, you're able to improve your email, website, and landing page content to speak directly to individuals and address their unique pain points rather than focusing on a broad audience.
24/7 Phone Support
If you have an issue with WordPress, another popular CMS, good luck getting support. You'll likely end up searching the internet for solutions or scrolling through endless pages of online forums from other frustrated users who are all struggling to solve the same problem. If you've ever been caught in a string of online forums all trying to speculate about what "might" solve an issue, you'll appreciate HubSpot's approach.
HubSpot CMS Hub has 24/7 phone support from experts who know the platform inside-out, and their chat feature is also available to troubleshoot any issues you might have. They also have email support and ticket tracking for issues that end up being more than a phone call.
A huge bonus: HubSpot Academy and HubSpot Knowledgebase are on-demand training resources for you and your marketing team to get certified in almost every aspect of the platform. So you can self-serve when you have many issues and use these resources to train new team members.
SEO Recommendations
Oh, look… another updated Google algorithm! It's incredibly difficult to keep up with the latest SEO best practices when the "rules" keep changing. There are so many other duties on your plate to keep track of that it's easy to miss things.
Thankfully, HubSpot CMS Hub integrates with Google Search Console to instantly find the keywords you're ranking for and identify opportunities for optimization. You'll be provided with recommendations for SEO improvement for your website pages and your blog content, ranked by priority and based on relevance, popularity, and competition to guide your strategy.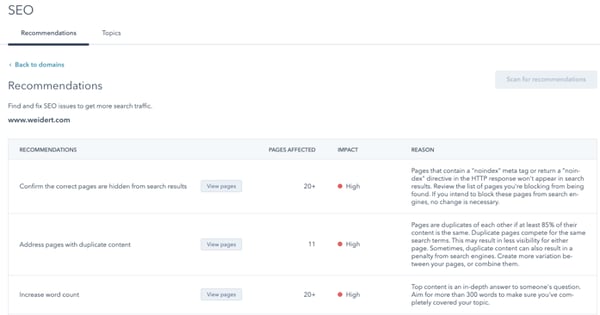 Content Staging
You never have to be surprised by a page update going wrong. Content staging lets you build out a single page or an entire website in a safe and secure environment before publishing. You can share the preview site with others for approval or proofing in a "sandbox" environment with full functionality prior to going live.
It's one thing to see a screenshot or mock-up of what your website will look like; it's another to scroll through a fully functional web page, click on links, hover over features, view videos, etc. Content staging helps users experience how it will work, not just how it will look, and is a crucial feature for quality assurance.
Auto SSL
In a time when cybersecurity is a major priority, it's surprising how many websites continue to be built without proper security. It not only makes sense from a security standpoint; Google and other search engines may dismiss your website in their rankings. Having a Secure Socket Layer (SSL) certificate is basically mandatory for any site that wants to appear on search engines. All HubSpot sites are automatically SSL enabled.
A/B and Adaptive Page Testing
We're all familiar with A/B testing for emails where you might switch up a subject line or other text to see which version has a better open or click-through rate. You can take a similar approach with website pages to take the guesswork out of what will perform better.
HubSpot's A/B testing allows you to test two versions of a web page and analyze their performance over time to choose the best one. HubSpot's adaptive test capabilities allow you to test up to five variations at a time and it will automatically choose the best performer over time.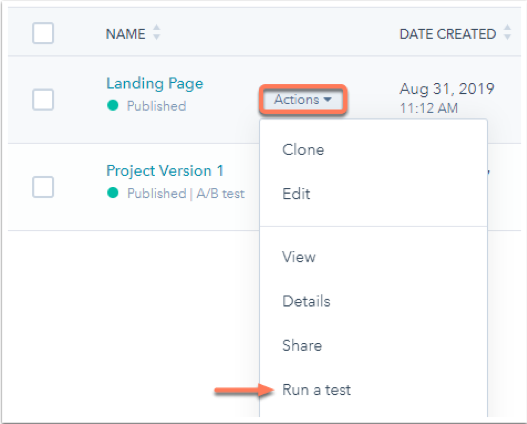 It's important to note that the A/B test page feature is only available to Professional tier users or higher, and the Adaptive testing is available to Enterprise level users.
Website Migration
If you already have a website hosted on another platform, HubSpot's team will help migrate it to their platform at no charge, depending on its size. What's great is you work with a designated Migrations Specialist to guide you through the process.
The service includes migrating your content and design onto the HubSpot platform using a standard set of templates that closely matches your external website. There are some limitations, such as blog comments, third-party social sharing widgets, and some other features can't be transferred. Needless to say, Flash is a no-go, but most of these challenges are easily overcome and the end result is worth it.
HubSpot also features a knowledge base on how to transfer content from other major platforms, like WordPress, to make migrating a site yourself easy.
Easily Update Multiple Pages with HubDB
Instead of updating content in multiple locations, HubDB can build dynamic pages based on a table that auto-updates when you update the table. They're great for web pages that have a repeatable format, such as product listings or career postings. You won't have to create a new page every time you have a new job opening or add a product to your online catalog.
There you have our HubSpot CMS review, tailored specifically to features that will make a marketer's life easier. (And if you're looking for resources to help convince your development or IT team, HubSpot has you covered.) These HubSpot CMS features and benefits are just the tip of the iceberg and there are many more reasons to consider HubSpot over other CMS platforms. As a daily user of the platform, I'd love to talk through them with you, answer your questions, and help you get started with your HubSpot journey. Let us know how we can help or reach out in the comments below.
Meanwhile, check out our guide that gives a side-by-side comparison of HubSpot vs. Wordpress. If this article wasn't convincing enough, we think this guide will make it easy to see why HubSpot is the best CMS for inbound marketers in complex industries.