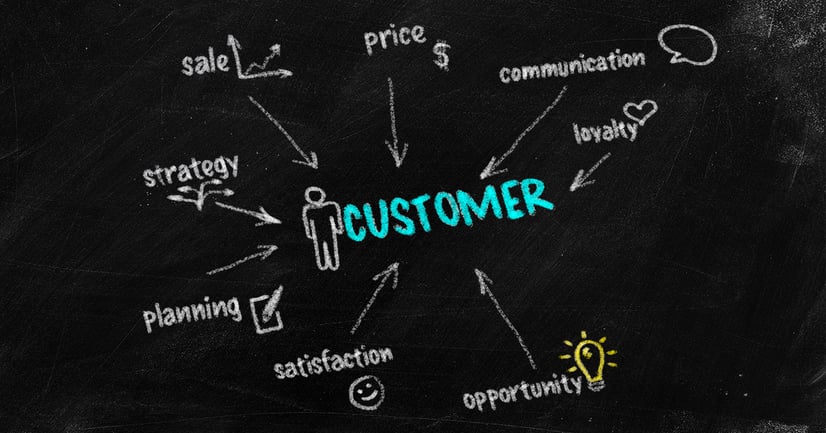 Ask any modern marketing professional, and they'll tell you: when it comes to growth, delighting existing customers is as critical to success as winning new ones.
It's now the norm for today's successful organizations to take a "customer-centric" or "customer-focused" approach to marketing. While my eyes nearly glaze over when I hear these terms ("Of course! Is there any other way?"), this really is the culmination of the inbound flywheel; the stage that turns customers into promoters — in other words, marketing force that helps your business grow.
So, what does customer-focused marketing even mean in an ever-changing digital landscape? Let's explore five customer-oriented marketing tips. These will help you identify what "customer-focused" should look like in today's highly competitive online marketplace and create truly engaging experiences through your campaigns.
1. Get to Know Your Customers
The most successful campaigns are centered around how well marketers know their ideal buyers and existing customers and how customized experiences are delivered to each. This can't be a guessing game, and it's not merely discovered through a quick Google search.
Instead, interview your top existing clients (the ones who are a good fit with your company's ideal buyer profile) and discover what factors they consider when choosing to continue working with you. Then, focus your main efforts on those initiatives to further delight existing clients and attract new ones.
But don't stop there. Most manufacturers are not direct-to-consumer and serve as part of a supply chain. Dig deeper to also get to know the ultimate end users of your product in its final configurations. How do your customers serve their clients' needs? What are their clients' demographics? What motivates the end user to purchase? These insights will prove invaluable when working with your customers.
2. Personalize the Customer Experience
More than ever, people are being inundated with marketing messages on a daily basis. Standing out in a sea of communication requires capturing your customers' attention, and the best way to do that is to truly personalize those customer experiences. Generic, one-size-fits-all marketing is no longer relevant — not that it ever was — and B2B decision-makers are more likely than ever to switch vendors if a company doesn't provide personal touches.
For example, most email inboxes are loaded, making getting noticed a trick. Keep the subject line short and sweet, use graphics or video in the email body to grab attention, and get to the point quickly so the reader doesn't have to scroll. For more email tips, read this article:
6 Best Practices for the Optimal Email Length
Contextualize your communications to assure customers that you're focused on them and their ultimate success, not your own. Doing so positions you as a partner instead of just a vendor. Help your customers feel like they're the hero in their own stories — you just get to be the Robin to their Batman, supporting their efforts and helping them win. While you might not ever get to Amazon-level, with the help of marketing automation software, personalization is easily within reach for SMBs.
Speaking of marketing automation software...
3. Use the Right CRM
With the onslaught of digital data and competition vying for your potential customers' attention, you need to rely on tools to give you an edge and communicate with clarity and vision. The most important of which is your customer relationship management (CRM) software.
Integrated marketing automation tools, such as HubSpot, automatically trigger correspondence based on a lead's engagement with your content. You can be strategic about when and how you communicate with customers so that every touchpoint has purpose.
Additionally, HubSpot's Service Hub helps remove barriers between you and your customers with live chat features, support tickets, and a dedicated knowledge base where customers can reference commonly asked questions or support needs. The feature even allows you to regularly collect voice-of-the-customer surveys and data to hone your service skills even further.
4. Focus on the Customer Experience
No matter how long a customer or potential buyer has been engaging with you — whether that's a week or decades — you need to treat them as though you're still trying to win their business. Your marketing department plays a crucial role in determining how a client feels about your company, brand, product, and people, and it should work alongside your service department to prioritize client delight.
Effectively managing all those relationships (with each in a different phase of the buyer's journey) requires the help of marketing and service automation software; it's just too much to handle through manual processes.
You also need to take a look at your methodologies and how your customers' habits and expectations have changed in recent years. This can't be emphasized enough, considering that 70% of a customer's journey is based on how the customer feels they are being treated — and we can expect that number to rise as time goes on.
Using tools helps you delight customers, leading to reduced churn — and we all know it's significantly cheaper to retain customers than it is to attract new ones. Truly delighted customers not only come back again and again to purchase your products; they become powerful forces in your flywheel, acting as brand advocates that recommend your company to others.
If you don't already have one, establishing a Voice of the Customer program is crucial to understanding, improving, and capitalizing on your customers' journeys. To get started, check out this 2-part blog series:
Part 1: Creating an Optimized Voice of the Customer Program
Part 2: Continuously Improving Your Voice of the Customer Program
5. Emphasize Customer Education
Withstand the temptation to make your products or services the topic of conversation. Marketing content (blogs, whitepapers, infographics, videos) that simply focuses on you can be a big turnoff. If your content only tries to sell, your customer engagement will be disappointing at best.
Instead, make sure your inbound marketing program includes a content strategy that truly educates customers on topics relevant to their industries and brings value. It needs to be interesting and engaging as it empowers them to make better decisions. Solidify your position as a thought leader and trusted advisor that prospects seek out when they're looking for information related to their industry or specific challenges they're facing.
While striving to reach new prospects, don't forget those loyal customers you've already won over. Using these tips helps you improve retention and sales while further building your custom-focused marketing strategy. Get to know your customers all over again through research, interviews, CRM data, and good-old-fashioned conversations; then delight them in new and engaging ways.
You're invited to get more customer-focused marketing tips! Attend our webinar Go Beyond the Sales Funnel! Embrace the Flywheel to Maximize Business Growth & Customer Loyalty on September 15, 2020, at 1:30 p.m. (CST). Click to register now!