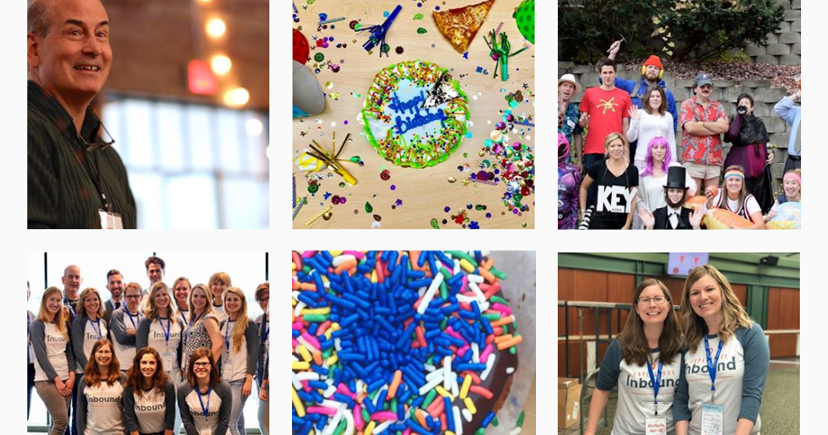 Developing and displaying a unique company culture is a critical part of recruiting new talent and retaining your current employees. In inbound recruiting, it's really the core of the content that helps attract new people to your team. If you have a good culture within your company, people will want to be a part of it!
Social media is increasingly being leveraged by companies big and small and among diverse industries, especially those being hit by the current-day labor shortage.
What are some ways you can display your company culture to the world through social media?
1.Get a True Pulse on Your Company Culture
Many company leaders will insist, "We have a great culture," or "Our people are the best." Sound familiar? However true it may be, when asked to define their culture, some are hard pressed to identify why theirs is so special.
Before you can communicate your culture to the world, you need to define it in tangible and intangible ways. One of the best methods for capturing the essence of your culture is through informal interviews with employees. If you truly have a great culture, people will want to talk about why they love coming to work everyday. When you can sit down with individuals and hear first-hand about their positive feelings toward the company and their coworkers, you can get a better sense of what sets your culture apart from others.
Consider setting up short meetings with team members and come prepared with open-ended questions. Some may include:
What makes you proud to work here?
How do you see our company celebrate success?
How does the team come together to fix problems?
What's your favorite part of the day?
How do you think the company is viewed within the community?
How does the company support your continued learning or encourage personal growth?
There are a lot more questions you could ask. The answers to these questions can set the stage for defining your culture in a way that speaks to potential recruits and customers. You may even ask some general "get to know you" questions. With the employee's permission, you could feature them on your social channels or, at least, feature their answers in the form of a graphic or meme.
2. Choose the Right Social Media Platforms
There are so many platforms out there, each with its own qualities and tools that should be used with a specific audience in mind. Not all platforms are right for every industry, and some may be more appropriate based on messaging.
If one of the goals of sharing about your culture is to attract talent, you may consider straying from the big three: LinkedIn, Facebook and Twitter. If you're trying to recruit a younger audience, for example, Instagram may be a consideration. Typically, however, LinkedIn or Facebook are better if you're looking to attract professional or senior level recruits. Just because you know one platform really well, doesn't mean the same material should be copied to another platform without some level of modification, so keep different audiences in mind and mix up your posts.
PRO TIP: Keep Current. Platforms are constantly evolving, from algorithm changes to new features to who is using which platform, so how and what you post should also evolve to meet your current audience. We've gathered 30 statistics about B2B social media usage to help you determine which channels are most appropriate for your desired audience, so check it out.
3. Create a Social Media Plan
Spontaneity certainly has its place, and posting about fun things that randomly happen around the office or plant can certainly help demonstrate a thriving culture and work atmosphere. Just as you plan out your blog schedule and email sends as part of an inbound marketing plan, however, you'll want to pay similar attention to the content you share on social media.
Stay consistent. A general rule of thumb is to post a few times a week. Not so long ago, companies were encouraged to post daily, and sometimes several times each day. Now, however, algorithms (and viewers) favor quality over quantity. Spend a little extra time to make sure your posts are engaging and add value so viewers will want to comment or share. Engagement helps with visibility, which increases its chances of being seen. This is especially important for businesses as some social channels' latest algorithms aren't necessarily in favor of company pages — they'd rather you pay for visibility.
Plan ahead. It's important to plan ahead to ensure that managing your posts isn't too burdensome. Social scheduling tools, like those available with HubSpot or Hootsuite, can help with planning, and they can also help you keep a pulse on engagement across various channels rather than monitoring each one separately.
Repurpose posts. Once you've captured your daily content, don't just use it on one platform. You can reuse the content on multiple platforms to develop your presence without spending too much time finding and sorting content. As previously mentioned, just be sure it's appropriately adapted for each platform and audience.
Know when to post. Do LinkedIn users typically view content during the same time of day as those on Facebook? Nope. Did you know that Wednesday is the best day to post on Twitter? Yes, it's true. Vary your posting times based on when your ideal audience is most likely to see your content. HubSpot helps break down the best times to post on social media in this helpful infographic, so check it out.
PRO TIP: Don't stray too far. No matter which platforms you choose, your company biography should remain consistent. Include your company's summarized mission statement as well as a profile picture of your current logo. If you have albums or boards, be sure to write a thoughtful description because it will contribute to your SEO.
4. Get Creative
The great thing about social media is that it allows you to show a different side of your organization, or engage in conversations and content that might feel out of place on your website or in emails. Here are a few ideas for notching up your social presence.
Choose a theme or topic. Are there interesting statistics about your industry or employee initiatives you'd like to emphasize? Perhaps there's a local nonprofit or community event your employees volunteer for. You can create a series of content related to each.
Why not have a "Motivational Monday" or a "Fun Friday." For example, does your company have donuts every Friday? Hey, we do! If so, you could create a Friday fun feature that simply shares which donuts showed up in the office that week, or even images of employees digging in. Occasionally showing the fun side of your industry is inviting to potential recruits and customers. Brand any content related to the topics you choose and create a campaign.
Create a schedule. You could feature your theme or topic during a specific month or choose a specific day. No matter what content you feature, stay engaged with your buyer personas, potential recruits and the local community by creating a schedule. Below is an example of what that might look like, but keep in mind that you don't need to post every day. Just use this to generate your own ideas and keep your audience and objectives in mind.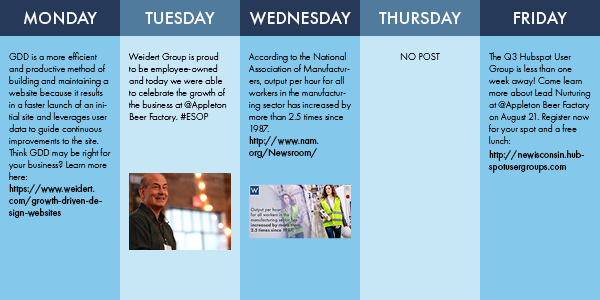 Use Video. I'd be remiss if I didn't extol the effectiveness of video in recruiting efforts and communicating your culture. Where the written word can tell someone about your culture, video can show it. Video is the perfect tool for capturing the subtle nuances, body language and interactions between your employees that show how they truly respect and enjoy working with each other. This type of synergy can't be put on paper.
Mix it up and show a variety of ways in which employees engage: company parties, volunteering, Halloween costumes, collaborating on the plant floor, working together on a product launch or other milestones. Include testimonials when appropriate. You can't fake a strong culture, and video tells it like it is.
How and what you display about your company culture varies with every company. Clearly, a manufacturer isn't going to share the same sort of things as a marketing agency. However, using this 4-step process for identifying what your culture is like, where you want to display it, and how to promote it effectively is a good universal start for any company looking to maximize its inbound recruiting efforts.
For more on how to attract new hires and turn your culture into an attraction force, check out the guide below!