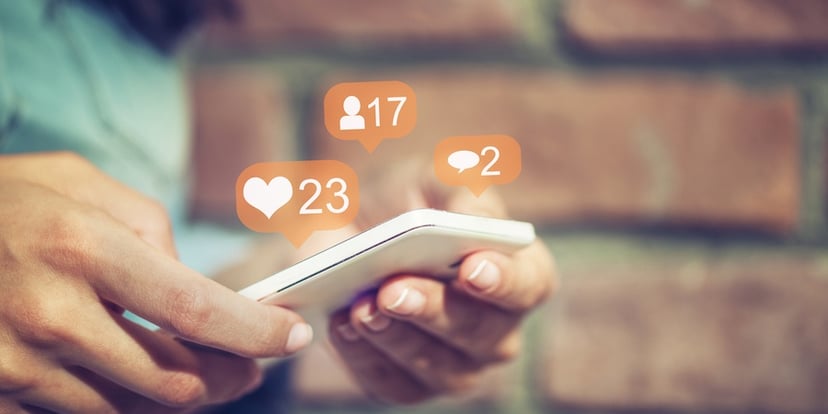 For most B2B companies out there, social media tends to be an awkward part of the marketing equation. On one hand, companies feel obligated to be on social media, because almost everyone else is these days, but on the other hand many companies downplay its importance to their marketing strategies because they don't feel their B2B industry has a large or active social following. And while it's true that your B2B company's Twitter profile or LinkedIn page probably won't accumulate the fan base or following like a famous actor, athlete, or musician, you can still make valuable connections with prospects via social media, and we have the evidence to prove it.
To help your B2B company get more in-tune with the current state of social media marketing, here are 30 statistics about B2B social media usage today:
B2B Social Presence
83% of B2B marketers use social media; making it the most common B2B marketing tactic (Source)
More than 70% of all B2B marketers use at least one of the "Big 4" social media sites (LinkedIn, Twitter, Facebook, and YouTube) to distribute content (Source

)

54% of B2B marketers said they've generated leads from social media (Source

)

The average B2B company is on 6 social media networks (Source

)

78% of companies now say they have dedicated social media teams (Source

)

80% of B2B marketers have a specific social media strategy, but only 32% have it documented (Source

)

79% of marketers said they saw increased traffic with as little as 6 hours a week invested in social media marketing (Source

)

Roughly half of companies say social media has improved their marketing optimization, customer experience, and brand health, with nearly a quarter also seeing an increase in revenue (Source

)
LinkedIn
89% of B2B marketers use LinkedIn to distribute content, making it the second most-used B2B social platform, second only to email (Source)
Nearly half (44%) of all B2B relevant leads come from LinkedIn (Source

)

B2B marketers rate LinkedIn as the most important social media platform contributing to their overall content marketing success (Source

)

LinkedIn users are 4x more likely to visit your website than Facebook users are (Source

)

LinkedIn generates the highest visitor-to-lead conversion rate at 2.74%, more than 3x higher than Twitter (.69%) and Facebook (.77%) (Source

)

49% of B2B buyers research vendors by looking at their LinkedIn profiles, and 44% have actually found potential vendors by looking at shared connections on LinkedIn (Source

)
Twitter
Facebook
76% of B2B marketers use Facebook to distribute content (Source)
Despite being the fourth most-used social network by B2Bs, only 38% of B2B marketers say Facebook is effective for B2B marketing (Source

)
YouTube
59% of B2B marketers use YouTube to distribute content (Source)
YouTube is rated the fourth most effective B2B channel marketers use behind Email, LinkedIn and Print. (Source

)

73% of B2B marketers say video positvely impacts ROI(Source

)

70% of B2B marketers plan to spend more time on YouTube next year (Source

)
SlideShare
26% of B2B marketers use SlideShare to distribute content (Source)
40% of B2B marketers say SlideShare is effective for B2B marketing; the sixth most effective channel to distribute content through(Source

)

60 million visitors a month use SlideShare (Source

)
B2B Social Spending
32% of B2B marketers used paid ads on social media as part of their marketing strategy in 2017 (Source)
Social media will grow to 24% of marketing budgets within five years (Source)
In 2018 social media spend in the U.S. is forecasted to reach 15.36 billion dollars. (Source

)
With the average B2B company using 6 different social media sites today, it's more important than ever to get online and establish a social presence for your brand. B2B buyers do, in fact, use social media to research potential purchases, and you're only missing out on those leads if you sit idly by. Find out where your prospects like to hang out online, and go capture their attention! You'll be happy you gave them another outlet to find you.