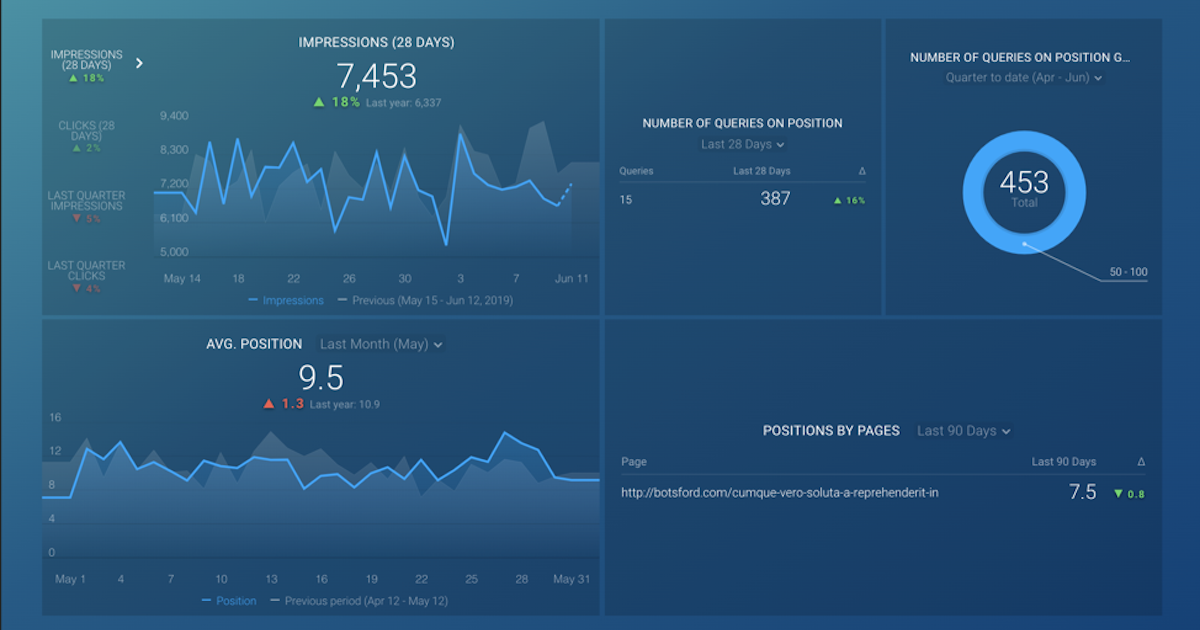 You've spent hours putting together the perfect SEO dashboard. It shows your most important SEO KPIs and your progress toward achieving business objectives.
The only problem? SEO is notorious for taking a while to generate results.
Some people estimate it can be between four and six months for SEO to start taking effect. Conversely, Google can change algorithms overnight—and tank your organic traffic.
The disparity presents a dilemma. You want to check your SEO marketing dashboard frequently enough to prevent any problems from becoming even bigger. Yet, you don't want to waste time checking in when nothing changes.
So, how often should you really review your SEO KPIs and dashboard?
The typical frequency of SEO reviews
Before we dive in with the ideal schedule, let's take a look at how often the average marketer looks at their SEO KPIs.
Databox found that most people check their SEO marketing dashboard weekly.
Slightly over 30% look daily, yet fewer than 5% check-in on a quarterly basis: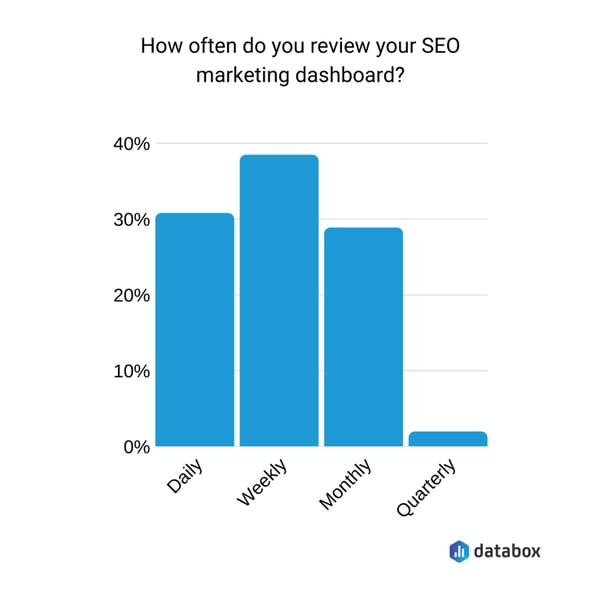 Although weekly is the most common frequency to review an SEO dashboard, it might not be the ideal timeframe for everyone.
How to set your own SEO reporting schedule
The "best" SEO dashboard review and reporting frequency depends on three things:
1. Why you're creating and reviewing the reports
Consider the reason why you want to look at the SEO dashboard in the first place. Are you:
Monitoring the impact of your on-page changes?
Judging how your PR campaigns are influencing keyword rankings?
Trying to spot a general trend for your SEO KPIs?
Your timeframe for SEO dashboard review will largely depend on how you answer these and other similar questions.
The impact of on-page changes, for example, might mean you need to look at your dashboard on a weekly basis after implementing the changes.
The impact of PR campaigns could take up to a month to gain traction. As such, you may choose to review your metrics after the month ends.
Finally, trying to spot a general change in SEO KPIs might be best achieved with monthly reports. Monthly frequency gives you a wide view of your entire SEO strategy so you can more easily identify trends and results.
2. Who will be reading your SEO dashboard and reports
Agencies will likely bill on a monthly basis. Likewise, a client pays upfront for work completed in the month ahead. Therefore, it makes sense to review their SEO dashboard monthly and report results once the month's work is complete.
If you're doing your own SEO in-house, you have more control over the frequency. The leadership team might only want to read SEO results once a quarter, but you might want to show your team how your main KPIs change on a weekly basis.
The bottom line: Think about who will be reading your SEO dashboard and reports. It will dictate your review timeline.
3. The SEO environment
Earlier, we touched on how Google can change algorithms overnight, resulting in a dip in organic traffic for thousands of websites.
You can build this into your SEO report timing by evaluating your KPIs after an algorithm update has been released. How did it impact your website? If you've gone down in rankings, can you plan more changes to get back to your original position?
Sites like SERoundtable publish Google algorithm updates (see below)—even when they're not officially announced by Google — to help you earmark SEO dashboard reviews: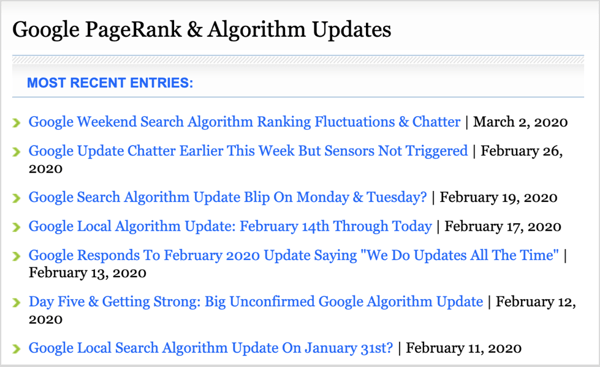 Final thoughts
As you can see, there is no "perfect frequency" to review your SEO dashboard, but you can dial into a timeframe that works for you based on specific variables.
Regardless of the timeframe you pick, stick to it. Consistency will help you better understand your KPIs and help you track and report data relevant to your business growth. Learn more in our guide, 7 Marketing Metrics B2B Executives Care About.