Just last week at INBOUND 2015, HubSpot reintroduced its website platform as an add-on to its marketing automation and sales suite with the hopes that this year will be the year its customers "go all in." As part of HubSpot's "Content Optimization System" (COS) that optimizes site pages, landing pages, blogs, and personalization for search engines; the website platform is built with the same easy-to-use, all-in-one features as HubSpot's marketing tools.
It's a brilliant combination. An inbound marketing program without a well-designed website is like peanut butter without jelly, salt without pepper, or Bert without Ernie. When all of your lead generation tools are integrated, they become easier to manage and more powerful. But perhaps the most compelling reason to consider the HubSpot website platform versus other content management systems is best illustrated by the results garnered by the combination of the tools:
HubSpot data shows that companies using the website platform with the marketing automation platform see visits rise by 40% and landing page submissions increase by 47%!
New Updates Increase Relevancy and Ease-of-Use
The HubSpot website platform isn't a new kid on the block. It's been at the top of the class when it comes to personalizing website content for website visitors, understanding that context makes for a better user-experience. And with its 1,600 updates and enhancements over the past two years, it's becoming one of the most relevant and easy-to-use platforms to host and build your website on. In this article, I'll share some of the most recent and noteworthy features.
Improve User's Experience with Faster Load Times
Remember the days when you'd wait and wait for a page to load? That just doesn't cut it anymore. Load times affect your SEO rankings and more importantly, your website user's experience and conversion rates. HubSpot sites have performed well and even have rated highest for time to load. Considering your website visitors will not wait more than a couple seconds to gain access to your page, this is a huge plus.
Improve Designer's Experience with In-Line Editor and Staging Areas
Great websites allow for a great user experience, but what about the designer's experience? Creating a page doesn't have to be an arduous task. Here are a few ways HubSpot has kept the designer in mind with it's recent updates:
The new inline editor allows you to create everything on one page. No more jumping from one page to create a page and another to preview it.
In addition to a responsive design built into each page, you can now also easily preview across all devices by clicking on icon representing each device: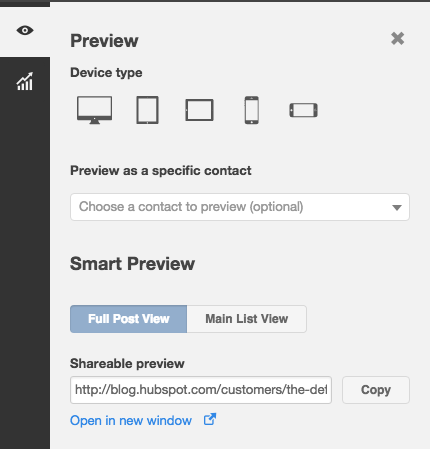 Staging areas now allow you to create and deploy new pages easily. You can transfer pages from the staging area and automatically have them created on your live site.
Rank Better on Google Search using Optimizers
Every page you create will have optimizers included, providing recommendations to make sure your page is optimized for search engines. Suggestions for improving meta descriptions, titles, content body, URL, etc., cover all the angles and help improve your performance.
Secure Your Site with SSL
Just like every site built in HubSpot is responsive out of the box, every site will now have SSL certificates built into them. Now you're probably thinking, "What the heck is an SSL certificate?", right? You're probably more familiar with it than you think. Websites with "https" versus "http" in the URL have SSL certificates safeguarding them.
SSL technology does a couple things. First, it encrypts the data sent between your site and your server, keeping all data private and secure. Second, it authenticates your site to servers, to ensure its going to the correct, legitimate server.
This is a big for you and your customers. An SSL certificate will tell your customers that your site is one they can trust. And since Google also cares about how secure and safe your site is and has started factoring it into SEO rankings, it can positively affect your site performance.
It's Time to "Go All In"
With its ongoing improvements to your website's user experience and to the ease of use for designers, the newest HubSpot Website Platform is a strong contender in the world of CMS's. If you haven't yet explored the full capabilities of using the HubSpot website platform in conjunction with the marketing automation tools, learn more by getting a virtual demonstration from our team.