At its very essence, inbound marketing is all about getting more qualified leads to your site by creating and sharing the valuable content that your target audience is looking for. Ensuring that the content you put out aligns with your target customers' needs and interests will naturally attract strangers to your site that you can then convert into leads, close as customers, and ultimately delight.
Social media is one of the most powerful tools you have to attract leads to your site. But how can you use that tool to get the most out of it? It's easy to look at social media solely as a way to promote your own content, but social media is really about networking and creating conversations. Think of it like a cocktail party: no one wants to spend time with the guy who spends the whole night talking about himself.
Instead, try being like the party conversationalist, sharing the latest news and happenings. Sharing helpful, valuable insights from third-party sources is a great way to showcase what's going on in your industry. The best practice for social media marketing is the 60/30/10 rule: post 60% third-party information (such as links to articles within your industry), 30% blog content (linking to yours and to other industry thought leaders' blog posts) and 10% direct offers to your content.
Let's face it, though: 60% is a big figure and can seem overwhelming. You know it's important to share third-party content, but how can you make sure you're doing it in the right way? Here are a few key pointers:
Make sure you're sharing content from reliable sources. CNN, Forbes and the New York Times, to name a few, are some examples of well-known sources publishing widely respected information on a variety of topics. They're reliable, trusted and no one questions their authenticity. You can also look to trusted trade publications for more industry-specific information and news. Sharing reliable sources proves that you're serious and won't steer your audience in the wrong direction.
Add your thoughts to the links you share. Nothing is worse than seeing a list of links in your newsfeed with no explanation or thoughts behind them. Instead, provide a quick synopsis or what you found most compelling in what you're sharing. Check out this example of great link sharing from our friends at HubSpot: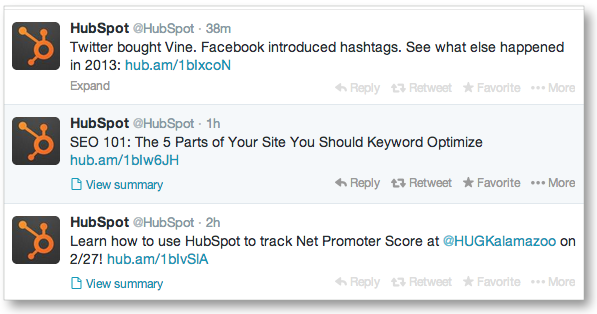 Don't share things simply for the sake of sharing. On one hand, it's awfully nice that it has become so easy to share content from across the web with social share buttons on just about every website. On the other hand, don't feel like you have to share something just because there is a button giving you the opportunity to do so. Before you share anything, ask yourself this very important question: "Is this relevant or interesting to my target audience?" If you can't answer yes to that question, then it's best to say "sayonara" to that piece and leave it behind.
Don't be afraid to share content from outside of your industry. There's no denying when something is so great that it's worth sharing. If you find something that's unrealted to your industry but is still relevant and of interest to your prospect personas, feel free to share it (as long as the source is reliable). Your organization will be seen as one that's tuned in to its target audience and that puts effort into addressing their needs.
As you can see, finding and sharing the right material is an important factor in attracting strangers to your website. It's also a demonstration of your value as a business resource to your prospects and customers. Start sharing relevant, reliable and valuable third-party content and watch your customer base grow!