Business growth requires both marketing and sales. Make sure they're on the same page.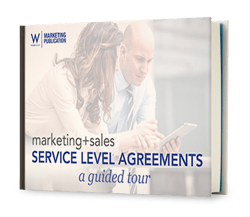 Inbound marketing is about attracting leads online by being as helpful and as relevant as possible. But your marketing will be fruitless if your sales team isn't ready to close those leads.
As explained in this eBook a service level agreement (SLA) aims to create trust and efficiency between Marketing and Sales to create greater revenue results.
This guided tour of an SLA is our comprehensive guide to preparing, building, and implementing marketing and sales alignment. In 35 pages, we'll guide you through how to:
Set shared goals for Marketing and Sales
Build consensus in Sales and Marketing around an inbound approach
Determine appropriate performance targets for each department
Choose the right CRM and marketing automation platform to enable efficient business development practices
Select the right KPIs that help monitor how well Sales and Marketing are working together.
Download this highly actionable planning guide by filling out the form. You don't want to miss it!