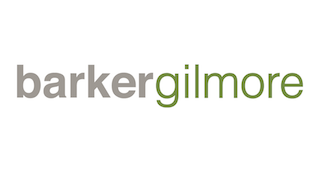 Appleton, Wis. – Weidert Group, a B2B inbound marketing agency and Platinum Level HubSpot Partner, has been selected to execute an integrated inbound marketing program for BarkerGilmore, LLC, a boutique executive search firm specializing in building corporate legal and compliance teams from the top down in complex, highly regulated industries from financial services to healthcare.
Experienced with inbound marketing but wishing to undertake a number of broader growth initiatives, BarkerGilmore sought a well-respected, established inbound partner for assistance. Weidert Group was selected to refocus inbound marketing efforts and support ongoing components of the program. Bob Barker, BarkerGilmore's managing partner and cofounder, explains, "We've been convinced the inbound approach will be effective for us, but we also knew we needed the help of an experienced inbound agency like Weidert Group. In our rigorous review process they distinguished themselves as a great fit for our needs and culture."
Greg Linnemanstons, Weidert Group's president, believes BarkerGilmore's choice to strategically realign their inbound marketing program is on target. "BarkerGilmore has mapped out aggressive growth goals for the next five years. Their established thought leadership and the diligence their clients go through in selecting a search firm make them a great fit with inbound marketing and Weidert Group. We're excited – and ready – to help BarkerGilmore achieve their goals."
About BarkerGilmore, LLC
BarkerGilmore, LLC is a boutique firm of distinguished consultants recognized by CEOs, boards, and executives as best-in-class legal and compliance executive search consultants, GC/CCO advisors, and leadership coaches. BarkerGilmore delivers an exceptional experience, resulting in unrivaled client retention rates. The company offers access to the very best legal and compliance talent nationwide, a concierge service mentality, and a customized value proposition worth investigating. Many Fortune 500 corporations, successful mid-size organizations and entrepreneurial startups recognize BarkerGilmore as a premier and trusted partner, relying on BarkerGilmore consultants to place legal and compliance candidates in a variety of complex, highly regulated industries, from financial services to healthcare, for nearly three decades.