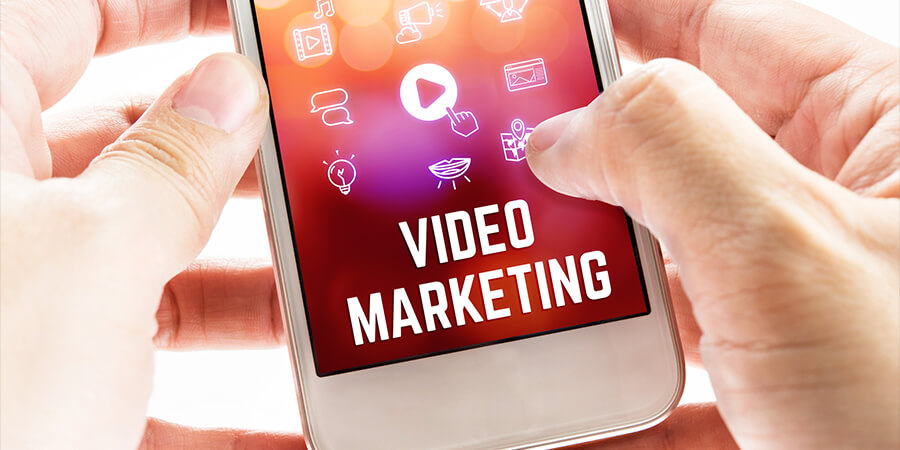 Some marketers remain unconvinced of the value that video can bring to an industrial manufacturer or other B2B industry. Promoting a direct-to-consumer product through video, for example, is generally easier (and more engaging) than highly considered and often complex manufactured goods or services. At least, that's been the thinking.
Not so. Video continues to be an effective (and necessary) tactic for today's B2B marketers. But don't just take my word for it! There are multiple surveys and statistics to back up this assertion, and companies big and small will need to integrate video into their B2B strategies if they want to see the best results.
We've gathered the latest statistics to help you see the influence video can have when included in your marketing strategy. And, most importantly, how it can positively impact your bottom line.
The Use of Video is On the Rise
Video is a central part of how we live, whether streaming a show at home or researching a solution for a complex problem at work, and marketers are taking note. The fourth annual State of Video Marketing Survey published by Wyzowl revealed that the use of video is becoming a mainstay in marketing strategies.
81% of businesses use video as a marketing tool — up from 63% in 2017
65% of those who don't currently use video, say they plan to start in 2018
There's been a 17% increase in video usage during the last 12 months
44% of marketers have hosted or participated in a webinar. Out of those, 87% found it to be an effective strategy
97% of marketers say video has helped increase users' understanding of their product or service
76% say it helped them increase sales
47% say it helped them reduce support queries
Marketers who use video grow revenue 49% faster than non-video users
Video is a Preferred Media
Video has become the preferred way most users consume content.
Where both video and text are available on the same page, 72% of people would rather use video to learn about a product or service
59% of executives agree that if both text and video are available on the same topic, they are more likely to choose video
95% of people have watched an explainer video to learn more about a product or service
85% of people say they'd like to see more video from brands in 2018
Video Gets Results
Those who use video have seen a major increase in engagement among prospects.
76% of marketers say video helped them increase traffic
80% of marketers say it increased dwell time on their website
It's one thing to get views — it's another to get results. Video continues to play a major role in driving business performance and has become a vital tool as part of every customer's buyer journey. It not only serves as a starting point for learning about a product or service; it increasingly serves as a decisive factor that can turn a prospect into a purchaser.
Social Media Is an Important Element
Manufacturers and other B2B organizations are starting to warm up to the idea of using social media as part of their inbound marketing strategies, and rightly so. Various platforms such as LinkedIn, Facebook, YouTube and Twitter — the top social networks — have helped to build brand awareness, push content and even attract skilled workers in a shrinking labor pool. These platforms are also expected to improve their functionality to offer higher-quality video streaming and interactive features to appeal to advertisers.
The lines between personal and professional use of these platforms are being blurred, and many B2B buyers and potential hires are considering the content found on them as part of their decision-making processes. Every medium for consuming social content has grown, but none so much as video.
Video generates 1200% more shares than text and images combined on social platforms
38% of marketers have published video content on LinkedIn
75% of marketers found video to be an effective strategy, and 55% plan to use LinkedIn video in 2018
87% of marketers have published video content on YouTube and 90% of them found it to be an effective strategy
68% of marketers have published video content on Facebook, and 87% of them found it to be an effective strategy
70% of marketers plan to use Facebook video in 2018
Views on branded video content have increased 258% on Facebook and 99% on YouTube as of June 2017
Don't Put it Off
Have you been putting off using video as part of your B2B inbound marketing strategy? If so, it's time to jump in or risk being left behind in the competition's dust. To get started, check out some of these articles about using video that are specifically tailored to B2B industries and, of course, they feature videos you can watch, too.
Another reason some companies put off producing video is the misperception that it's cost prohibitive. That's not always the case, especially when you have an efficient and expert team to help you get it done. If you need help creating compelling video for your B2B company as part of your inbound marketing strategy, reach out to us here at Weidert. We're eager to help you catapult your marketing efforts.