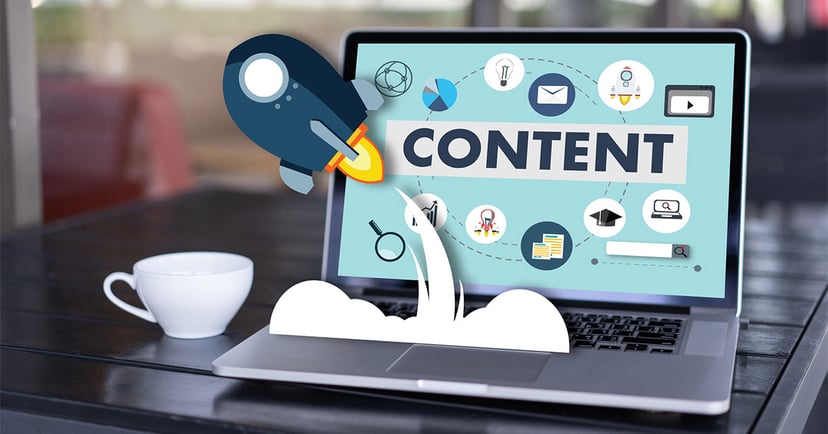 We've discussed it at length within our blog over the years, yet the message never gets old: meaningful content grabs the attention of targeted audiences, helps companies establish relationships with B2B buyers and is designed to be shared with others. It's the fuel for a successful marketing rocket. However, just like fuel, incredible content on its own isn't going to carry you very far.
Sure, regularly publishing content generates traffic. But it alone comes up short for capturing or qualifying leads, moving them along the buyer's journey or converting them into loyal customers.
Content creation requires a strategic framework. That's where terms you've likely heard play such a key role: "content marketing" and "inbound marketing" are the two most common. So, are these just two similar terms meaning the same thing? If not, what are the differences? Is one easier to implement than the other? Most importantly, which provides a more complete strategy for complex B2B manufacturing companies?
Here's the short answer: think of content marketing as being under the umbrella of inbound marketing; a vital part. Yet inbound marketing is a comprehensive approach to attracting, qualifying, nurturing, closing, and delighting customers. So, if you're not using all of inbound's practices, your marketing is failing to reach its full potential.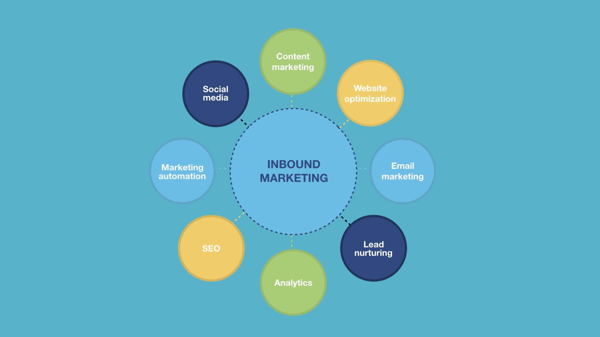 Example components of an inbound marketing program
What is content marketing?
According to the experts at the Content Marketing Institute: "Content marketing is a strategic marketing approach focused on creating and distributing valuable, relevant and consistent content to attract and retain a clearly defined audience — and, ultimately, to drive profitable customer action."
That content could be a web page optimized for SEO, a blog article targeted to a specific audience or a visually grabbing infographic that's easily shared (how to build an infographic). It could even be a video. Even a lengthy video is preferred by most people over reading a 50-page, text-only whitepaper.
In general, a content marketing strategy involves focusing on your brand stories, which can be intriguing and even entertaining. After all, who wants to consume boring, lifeless content? However, remember to use terms your industrial buyers are searching for.
Your best prospects, those who are active in the buying process, may want a "trusted manufacturing partner," but they're typing in "paper machine converter" when searching. Just make sure your content is relevant to a problem that your product/team can solve.
Going back to the definition above, "profitable customer action" — the ultimate goal, of course — happens when you plug your content into an inbound marketing approach.
OK, so what is inbound marketing?
Inbound marketing is a set of tools and processes that work together, matching the way B2B companies market with the way people buy today. Inbound marketing leverages behavior so traffic is generated, relationships are formed, leads are gained and customers are delighted. It works particularly well for complex industries like manufacturing where industrial buyers have a longer sales cycle and purchases are highly considered, because it allows you to use all the tools in the inbound framework to build relationships with your best prospects at scale.
So, while helpful content engages prospects looking for answers, inbound methodology provides a framework for everything in your marketing mix — from strategy to content production, distribution to promotion, SEO to lead nurturing and marketing and sales alignment. Inbound marketing strategy improves on the traditional sales funnel, implementing a flywheel model that not only enhances the buyer's journey, it truly inspires business growth.
To make the most of inbound, you need the right systems in place, such as marketing automation that talks to your CRM to help you qualify and nurture the right leads at scale, and provide data your sales team can use to help improve your closing ratios. Currently, only 30% of manufacturing content marketers use any kind of marketing automation software. That's a huge missed opportunity!
The right software not only provides every metric imaginable on how your potential customers are engaging with your business, it takes the guessing game out of creating customer touchpoints by allowing you to create workflows to seamlessly deliver personalized, relevant content to your leads and customers based on their needs.
Content is critical, but it's only part of the story.
You want content to drive results and help you achieve your goals. Because inbound marketing is a data- and result-driven methodology, your content marketing is tightly integrated with your conversion strategy. Inbound produces results by using content to attract and turn prospects into leads, so the focus is on optimizing the content and the conversion experience.
When using all the components of inbound marketing, it becomes THE powerful approach for complex B2B industries because it drives a repeatable and scalable engine that produces leads month after month.
Want to continue learning?
Discover more by reviewing our inbound marketing resource page, which is loaded with information to help you get started, What is Inbound Marketing for Industrial Manufacturers.