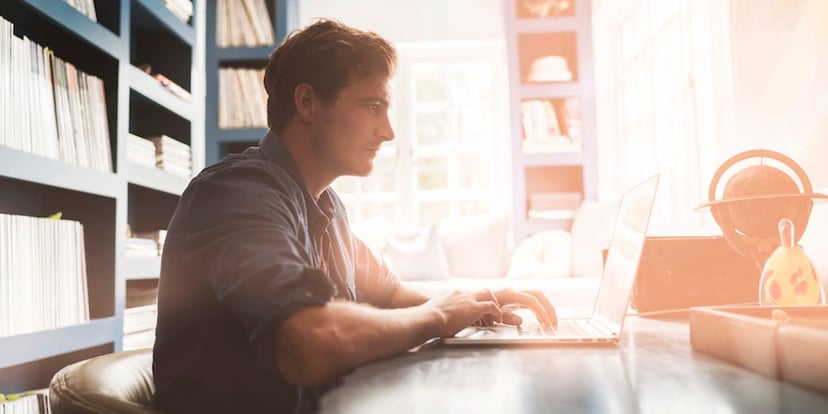 We asked Justin Harrison, Weidert Group's new Web Development Manager, to share his thoughts after 30 days working on the HubSpot platform. We weren't sure what we were going to get, but are pleased to know that he's a big fan!
There's no time for inbound marketing and HubSpot pool floaties around here. I started at Weidert Group around a month ago and quickly dove headfirst into the deep end. At first, it felt a little unnatural working on a platform I'd never used. [Insert fish out of water reference here.] As a designer, I was used to the typical platforms for development and design, Joomla and WordPress, but also a few smaller sites built on platforms like Squarespace or templates with straight code.
HubSpot is unique in many ways that allow for modern site development with smart features and metrics that will make your previous data metric tools look antiquated.
What HubSpot Isn't
When I started I was under the impression that HubSpot was a content management system combined with customer relationship management software. It unequivocally is not that simple, and the learning curve is a bit higher from a designer standpoint. On a positive note, though, anyone who isn't a web designer will have a very easy time making edits to a site. It's not, however, a software suite for anyone wanting to "set it and forget it," a la the Ronco chicken rotisserie. It takes a dedicated person, or even a team, to develop and nurture the content in order to generate results (more on that below).
What HubSpot Is
The TL;DR answer is that HubSpot is an all-in-one marketing software suite that focuses on inbound marketing. HubSpot is technically a content optimization system (COS), essentially combining CMS, CRM, marketing (blog, email, ads, social) and sales (lead management, analytics) platforms into one place. Are you looking to grow leads? Align your marketing and sales teams for lead generation and growth? HubSpot will help generate and manage lead nurturing throughout the buyer's journey, unlike a standard content management system. It has marketing metrics, SEO recommendations and integrated software all focused around the goal of pushing relevant content to your buyer persona and delighting them along the way.
Your Visitors are Smart, So Why Isn't Your Website?
The single most unique thing about HubSpot compared to any other platform on which I've worked is the host of integrated smart features. HubSpot allows personalized content based on a number of settings: location, source, device, demographics and contact interactions with your brand.
Say a visitor is on your site for the first time and fills out a form to sign up for a newsletter. That contact's information is now loaded into the contacts portion of the HubSpot software and a cookie is placed on his or her computer, phone or tablet. Based on this information you can dynamically present specific content based on these details, drawing that new contact through the buyer's journey to help them solve the problem they came to your site for in the first place.
Statistics show that customized content increases engagement and improvement of your site. HubSpot looked at the data for more than 93,000 CTAs created using HubSpot over a 12-month period and discovered that CTAs targeted to the user performed 42% better than generic ones.
Suite of Metrics
Google Analytics is the bread and butter data for most designers/developers. What if you could combine the best of those analytics with marketing and sales data and put it all in one place? HubSpot does this and that's not something you'll find with Joomla or any other CMS platform. There is so much data that HubSpot pulls it could make your head spin like the Exorcist's Regan MacNeil (but without vomit). It's not simply visits and page views, it's how many of those visitors converted to contacts and then customers, where your contacts are in their lifecycle stage, what the top landing pages are, how many visitors filled out the forms on those landing pages, and much, much more. Everything you should be doing to generate contacts, and then leads, should be based on data. You don't build a home without architectural plans, do you?
Design: The Good, the Bad and the Ugly
Disclaimer. Since I am only a month in, we will see how much my opinion of this changes over my tenure at Weidert Group, but there are some aspects of HubSpot I find intuitive and some I find difficult.
The Good
HubSpot is a broad platform for lots of different users. It's fantastic for anyone not dealing with code, and its interface is quite easy to use on the front end. HubSpot is natively mobile-responsive and also has built-in social features. For instance, you can monitor your Twitter feed and push out tweets right from the platform. Hubspot's resources and support are unlike any other platform I've experienced. There are huge amounts of resources and library lookups available to help with issues, along with blog posts, forums and direct support from their people. With Joomla or even WordPress I often found myself digging around user forums or through sparse documentation for a plug-in.
The Bad and the Ugly
HTML and CSS is often hard coded into templates that make it a more difficult to grasp what page specifically links to what CSS file, and where to modify it. Styles are overridden with another CSS file over the default CSS, and workarounds are needed to achieve something specific.
I've done a lot of digging to find out where a specific tag is called out, and troubleshooting can be challenging. Also, content is packaged into modules and, because of this, only certain things can be edited on the front end. HubSpot's underlying syntax, called HubL (pronounce hubble), is unique to the platform causing a greater learning curve. Finally, cost could be a factor when looking at the overall project since Joomla and WordPress are free, although heavy modifications for those platforms are typically outsourced for a higher cost.
Overall, HubSpot is an amazing all-in-one tool that combines features of the best CMS, CRM, marketing and sales platforms and packages with an intuitive interface. If you have the time and resources dedicated to using this COS platform for inbound tactics, you'll reap many benefits that you just won't find with your typical website development platform that will have a bottom line impact on your growth.
Hopefully this post has been helpful if you weren't sure what HubSpot is, or if you are a designer looking to keep yourself educated on different platforms out there. It's exciting to learn a new platform and to keep growing, learning and challenging myself. I am looking forward to becoming an expert at HubSpot and providing insights for Weidert Group as well as our clients. I still may be a fish out of water but I am adapting, breathing.