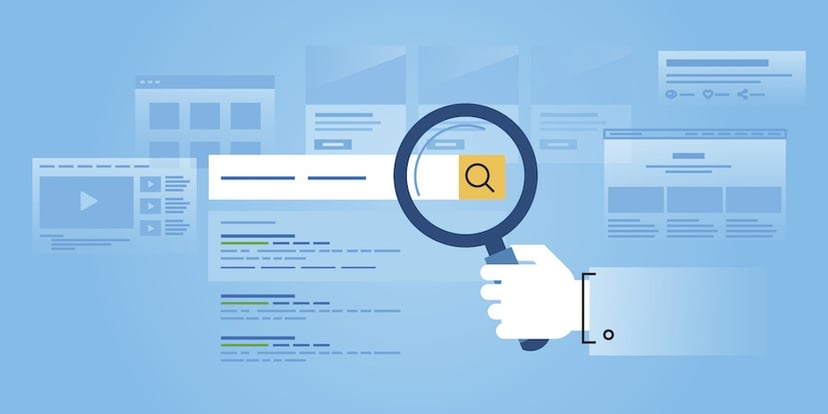 Keyword discovery is one of the most important steps in creating an effective SEO strategy. If you want your website and content to be found by your best prospects, you need to first understand what they actually search for — and the words and terms they use. The thing is, if you want prospects to find your content, search engines need to find it first.
Keywords To Guide Your Content Strategy
As we've written about before, a key strategy to improve SEO rankings and provide a better user experience is to centralize your content around pillar pages based on relevant topic clusters and related keywords. Your prospects look for answers about product features, cost, performance, ROI, capabilities, alternatives and more. The best way to provide value — and the answers they need — is to have all of this content that relates to the topic revolve around a central pillar page.
What is a Pillar Page? Watch this quick video!
Keyword Discovery Sources
So how do you identify a list of potential keywords to guide your content strategy and improve the chances of your content being found? Start by mining these eight sources to create your keyword list. These resources will help you understand the full scope of the questions prospects ask when they search for your solutions.
Personas
Sales people
Customer service
Google Search Console
Google Analytics
SEMRush
Competitor Analysis Tools
1. Personas
To find the right keywords, you first need to understand the personas you're trying to reach. You've made personas for each of your target customers right? If not check out some of our other posts on persona creation.
The language you use will vary based on a buyer persona's role. A consumer with a broken computer, for example, may search "computer repair." A business owner who wants to keep her computer system operating at peak performance, however, would probably search for "computer support" or "managed IT services." To create content that includes the terms prospects use when searching online, it's important to identify how each thinks differently. Get to know your personas and choose keywords accordingly.
2. Sales People
Your sales people talk to customers and leads all the time, so they're well aware of the questions being asked — especially during the consideration stage of the buyer's journey, where they're digging deeper into different solutions and potential vendors. This makes your sales team a great source of keyword terms, blog topics and ideas for more advanced content pieces (like a pillar page!).
Start by meeting with the team to put together a list of prospects' most common questions; follow it by asking what common hurdles must be overcome when selling to them, what issues keep them up at night, what they value most about your company/product, and factors that typically cause them to start their search.
3. Customer Service
Your customer service reps hear every concern, question, comment and compliment related to your products and services. Their input will often focus on the not-so-great stuff, and that's okay; it's an opportunity to remove friction and increase customer happiness.
If, for example, you have a problem with a specific part of your equipment — let's say a valve — you'll want to first correct the issue, and you may want to address tips for extending the life of that valve through preventative maintenance in a blog post or instructions on how to properly install it in a Knowledgebase article or demonstration video. The point is, by talking to customer service, Marketing now has several content ideas that directly relate to your target customers' challenges.
4. Google Search Console
If your website already has a decent amount of organic search traffic, do yourself a favor: use Google Search Console. On top of all its great functionality, such as page indexing and crawl error warnings, this keyword research tool also gives you a list of the most popular keywords used to find your site.
RELATED: 8 SEO Tools to Help Guide your Content Strategy
This is an excellent tool for identifying quick-win keywords that you're already ranking highly for (5-25 in Google Search results), which can help you reorganize that existing content into a unified topic cluster that points back to a pillar page for an SEO boost. Keep in mind that if much of your traffic isn't considered marketing-qualified, this may indicate a problem with your current keywords, so you might end up not adding some of them to your list.
For more on this specific process of using Search Console to identify quick wins, read this:
Keyword Research & Optimization: How to Get Quick Organic Traffic Gains to Your Blog
5. Google Analytics
Google Analytics is another tool to understand how people find your site. It can tell you what pages of your site people are entering and exiting from.
Pay particular attention to pages with high bounce rates and ask yourself why a prospect might be leaving it. If the content of that page doesn't align with what prospects want to learn at their particular stage in the buyer's journey, they'll leave without taking action. Another disconnect could be that the page's title and meta description (which people see in search results) don't match its content. For example, are they looking for an answer to another related question or problem that's not addressed on that page? Either adjust the keyword that the page is optimized around to better match your target buyers, or if the keyword is indeed relevant, add the page to your list of content to optimize to resolve the disconnect and reduce the bounce rate.
6. SEMRush
SEMrush has a robust keyword tool that helps you research topics and find related keywords that can become subtopics linked to your pillar pages. We've found it extremely useful in optimizing existing content by suggesting keyword opportunities and search terms. SEMrush's Writing Assistant tool will even suggest optimal word counts, evaluate consistency, and suggest which paragraphs or words may be too long or complex. You can pull keyword data about your domain and use the information to research your competition's online activities, too.
7. Competitor Analysis Tools
Speaking of which, guess who else is looking for the right keywords? Your competition.
Go to the websites of your best competitors and find out what keywords they're using. It's easier than you may think. Start with Alexa's site link tool, put in any site URL and it will tell you how popular that site is on Google and the top five keywords it ranks for. If you want to pay, Alexa will give you even more useful information about your competition.
Another tool that identifies competitors' keywords is ahrefs. You can sign up for a two-week free trial and evaluate a few websites you're interested in. It will tell you what keywords those sites rank for down to the specific domain. Outside of brand keywords, if your competitor is ranking for it you probably want to as well.
Bonus: HubSpot SEO Tool
If you're a HubSpot user, you also have access to their SEO tool which is built specifically to help you organize your content around pillar pages and subtopic keywords. This tool is particularly handy if you have a lot of content already because it can suggest pillar and subtopic keywords and content that already relates. It also integrates with your Google Search Console data so keyword volumes are pulled right into the tool.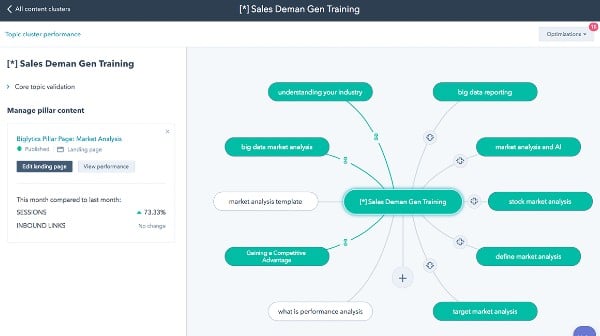 Finding The Right Keywords In Your List
With these tips you should be able to create a decent list of keywords to start from...but you're not done yet. The next step is to distill that keyword list based on which terms are actually relevant to your ideal buyers, have decent search volume and are worth fighting for. Then, cluster those related keywords as part of your pillar content strategy.
Keyword discovery is only one part of your SEO strategy. Check out our SEO Survival Guide below for a deeper dive.