"We don't have time to write a blog article three times a week", "We know all of the players in our industry and we talk to them directly", "I hate getting emails so I don't want to send out a lot of messages", "Our competitors and customers aren't doing much in social media so it would be a waste of our time".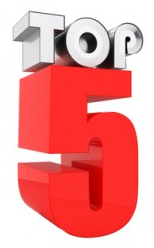 If you're like most companies, you've used at least one of these objections not to engage in Inbound Marketing. Truth is, none of those apply in 2012.
Here's a few quick facts to consider:
• Companies that blog have 55% more web visitors and 97% more inbound links
• 98% of B2B buyers search online via Google
• Unpaid, organic results account for nearly 90% of clicks
• B2B companies that blog generate 67% more leads than those that don't
• 65% of internet users read a blog daily
• 61% of B2B companies have acquired a customer from LinkedIn and 41% have acquired one from Facebook
• 3 out of 4 Inbound Marketing channels cost less than ANY traditional, outbound channels
There's no doubt that Inbound Marketing works. In just six months we increased leads from our website by 4800%!
So, the big question becomes should you tackle implementing Inbound Marketing on your own or hire a team to help?
Here are the top 5 reasons to hire an Inbound Marketing agency this year:
1. Your team already has a full time job – like most companies, your internal resources are already wearing multiple hats and don't have time to dedicate themselves to learning and successfully implementing a new initiative. Hiring an Inbound Marketing agency gives you the needed support without overtaxing your marketing team.

2. A broader perspective – Because you live your business everyday, you may not realize how much you know and what you have to offer to potential customers. Your Inbound Marketing agency will find those nuggets and be able to help you create valuable content for your prospects.

3. Fully integrated marketing efforts – A good Inbound Marketing agency will be able to integrate your traditional tactics with your inbound activities. If your online and off-line efforts aren't consistent, you'll be wasting valuable budget.

4. Faster ROI – Because the right Inbound Marketing agency already has the experience and understanding of what it takes to be successful, you'll be up and running in less time. That means quicker lead attraction, more prospects in your pipeline and more active customers!

5. It's cheaper! – Think about the costs associated with hiring just one additional marketing resource. By hiring an experienced Inbound Marketing Agency, you'll be employing an entire team fully engaged in making your program a success.
If you're considering implementing an Inbound Marketing program but not sure if its right for you, check out our free eBook: Answers to the Top 15 Questions About Inbound Marketing.