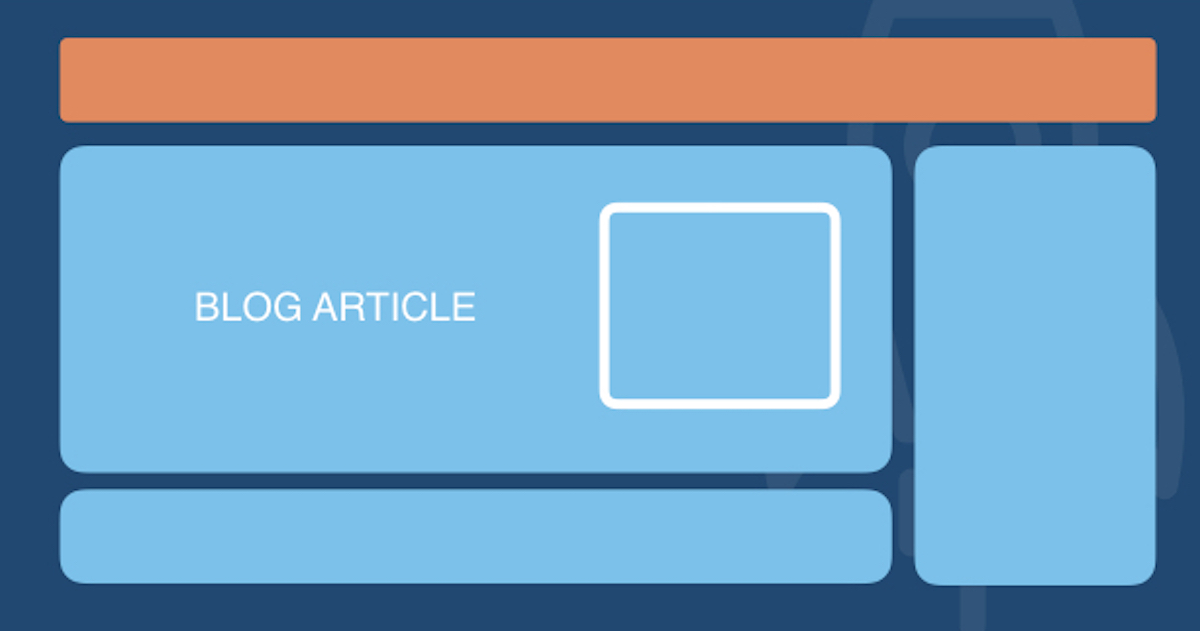 What is a blog post? Hold on...doesn't every internet user know what a blog post is? Maybe a better question to ask is how to write an effective blog post that gets results. Let's face it; it's incredibly easy for anyone to set up a blog and share their thoughts with the world, but very few blogs actually get noticed, and it can be especially difficult for complex B2B companies to get traction.
Even if you can't get thousands of subscribers, a blog is potentially one of the most important elements in your inbound marketing arsenal, especially if you're in a complex industry like manufacturing, distribution or supply chain where you can provide helpful, valuable content to your target audience. So, how can your blog stand out from the sea of noise on the internet and result in quality lead generation for your B2B business?
Understand the Role of a B2B Blog
Unlike many fashion, travel or lifestyle blogs which attract an extremely diverse audience, B2B blogs need to focus their efforts on attracting a very niche market of interested buyers. In the context of the inbound marketing methodology, however, a business blog needs to go beyond simply attracting attention; it requires an emphasis on all three stages of inbound.
Attract. Content needs to attract the right kinds of prospects who are looking for solutions to a problem — a problem that you and your company can solve.
Engage. Once that prospect is on your website, you need to engage them in a way that builds trust and credibility so they're willing to become a subscriber and receive further communication from you.
Delight. After someone entrusts you with their contact information, it's important to come through on your promise and continue nurturing them by providing valuable content — find the balance between being helpful or just plain annoying.
Think Like a Publisher
Consider the articles you read for your own industry. What do you find interesting and informative? What helps drive you toward solutions to your business challenges? Which ones do you trust and find yourself returning to on a regular basis? Now ask yourself why. Chances are you look for content that answers your frequently asked questions, provides thought leadership, shares a new perspective, or provides tips to help solve a problem. I'm guessing the last thing you want to read is a sales pitch.
Guess what? Your customers want the same thing. Being helpful should be the first goal of any blog. If your first priority is to make a quick sale, chances are your website visitors will be turned off and look elsewhere for answers.
Instead, give readers the answers they're looking for and build your authority on the subject. When you do that, you'll also build trust in your brand and nurture potential clients along their buyer's journey.
Keep Your Blog Updated
When it comes to running your business, consistency is a key to success. The same holds true for your blog. If you expect to hold your audience's attention and keep them coming back, you need to give them something new to engage with on a regular basis. Search engines like Google also give credence to sites that show their content is fresh and not stale.
Many companies start out enthusiastically and generate a lot of content at the beginning of an inbound program, but get sporadic as time goes on and as the initial influx of ideas get used up. It's helpful to outline a content calendar to set goals and stay focused. Don't wait until you find the time; make time. If you feel like you've already exhausted some topics, consider optimizing older blogs that perform well to give them new life.
Not only will consistent blogging keep existing contacts engaged; it also helps generate new traffic to your website. Search engine algorithms index content partially based on how up-to-date a website is. The more you blog, the better chance you have that Google will rank your content higher in search results.
RELATED: A How-to Guide: Audit, Refresh & Repurpose Your Content
Basic Components of an Effective Blog Article
Blogging has evolved over the years. For example, just a couple years ago, many marketers emphasized the importance of short-and-to-the-point blog articles that were under 500 words. The problem is, those articles had very little "meat" to them and required the reader to look for multiple resources to answer their questions.
Today, however, audiences (and Google) are looking for more comprehensive information on a given topic — a one-stop-shop of sorts. The result is that many ranking blog articles now have three times as much content as they once did and require much more value (and work).
Beyond word count, consider how to optimize these nine basic components of a blog:
Compelling Title. Let the reader know what to expect and make it catchy, but step away from the click bait!
Engaging Introduction. Provide a brief synopsis of what the reader can expect when they keep reading. Being brief is the key here. Don't go on, and on, and on, and...
Clear Subheads. Each subhead of your article should form the basic outline of your blog, giving readers (and search engines) a quick glimpse of the points you'll make.
Valuable Content. Be clear about what you want to convey to readers and say it in a way that sets you apart from the competition. Do your research and, by all means, make sure it's written well.
SEO-Friendly Keywords. Use SEO tools to research keywords and naturally incorporate them into your copy. Avoid over-stuffing with keywords.
Internal and External Links. Guide your reader to other important content on your site and include authoritative external links to make a point or source statistics when appropriate.
Eye-catching Images. Make them relevant and avoid overly cheesy stock photos. Also make sure they're SEO optimized too.
Relevant CTAs. Provide next steps with an advanced content offer that relates to your topic, and consider in-line CTAs, too.
Quality Meta Description. While last on the list, this is often the first thing someone will see when your article is displayed in search results. Make it compelling enough that they click through.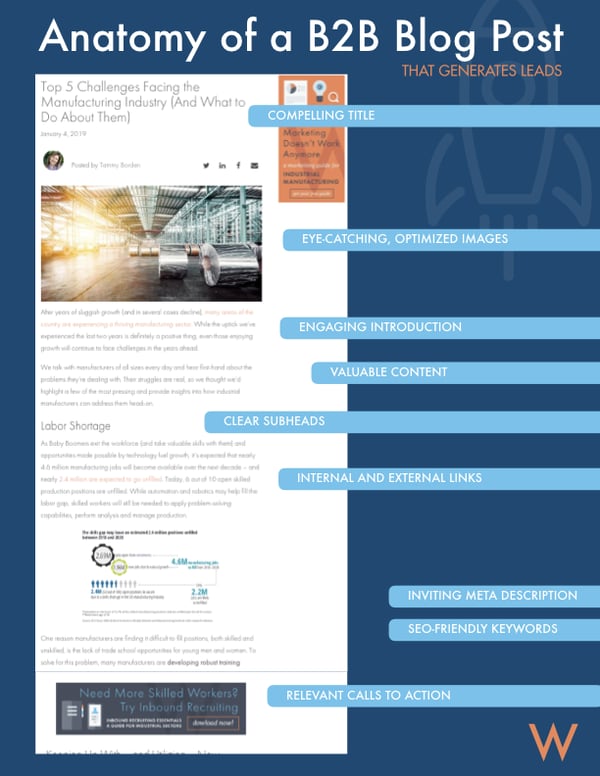 Of course formatting all these elements of a blog into an eye-catching layout is important, too. So leverage the tools and templates available through your content marketing platform to ensure readers have a good user experience.
Write for People, Not Just SEO
There's a lot of emphasis these days on leveraging SEO tools. Don't get me wrong; we're all for it. A good writer can and should strategically consider SEO practices and include relevant keywords naturally without insulting the intelligence of the reader or diminishing an article's value.
But remember that your audience isn't Google or some random algorithm. Don't be afraid to show a little personality. Your audience is a group of living, breathing individuals who want engaging content that challenges them, provides new perspectives, and maybe even surprises them now and then.
Need more tips for crafting an effective business blog? Access our free guide below. And if you'd like to explore how our team can help you catapult your marketing efforts and attract, engage and delight more customers, we're here to help. Just reach out.