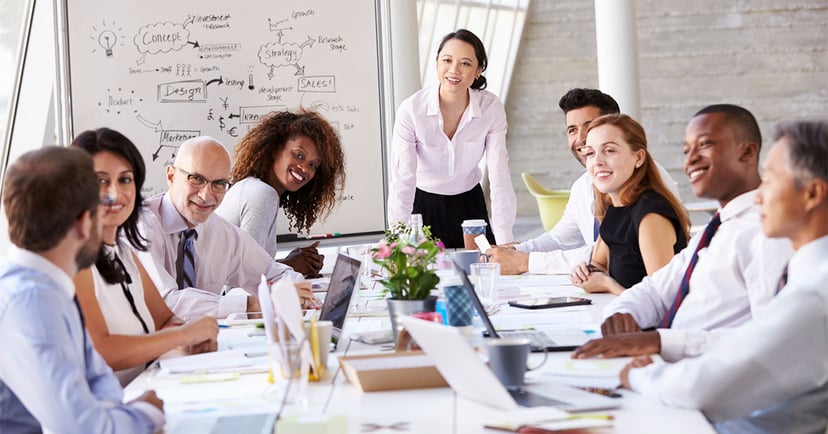 More and more marketing agencies are glomming onto the term "digital marketing" to describe their online services. The claim may be true, but when they assert that their stand-alone email marketing, social media campaigns or website design is "inbound marketing," those same agencies blur the line between truthful and trendy. Yes, these services are fundamental to inbound marketing, but when they lack grounding in a comprehensive program, they're simply marketing tactics.
In this article, we'll cover 16 services and characteristics that separate the top inbound marketing agencies from those that simply talk a good game:
Comprehensive Inbound Marketing Services
An inbound marketing program is multifaceted. Success depends on how well the agency integrates and executes these inbound marketing services:
1. Focus on foundational strategy
Developing an inbound marketing strategy is intensive. Expect roughly a three-month period of foundational work, persona research and strategy ramp-up before launching an inbound marketing program.
A crucial part of any inbound strategy, SEO helps your website get found through search. The top inbound agencies understand the value of SEO and that it's not a set it and forget it approach — continuous monitoring and improvements are needed to make the greatest impact.
Related: Why SEO Is Central To an Effective Inbound Marketing Strategy [Infographic]
3. Ability to create content aligned with target personas
Content drives an inbound marketing program. An inbound agency makes it a priority to understand your personas in order to craft quality content that addresses their pain points. This level of understanding helps make blog articles educational, advanced content offers intriguing, and most importantly, engages your prospects.
4. Video production capabilities
Video is a must for marketing content because it's key to search visibility and audience engagement. Need proof?
76% of marketers say video helped them increase traffic
When presented with video and text on the same page, 72% of people would rather use video to learn about a product or service
Compelling video should be an integral part of your inbound strategy — and a key capability of an inbound agency.
5. Social media expertise
A social media presence is a cost of entry in the digital age. Activity is essential, of course, but having an agency that knows how to position that content and optimize it for engagement will help you cast the widest net to reach your personas and prospects.
6. Paid media services
While much of inbound marketing focuses more on earned media and organic marketing strategies, continuing or accelerating an existing paid media program can be a complementary and seamless fit with inbound marketing efforts.
7. Flywheel focus for growth
Inbound marketing programs are not only dependent on marketing departments. Your agency must bring your sales and customer service teams into the fold so there's complete alignment on attracting, engaging and delighting customers. The inbound marketing flywheel — as opposed to the traditional funnel — provides the customer-centric framework for doing just that. The top inbound agencies have adopted this approach without looking back.
8. Website and content design capabilities
Website and content design are visually impactful. Take a look at the agency's site and various content offers. If the visual elements appeal to you, chances are they'll do as good a job on your design, too.
9. Continuous improvement approach to websites
Growth-Driven Design (GDD) is a systemic approach to website development that involves making iterative improvements in contrast to the long, drawn-out process of traditional website development you've probably experienced in the past. The top agencies (especially Agile agencies, which we'll discuss later) know that you can't take a "set it and forget it" approach to your website, and that it's all about leveraging user data to make continuous website improvements.
10. Tech Stack with tools to optimize results
Just like a worker in any trade, an inbound marketing agency is only as useful as the tools they use to get the job done. Ask prospective agencies which technology and tools they'll use to execute key areas of your program (e.g., SEO, social media, email, etc.). See here for an overview of Weidert's tech stack.
Agency DNA
While inbound marketing services are a priority, there are several other telltale signs that will indicate if an agency has the knowledge, experience and personality to handle your inbound marketing program:
11. They do inbound for themselves
Simply put, the agency practices what they preach about inbound marketing. They keep their own program dynamic with active content creation, blogging, social media engagement, and more. But what are their results? Don't hesitate to ask agencies how they're performing compared to the competition, and where they see their strengths and weaknesses. This will help you get a better "side-by-side" comparison of potential partners.
12. Solid history of client success
Vetting an agency's track record — current and previous work, clients and awards — will provide insight into how well they build and service their inbound marketing program partnerships. Want more than their website say-so or general search results? Use sites like Clutch or HubSpot to access objective client reviews.
13. Demonstrated expertise in industries like yours
Marketers that know, understand and can speak with expert authority to your audience without a huge learning curve is critical, especially for industrial manufacturers. An agency with established relationships with companies similar to yours will be able to hit the ground running when it comes to your inbound marketing program.
14. A philosophical fit with your culture
Don't underestimate the impact of company culture. If an agency's ethos doesn't mesh with yours, chances are a working relationship won't be a fit either.
15. Knowledge of your automation software
If your company is already using inbound marketing software, the programs and processes should resonate with an inbound agency. Conversely, if you've yet to use inbound marketing software, an inbound agency can guide you to the best choice and teach you both basic and advanced features.
16. An agile work environment
The concept of "Agile" started in software development as a way to increase efficiency and expand the amount of work that can be accomplished — think "lean" practices in manufacturing. An agency experienced in agile marketing has the efficiency and capacity to consistently get work done on time and on budget without compromising quality.
Whew! That's a lot to digest and probably triggered some questions about inbound marketing. Well, you've come to the right place. We've heard many common questions from prospects and customers over the years, so we decided to answer 15 of them in one handy resource! Click the button below to get your copy now.