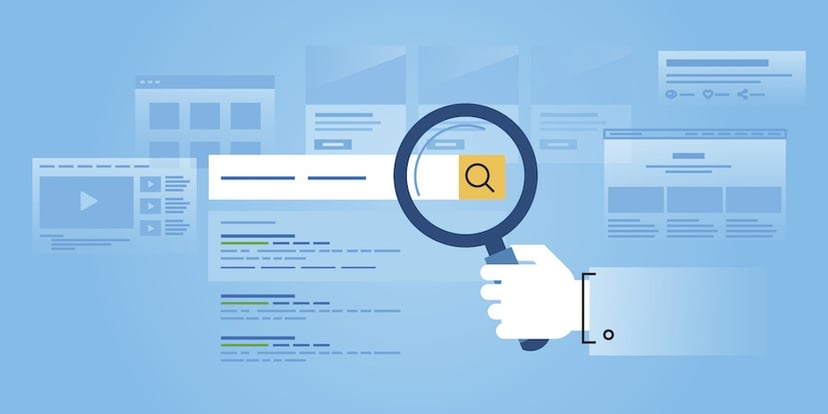 Keyword discovery is one of the most important steps in creating an effective SEO plan. If you want your website and content to be found by your best prospects, you need to first understand what they're actually searching for – and the words and terms they're using to find it. But where do you start?
Keyword Discovery Starting Points
What terms are the people who'd benefit from your product using as they search for answers to their questions? Your prospects are looking for answers to questions about product features, costs, performance, ROI, capabilities, downsides and several more.
Below are several resources to help you understand the full scope and nature of the questions prospects asking as they search for solutions. With the information you extract you can develop a list of keywords, then validate those and, eventually, build your content around them to improve your chance of that content getting in front of your prospects.
Personas
To find the right keywords you first need to understand the personas you're trying to reach. You've made personas for each of your target customers right? If not check out some of our other posts on persona creation.
Buyer personas typically include the type of language that type of person/role uses. A consumer with a broken computer will likely enter "computer repair" or "how to fix my computer" into the Google search bar. A business owner looking to keep all of her computers running at peak performance would probably search for "computer support services" or "computer maintenance solutions." It's very important to identify how different people think about the services they need if you're going to create content that includes the terms they use and, as a result, get picked up by Google and put in front of these prospects. Start with your personas to understand the way they think and talk; this will help you see how they communicate their issues to Google.
Sales People
Your sales people talk to customers and leads all the time, so they're well aware of the questions being asked – especially at the consideration stage of the buyer's journey, where they're digging deeper into the different solutions and potential vendors. This makes your sales team a great source of keywords, blog topics and ideas for more advanced content pieces.
Start by meeting with the team to put together a list of prospects' most common questions; follow it by asking what hurdles the sales team regularly must overcome when selling to prospects, what issues keep them up at night, what they value most about your company/product, and the factors that typically cause them to start their search.
Customer Service
Your customer service reps know every concern, question, comment and compliment related to your product. Often their input will focus on the not-so-great stuff (rarely will anyone call customer service to rave about a product), and that's okay; it's an opportunity to address a flaw internally and perhaps on your site. If, for example, you have a problem with a specific part of your equipment – let's say a valve – you'll want to first correct the issue, and you may also want to address it in a blog post or on a web page. Because if that faulty valve is a concern that causes customers to reach out to you, you can believe that prospects know about it, and addressing their concerns head on with reassurance that you've resolved the problem can alleviate prospects fears.
Google Search Console
If your website already has a decent amount of search traffic, do yourself a favor: put it in Google Search Console. On top of all the great functionality of Google Search Console, such as page indexing and crawl error warnings, it'll also give you a list of the most popular search terms being used to find your site. Keep in mind that if much of your traffic isn't considered marketing-qualified, this may indicate a problem with your current keywords, so you might end up not adding some of them to your list.
Google Analytics
Google Analytics is another great way of understanding how people are finding your site. This tool can tell you how people are getting to landing pages, and where from what page they're exiting (also called "bouncing").
Use Google Analytics to look at bounce pages and ask yourself why a prospect might be leaving it. Take a good hard look at why the content of that page (or the content it's promoting) may not align with what the prospects wants to learn at their particular stage in the buyers journey. Come up with what you believe might be more valuable, create keywords around it, and add those to your list.
HotJar
A tool that may not seem obvious for keyword research is HotJar, or one of the other heat map tools available for your site, such as Crazy Egg, Lucky Orange, and Click Tail. These can be leveraged in much the same way as Google Analytics: find pages that people are bouncing from, then create heat maps for those pages to understand why.
What HotJar can tell you that Google Analytics can't is where the visitor's mouse is when they're on the page. Look for areas where you see a lot of cursor activity prior to bouncing (indicating where people are spending time) and you might be able to determine what you're missing.
In addition to heat maps, you can also use HotJar to create user polls. Use these "pop-up" polls to ask visitors what topics they'd like covered. You may have noticed that on this blog we ask visitors that question – do the same on your site to find some interesting terms to add to your keyword list.
Your Competitors
Guess who else is looking for the right keywords? Your competition.
Go to the websites of your best competitors – at least those that get really good traffic. It's easier to find than you many think: Start with Alexa's site link tool, put in any site URL and it will tell you how popular that site is on Google, and what 5 of those sites' top keywords are. If you want to pay, Alexa will give you even more useful information about your competitors' sites.
Another tool that identifies competitors' keywords is ahrefs. You can sign up for a free two-week trial and evaluate a few websites you're interested in. It will tell you what keywords those sites are ranking for, down to the specific domain. Outside of brand keywords, if your competitor is ranking for it you probably want to as well.
Finding The Right Keywords In Your List
With these tips you should be able to create a decent list of keywords to start from...but you're not done yet. The next step is to take those keywords and put them into a tool to determine which of them actually get search volume and are worth fighting for.
Look for a followup post on those tools soon.