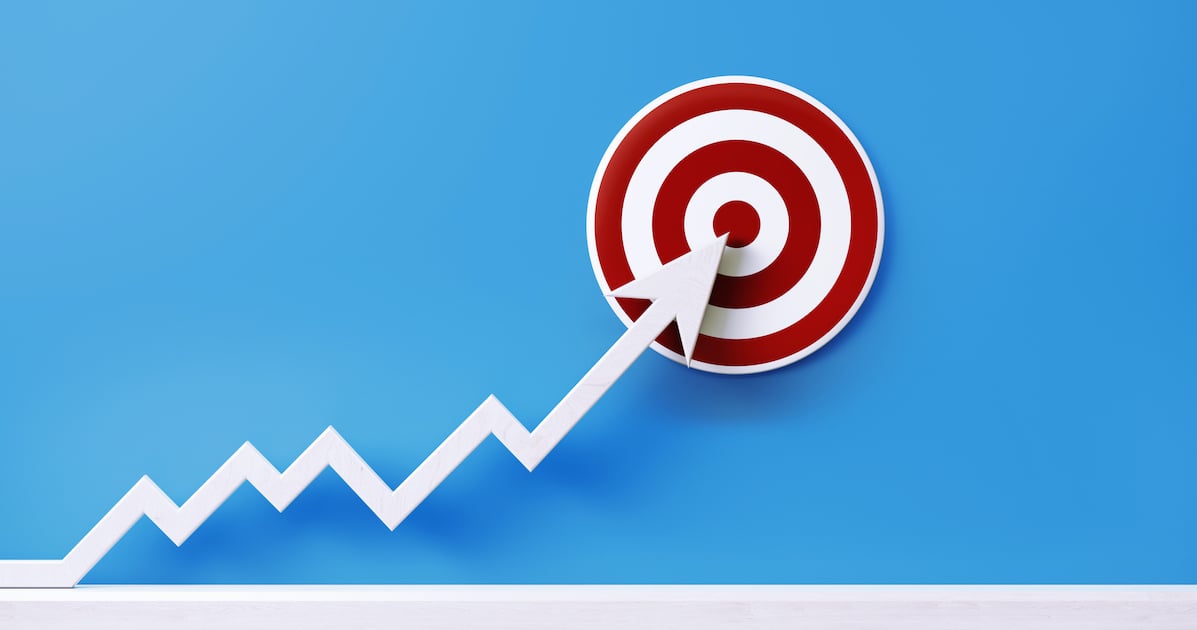 When you last searched Google to find an answer to a question, did you type something along the lines of "how to..." or "why is..." in hopes of finding information? Did you even notice the ads on the top of the search engine results, or did you skip down to the top organic search results showing relevant blog articles?
I'm going to hazard a guess that it was the latter.
My point isn't to argue for pooling all of your resources into organic search, but rather to take a smarter approach to paid advertising for your own company. If you're really trying to earn the trust of prospects before earning a conversion, it's a good idea to promote blog content as part of your pay-per-click advertising campaigns.
To best determine where to allocate PPC resources, it's important to think about your company's current conversion goals and develop keyword lists and PPC advertisements from there.
1. Determine Your PPC Keyword Research Goals
Is your company's top priority to earn quick conversions on landing pages, or is it more important to direct visitors to helpful blog content? Or maybe you have other ideas in mind, like these: Top 7 Use Cases for Pay-Per-Click Advertising in B2B Inbound Programs.
If conversions are a top priority for your company, it's smart to allocate more PPC resources to your middle-of-the-funnel content offers. On the other hand, if you have valuable blog content and want to establish an initial level of trust with a prospect before earning a conversion, a top-of-the-funnel PPC campaign is an effective method.
Here are potential keyword strategies based on the first two stages of the buyer's journey (awareness and consideration):
Awareness stage goals
Building trust. The awareness stage is all about building trust, so the industry keywords you choose should be a broad match to problem/challenge-related terms, not push specific products or services. Develop a list of keywords for ads that direct potential buyers to content that informs and helps them learn, such as how-to blog articles and comparison videos. For example, an industrial lubricant provider could target keywords around "establishing a predictive maintenance program."
To determine keywords, dive into the organic metrics related to your industry (using tools like SEMrush or Google Search Console). If you already rank high organically for certain search terms, you can save money and not spend PPC dollars on them.
However, if the keywords aren't in the top 10 or 20 of results, then you'll need some PPC juice to get people's attention. Unless, of course, you want to rank #1 for keywords in paid ads regardless of whether they're 5th, 15th, or 75th in organic search results. If that's the case, run ads for all keywords for which you want to rank #1.
This strategic approach reminds us that SEO and PPC work hand-in-hand. Your PPC specialist or your inbound marketing team should continue to analyze and monitor how organic keywords do in search results, and then ramp up paid ad keywords to fill in gaps for those that aren't performing as well as you'd like.
Consideration stage goals
Providing solutions. Once a potential buyer identifies the problem in the awareness stage, they'll begin seriously considering solutions as part of their buyer's journey. Your approach to keyword selection needs to shift in stride. A provider of business technology services, for example, would likely target keywords like "managed IT solutions," as visitors are simply browsing solutions and not ready to buy. This keyword list would be used in ads that direct visitors to website pages talking about how your company can solve their IT needs.
Offering products. This list of keywords will be directly related to your products or services and can capture immediate conversions. Those searching for "the best managed IT company," for example, could be directed to web pages or landing pages that are designed to encourage conversions, such as an eBook or case study.
Creating delight. Once someone visits your site in response to a PPC ad, you've hopefully earned some trust and made them familiar with your brand. Build that trust (and keep them coming back) by using Google remarketing ads that allow you to retarget previous visitors and show them new content based on pages they've already visited. A retargeted ad may provide new content, or it might be a tweaked version of a previous Google Ad that they didn't click on — perhaps an added incentive or special offer.
Consideration stage keywords are certainly important, but your competition is probably building ads using the same keyword lists, which emphasizes the value of including both awareness and consideration stage keywords.
2. Address Buyer Persona Questions With Your Paid Media Strategy
When evaluating buyer personas (a fictional representation of your ideal customer), be sure to ask yourself these two questions:
What questions would my ideal prospects search for on Google?
What questions is my company currently answering in our blog articles?
If these answers are in alignment, then you already have quality content to promote via paid search. If they aren't, it's a good idea to revisit your content strategy to make sure you're speaking directly to your buyer personas and providing content that's helpful to them. We've probably all clicked on a promising link in hopes of finding answers only to feel frustrated when the end result is less than helpful. Don't be that marketer.
Once you're certain you have the kind of content your buyer personas are looking for, follow these steps:
Make lists of keywords and questions that your content addresses
Enter these keywords into keyword research tools like

StoryBase

,

Moz

, or use the

SEMrush Keyword Magic Tool

to help identify even more related keywords
Find additional keyword opportunities based on related search queries/questions
Use these insights to refine your blogging strategy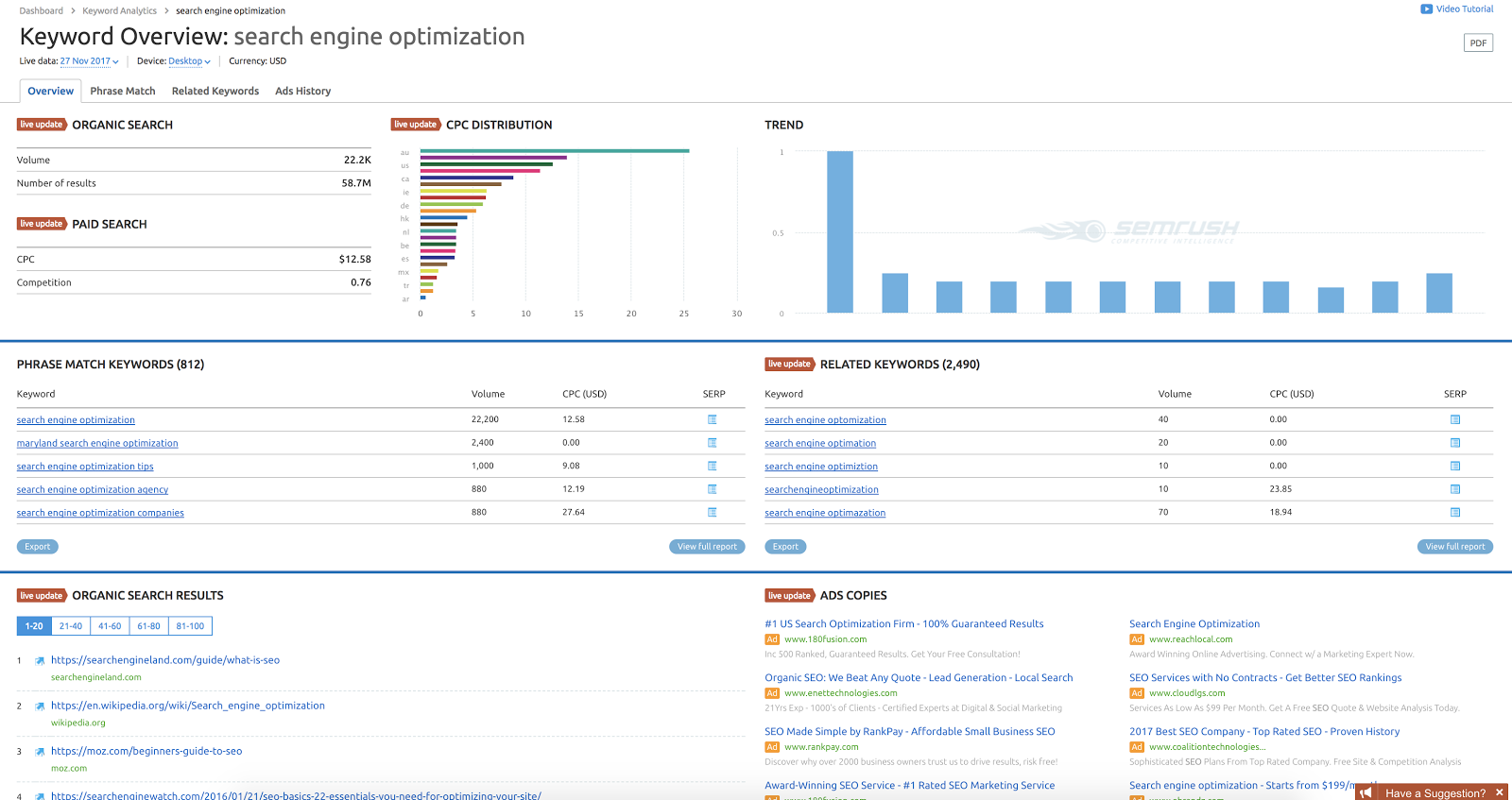 Example keyword research in SEMrush
StoryBase's Questions feature, for instance, allows you to type in specific keywords and brings up a list of questions and related searches containing those keywords. Moz's Keyword Lists tool lets you enter certain keywords and gives an analysis of the keyword's volume, difficulty, opportunity, and potential. SEMrush helps you think beyond your initial ideas and recommends additional potential PPC keywords you might not have thought of.
RELATED: 8 SEO Tools to Guide Your Content Strategy
This research using keyword tools is a prerequisite for creating successful blog content and awareness-level ad campaigns within Google Ads.
3. Develop Google Ads Campaigns
The final step is to create keyword lists in Google Ads that align with the research you did in step two above. The keyword lists can then be formed into individual campaigns within Google Ads. For example, if you provide products or services to different market segments, you'd want to create a separate campaign for each. These campaigns will not only shape your ad groups and ad copy, but also the keywords around which you should optimize your blog content to reach B2B decision makers and influencers.
It's important to include keywords in your paid ad campaigns that reflect what's in your blog copy. When a keyword you're bidding on in your paid ads aligns with a keyword in your content, you may receive a quality score—an indicator that increases the rank of your ads — from 1/10 to 10/10.
For example, if your keyword is "data center enclosures," and you're running ads with keywords that are linked to pages for data center enclosures, you have a solid chance of getting a quality score. But you won't receive a quality score if you instead use "where is the nearest computer repair center" as your long-tail keyword and link it to that same page because it doesn't have any mention or relevance to data center enclosures.
In short, if you're bidding on a keyword simply because your competitor is leveraging that keyword, yet you don't include it anywhere in your content, your ad score will suffer and your campaign will have disappointing results. The higher the quality score you see in Google Ads, the better your ads will perform.
Take Advantage of Awareness Stage Opportunities
While a goal of any content piece is to capture immediate conversions, simply creating helpful content establishes trust with prospects, establishes your company as an industry thought leader, and promotes longer term conversions. This value shouldn't just come through organic search but through paid search ads that help promote blog content and let you get ahead of competitors in the awareness stage of their buyer's journey—and beyond.Paid ads are just one way to improve results. For lots more ideas on catapulting your inbound program, check out our exhaustive online guide, How to Improve Your Inbound Marketing Efforts.