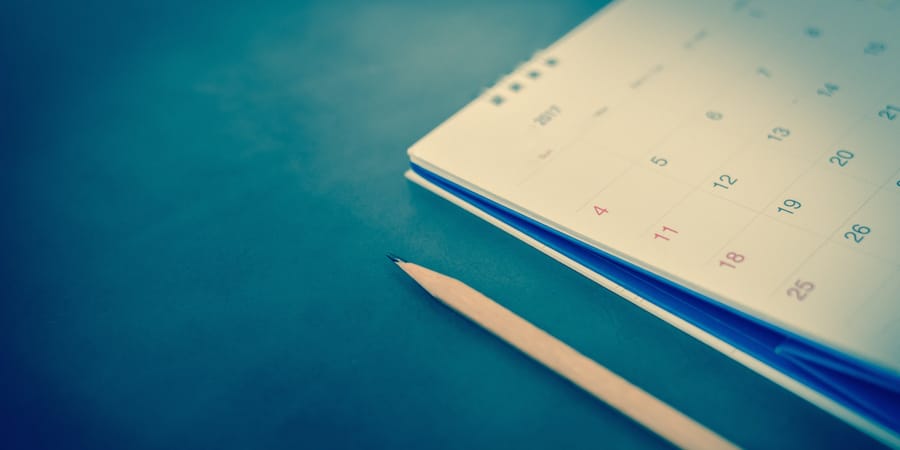 Annual marketing plans have long been an important element contributing to business success. These sometimes exhaustive documents allow company leadership to set yearly revenue goals, and lay out a year's worth of specific actions intended to help reach them.
But what happens when these yearly plans go awry — like when a big campaign shows signs of failure after just 3 months? Typically, marketers stick to their plans because...what options do they have, really? The wheels are in motion and can't easily be stopped.
Now companies are seeing the benefits of taking an agile approach to marketing plans by creating a high-level annual plan and more detailed quarterly "roadmaps" that contribute to achieving the yearly objectives. This approach leads to more effective strategies because it allows for iterative modifications throughout the year.
The Quarterly Inbound Marketing Roadmap
The quarterly marketing roadmap (sometimes referred to as a 90-day marketing roadmap) is a plan that includes:
a list of prioritized "focus areas" or "strategic initiatives" for the quarter

resource allocation (percent of marketing budget or time to be used on each initiative)

measurable goals

an outline of the specific activities to be used to reach those goals, and

associated timing for each initiative (when each will be executed during the quarter)
A quarterly planning approach allows you to look at primary business goals and tie each to specific activities you'll perform within a 90-day time frame. For example, if your company needs to push two major products in the first quarter of the year to align with a seasonal buying cycle at that time, you might assign 50% of quarterly marketing resources to each over the 90-day period. You would then set a goal for each key focus area (e.g., obtain 10 marketing qualified leads for Product A and 8 for Product B) before determining which activities will help you reach each goal.
It's important to note, though, that a quarterly roadmap requires that you have analytics tools in place (or, ideally, that your marketing is done on an automation platform like HubSpot) so that you can monitor performance of everything you do and all the ways your prospects are engaging (or not engaging) with your website, emails, offers, social media and more.
The most important part of a quarterly roadmap approach is the tracking. You'll not only see quarterly results for your roadmap initiatives but regular progress updates, too, that give you insights into how well your activities are performing throughout the quarter. This data will tell you what steps to take – good results indicating that you should double down on areas that are performing well, and lackluster results indicating that you should modify your tactics. In other words, unlike an annual marketing plan, you're not waiting until the end of the year to know how well the plan worked; you see it quickly and have opportunities to improve.
For a complete guide to quarterly roadmapping, read our article about how to create a quarterly roadmap as part of an inbound marketing strategy.
Why You Should Create Quarterly Marketing Roadmaps
There are many benefits of taking a quarterly approach to planning:
Your efforts will be more productive. Don't like the results you're seeing? It's simple: make changes based on the data. You can decide to make changes instantly or choose to let the campaign run its course so the data is more complete. The important thing is that you have the ability to be flexible and adjust based on what you're seeing. With more frequent iterations, your team improves its ability to determine realistic goals and processes for achieving them.

You'll bring needed focus to specific goals. While there will be unplanned marketing needs that inevitably come up during the quarter (which you'll be better able to deal with since you've got flexibility with the quarterly plan), a 90-day roadmap keeps your team focused on a manageable number of initiatives that directly align with your goals. It provides a framework to evaluate items that come up and push them to a future quarter if they won't directly help you achieve those goals.

Your decisions will be based on data. Quarterly roadmaps involve mid-quarter progress updates, and one roadmap's insights can feed into the next – all of which are based on real-time data being generated. There's no waiting until the end of the quarter to see if you've met your inbound marketing goals, or wading through 12 months of data at the end of the year. Instead, tools like Hotjar, Google Analytics, and your business analytics platform help you track progress in key focus areas in a shorter timeframe to ensure you're on track to meet quarterly goals. For example, let's say one of your goals is to convert 20% more website visitors into leads. Analytics tools will help you pinpoint problem areas on your site that could be standing in your way – maybe it's a conversion form with too many fields, a confusing architecture or a lack of content that aligns with the needs of your best prospects. Data will help you make changes necessary to optimize performance and help you reach those goals.

You strategy will align with company goals. Does your company struggle with cross-functional alignment? Does your strategies seem to not match the overall brand? Setting up a marketing strategy at the beginning of the year and bringing in voices from around the company will allow for an integrated marketing communications (IMC) strategy. An IMC strategy creates a unified brand, marketing, and overall experience that your audience will recognize as a more cohesive message.
The New Annual Marketing Plan
Keep in mind, a quarterly roadmap doesn't mean scrapping yearly marketing plans entirely (you may still need a "big picture" look at the entire year), but rather breaking them into manageable 90-day chunks that provide focus and allows you to pivot when needed. The best benefit of all? You get to make decisions in real-time to achieve business goals and grow more informed on how to establish realistic and achievable marketing plans now and in the future.
Learn more about measuring marketing success by downloading our guide, 6 Metrics Your Boss Cares About!