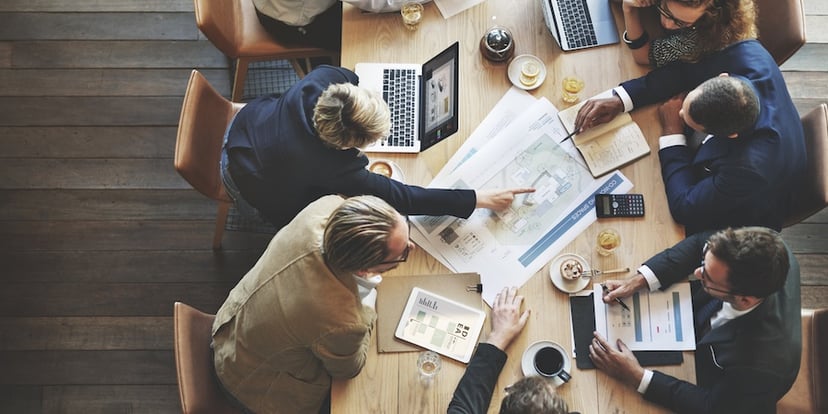 It's exciting to plan marketing campaigns on a grand scale. New website? Sure! Rebranding effort? Absolutely. Launching a new product? Let's do it!
The only problem is that these types of campaigns can take months and, sometimes, even years to fully implement from concept to completion. And don't forget the budget that needs to accompany them. As any marketer knows, efforts to promote an organization or attract sales-qualified leads can't be put on the back burner while planning these larger initiatives.
Truth is, many marketing successes are the result of quick bursts of collective energy that are fueled into smaller efforts. While larger marketing campaigns and implementing overarching strategies are important, it's the quick wins that often result in the greatest marketing ROI.
Here's a collection of our top 5 marketing quick wins to help you generate more leads and refresh your inbound efforts.
1. Gate Existing Content
Perhaps your website has several customer success stories with compelling testimonials of how they overcame an industry challenge thanks to your innovation and hard work. Or maybe you've developed an eBook, white paper or checklist that continues to have a high number of views or downloads. If the content truly is of value, then visitors won't mind exchanging a bit of their personal information for it. Develop landing pages for your most popular content along with a contact form to help you capture those leads.
Gated content isn't just reserved for eBooks and checklists. Consider other items such as webinars, events, contests and more. HubSpot has a great list of 20 types of content that should have its own landing page. Check it out!
2. Improve On-Page SEO
One of the easiest and potentially most rewarding marketing quick wins is optimizing your existing website. We've all ended up on websites with broken links, errors or annoying glitches and, chances are, we hit the back button to return to Google. Fixing these issues on your own website will improve SEO and your users' experiences.
Based on analytics, create a list of your web pages and prioritize them. If you've got hundreds of pages, this can be daunting, so you may want to engage the help of various online tools that can pinpoint the issues. Start with the highest value and most visited pages and resolve to tackle a set number each day. In fact, assign tasks to yourself or others on your team and check off each web page as it's completed. Doing so will give you a sense of accomplishment. Look for and address the following common issues:
Make sure all pages have titles and meta descriptions
Make sure all pages have h1 tags
Check for any 404 errors or pages that have broken links
Check that the main images have alt tags and include keywords
Double check for keyword optimization
In addition, check to see that all information is current. You'd be surprised how many companies contact pages link to email addresses that are no longer valid.
3. Create Easy Content
Let's face it; creating valuable content takes time and resources. There are some types of content, however, that can get quick results with relatively little effort. Here are a few examples:
Easy eBooks, Checklists and Guides
Not every eBook needs to be an exhaustive and in-depth covering of a topic. Sometimes a simple "Introduction to ABC" or "Steps to Implementing XYZ" can serve as valuable content, especially for top of the funnel prospects. A quick 30-minute interview with a subject matter expert can get you the content you need and possibly lead to other ideas for quick wins. And don't forget checklists. Chances are, you've already got one or more that are being used for your business — an installation or maintenance checklist, for example. Adapt it to use as a handy resource for potential customers.
Industry Terms and Definitions
Most industries have a plethora of insider terms, definitions and acronyms. Providing a resource for potential customers can help bridge an unintentional language barrier. For example, we work with a company that provides quarried architectural limestone to architects, builders, homeowners and landscapers. The list of terms associated with the various cuts, colors, finishes, types moldings, applications and varieties of stone is extensive, and we helped them create a glossary to educate customers.
Repurposed Content
Have a high-performing blog? Take that "Top 10" list and turn it into a gated tip sheet or infographic. Take a look at that high-performing email campaign and rewrite that email into a blog post. Convert your PowerPoint or Keynote presentation into an eBook, or adapt a sell sheet to serve as a "Benefits of XYZ" guide. The possibilities are endless.
4. Easy Website Changes
Through the years, your website has evolved and grown with your business — at least, that's the hope. It's likely that there's content on your website that's no longer relevant, or even duplicate content. Still posting a job opening that's been filled for three months? Featuring a product that's been altered or discontinued?
Consider removing unused or duplicate content. First, however, check the analytics. If the page performed relatively well, you'll want to retain that link equity you've built. If you simply delete the page, visitors will receive the dreaded 404 error. Instead, use a 301 redirect to point users to a new page that contains related and relevant content. Doing so also helps show search engines that your site is up-to-date.
Another website quick win is a refresh of your menu items. Simply rearranging your menu so that the most important items appear first can improve your navigation. An easy way to garner more contacts is by adding a simple form to your home page in a prominent location. Rather than requiring the full gamut of personal information about a contact in exchange for a content piece, include a top of the funnel offer that simply requires a first name and email.
5. Email Campaigns
Run a report of contacts that haven't engaged with you or your website in some time and re-introduce yourself. A simple "haven't heard from you in a while" or "thought you might be interested in this" email can open doors and nurture leads that have gone cold. Include a short list of high-performing new blog content that you've published along with one general gated piece to peak interest. Track the click-through rate to see which links performed the best. Reengaging even one prospect could lead to greater things and be well worth the effort.
Small efforts can translate into big results. Use these tips to help bring quick results and see your inbound efforts multiply.