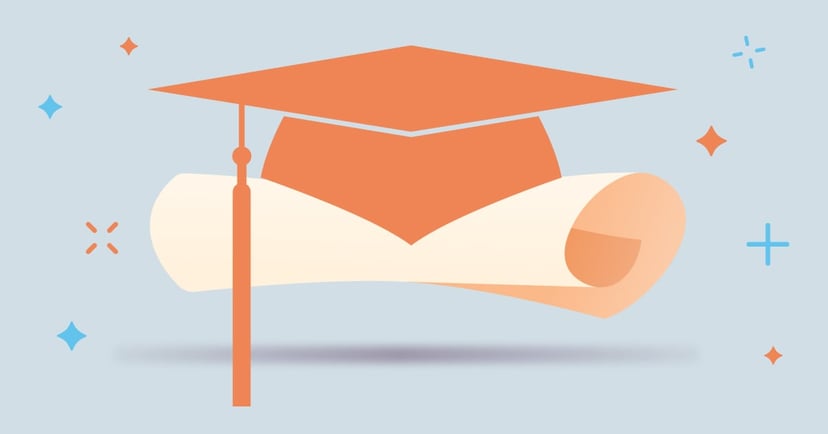 If you're like many marketers, you've probably questioned how valuable some certifications are to your career, your company and your customers. Do HubSpot Academy certifications mean anything? Continuing education? Who needs it! Certification courses and study guides? No time for that!
Even if they're not required, marketing certifications can be a huge asset — partly because so few marketers maintain any credentials attesting to their expertise. If you talk to anyone who's actually taken the courses, you'll find they're rarely disappointed.
So, is an Inbound certification worth it? Before we dive into all the reasons to get certified, let's answer one important question:
Why HubSpot vs. Other Inbound Marketing Certifications?
Even if you're not a HubSpot user, the learning principles they offer are invaluable for any marketer today who wants to leverage inbound tactics.
Since 2009, HubSpot Academy — a marketing resource center — has offered inbound certification to the broad public, and very few academic marketing programs rival the outstanding training they provide. It's simply one of the best inbound marketing credentials available. This globally recognized certification takes you step-by-step through the training with helpful videos, interactive quizzes, study guides and more. All in all, HubSpot has over 64,000 customers in more than 100 countries, and more than 187,000 inbound professionals have been trained through HubSpot Academy.
In our experience, no one has kept a better pulse on emerging digital marketing trends like they have. HubSpot does a great job of evolving their training to align with changing buyer trends and search engine algorithms to help you remain competitive in today's online landscape.
Did we mention it's free?
Need more reasons to get inbound certified? Here are our top 10.
1. Discover the fundamentals of inbound marketing
By becoming inbound certified, you'll understand the foundational strategies of inbound marketing, including planning, modern SEO, content strategy, email marketing, content distribution, social media, marketing analysis and much more.
Just as HubSpot's training has evolved, so has its basic methodology. You may have heard of the inbound sales funnel, but in the last year or so HubSpot has shifted to a flywheel methodology which emphasizes the vital role your existing customers play in growing your business.
2. It only takes a couple hours
Have you ever gone to an expensive and lengthy conference and walked away with only a few nuggets of valuable information? HubSpot's free Inbound certification packs what seems like a week's worth of knowledge and takeaways into a quick and easy-to-digest format. It will take you less than two hours to complete the:
6 lessons
15 videos
4 interactive quizzes
From there, you'll take a test. A passing grade means you'll receive an official Inbound certificate to proudly display for all to see; you can even embed it on your LinkedIn profile.
3. Define (or refine) your company's targets
Surprisingly, many companies don't have a full grasp of who their ideal customers are. Through Inbound certification, you'll learn how to identify your buyer personas — the representations of your ideal customers based on research and data. Without knowing who you're trying to reach, you won't know how to reach them or grab their attention.
4. Learn how marketing automation software works
Inbound marketing is primarily a digital framework, so it relies on technology as much as it does strategy. The Inbound certification isn't just for HubSpot users, but it certainly describes how an all-in-one technology platform like HubSpot helps marketers, salespeople and other stakeholder teams focus on the same growth goals.
5. Learn the lingo of online lead generation
Like many industries, inbound marketing has its own unique language and its fair share of acronyms. Do you have enough MQLs that can convert into SQLs this month? Should you change the CTA so it links to the bottom-of-the-funnel landing page? Hey, let's perform some A/B testing!
Inbound certification helps by teaching you the basic terminology, the underlying concepts, how to use them, and how every piece of the puzzle works together.
6. Gain the attention of potential employers
So, you have a Bachelor's degree or MBA in marketing, but your professors never mentioned Inbound marketing, right? You're not alone. Maybe you don't even have a marketing degree; that's not unusual either!
Achieving an Inbound certification sends a message to your employer — or future employer — that you're honing your skills to align with the latest marketing trends and techniques. It shows that you're proactive and want to keep developing professionally. Here at Weidert Group, Inbound certification is a prerequisite for any candidate we seriously consider to be a part of our team.
7. Get buy-in from leadership
You get why inbound marketing is important. Great. But your boss, not so much. By getting certified, you can arm yourself with the knowledge you need to sell the idea of inbound marketing to your boss.
Displaying your certificate, talking about it, or adding the certification to your LinkedIn profile can be a great conversation starter to discuss the potential results it can bring your company.
8. Understand the importance of metrics
Your boss may not be convinced by an explanation of potential benefits; the most convincing argument for inbound marketing is hard data. With traditional marketing tactics, such as radio ads, trade publications or direct mail, there's very little opportunity to know how effective they were, if at all. Perhaps the greatest asset that marketing automation software provides is its ability to measure results and inform decisions moving forward to generate faster ROI. Without leveraging analytics, any inbound efforts will be dead in the water.
9. Align sales and marketing
We hear many disheartening stories of how sales and marketing departments operate more as adversaries than teammates. The most successful organizations have everyone working together toward mutual success. When you can hand over qualified leads to sales and attribute direct inbound sales as a result of your content marketing efforts and lead generation, your sales department (and leadership) will be eager to keep the momentum going. Your teams need to work together, aim toward common goals and align around the same objectives, which often means operating using the same technology.
10. Integrate with other SEO tools
Maybe your sales team has its own CRM or you're already using some online tools to produce content or improve SEO. Thankfully, HubSpot's software integrates with hundreds of digital marketing tools to maximize your efforts and build upon what you've already started.
If these 10 reasons aren't enough to convince you to adopt inbound marketing methodologies or take the time to get certified, browse through our Step-by-Step Guide to Inbound Marketing by clicking the link below. It shares tips and tidbits that will get you excited about taking the next steps.
This post was originally published in 2017. It has since been updated for comprehensiveness and current best practices.